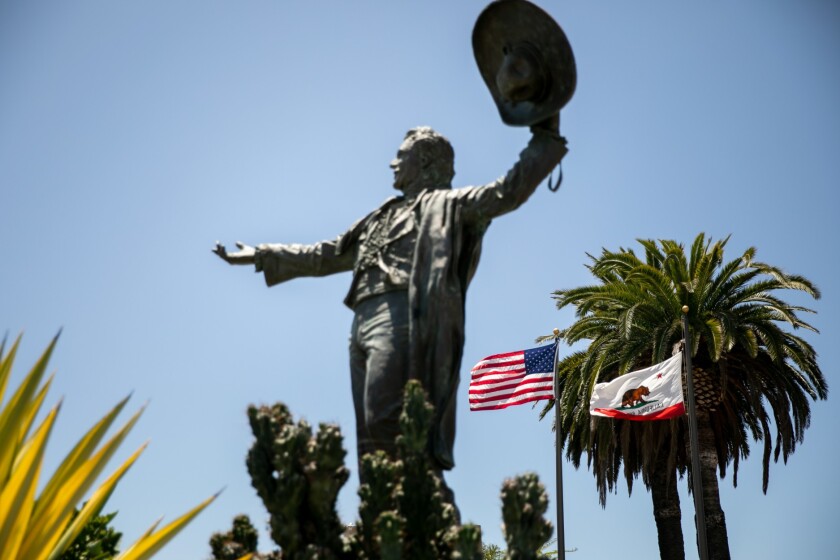 General manager says property in dire financial straits and needs $20 million in federal aid
In response to the COVID-19 pandemic, Del Mar will cut back to three days a week but start its signature summer meeting eight days earlier on July 10.
Following a review of its sewer rates and charges, Olivenhain Municipal Water District's Board of Directors voted at its May 20 meeting to hold the line on current sewer rates and fees rather than increase rates as scheduled. according to a news release.
San Diego Humane Society's Humane Law Enforcement is investigating a felony animal cruelty case in San Marcos.
The San Dieguito Union High School District will give students the option for hold harmless grades or credit/no credit as they close out this unusual school year with distance learning.

Just over 30 San Diego County students have been named National Merit $2,500 Scholarship winners by the National Merit Scholarship Corporation.

San Dieguito Academy 9th grade student Joe Burke was one of the winners of the annual MTS and Reyes Coca-Cola Laptop Scholarship Contest.

Students from The Rhoades School in Encinitas brought home over 150 awards from the 2020 Greater San Diego Science and Engineering Fair, which took place in early March.

Traditional graduation ceremonies may not happen this year but the San Dieguito Union High School District is determined to find creative ways to make sure the class of 2020 is celebrated and recognized for their accomplishments.
Get the Encinitas Advocate in your inbox
Top stories from Encinitas every Friday.
You may occasionally receive promotional content from the Encinitas Advocate.
Like so many other nonprofits, the Canyon Crest Academy Foundation was disappointed when it became clear that its main fundraising event of the year had to be canceled due to the global coronavirus pandemic.

Canyon Crest Academy's Creative Writing Club recently announced that registration is open for the 9th Annual CCA Writers' Conference which will be held online on Saturday, May 23 and May 30.

Here are some "Best Bets" for online activities to undertake on your smart phone, computer or tablet during your stay-at-home, quarantine quandary.

Two San Dieguito Academy students are looking for other high school students throughout the state to share their mental wellness stories for an article they're working on in recognition of Mental Health Awareness Month in May.