Sharing history through song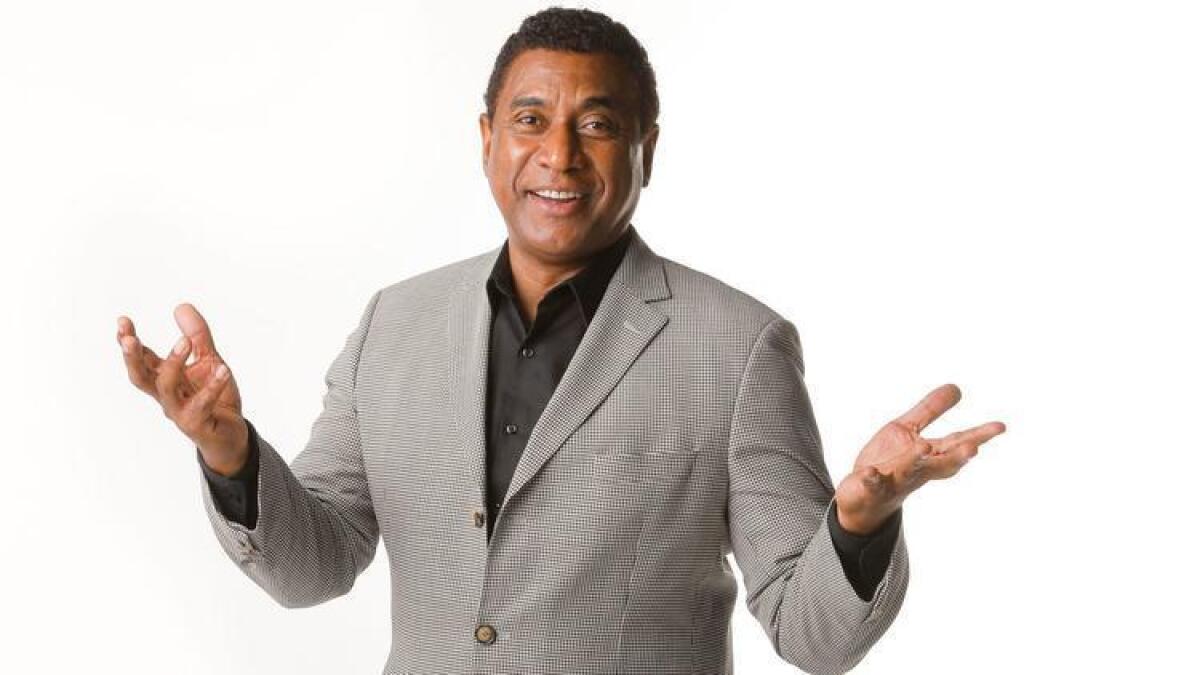 Michael Paul Smith started singing with his siblings as a child, but it wasn't until much later that he saw himself with a career as a professional vocalist. When he was younger, he had his sights on becoming a professional basketball player despite a mentor who encouraged him toward classical song. After gaining a spot as a soloist in the men's glee club in college, he developed more confidence and was even nicknamed the "Velvet Voice" by his classmates.
Today, Smith is an accomplished baritone who's performed with theater companies, symphony orchestras, with artists like Placido Domingo and Lou Rawls, and in his own one-man shows focused on commemorating the lives and work of Paul Robeson and Martin Luther King Jr. He recently performed alongside Yolanda Mitchell West in "History of Black Music: From Negro Spiritual to Porgy & Bess" at the Sunshine Brooks Theater in Oceanside.
Smith, 61, lives in Encinitas with his partner and they each have three adult children and he has six grandchildren. He took some time to talk about his singing career, black music in America and its significance.
Q: When you hear a phrase like "the history of black music," what comes to mind?
A: For me, as a U.S. citizen, it brings to mind the history of slavery. Music was the only really creative expression available and became a powerful vehicle to communicate, inform and inspire. I see the evolution of the black man's experience in America reflected in the music. All other genres, such as gospel, blues, R&B and jazz, were offspring of the Negro spiritual. As black Americans became more enfranchised, the music reflected that. It is a fascinating American history lesson.
Q: What do you think people should know about the history of black music?
A: It richly chronicles the history of the black experience in America. It was an oral tradition and only a small percentage of the vast storehouse has survived. So much was lost because many who heard it were incapable of writing it down. Thankfully, it did not become extinct, and I am honored to be a small part of keeping it alive. So much music in America has its roots in black music.
What I love about Encinitas…
We live near El Nopalito Market, so we have daily access to fresh tortillas and salsa. We were both exposed to Mexican food as kids, so that is awesome. There are so many healthy food spots nearby and I actually love doing the food shopping. We walk our neighborhood often, pushing the grandbaby in her stroller. People are so friendly and we have a terrific library here in Encinitas.
Q: How would you describe the significance of Negro spirituals?
A: Spirituals were a genius of musical form because they not only became entertainment, and salve for the spirit, but they had many secret, hidden meanings. They ingeniously became a coded musical message delivery system, contributing to successfully helping escapees through the underground railroad. They became an entirely new influence, introducing a new musical DNA into the culture of the United States.
Q: What do you think people should know about "Porgy & Bess" and its place in black music history?
A: It was considered controversial at the time because it was created by a Jewish composer who was depicting the Black experience in a classical music genre. It was an incredible story, which Gershwin wrote after spending time in South Carolina surrounded by Gullah and Geechee culture, and he wrote about much of what he saw. He was able to lend the libretto (story line) into the classical world. This was prior to any African-American composers being part of the classical musical scene. He took idioms from black music that existed, jazz and blues, to create this folk opera. Even the characters were controversial, depicting many of the negative stereotypes of black people of the time. Harry Belafonte declined to play "Porgy," but over time it gained acceptance in the opera community. The music elevated the characters and gave talented black performers spectacular music to perform. It is one of the most highly-attended operas wherever it appears.
Q: You also have one-man shows where you pay tribute to Paul Robeson and Martin Luther King Jr. Why these two men, specifically?
A: Both are truly iconic men. Paul Robeson was an exemplary man of the world. As a young man performing in Europe, I was told many times by elderly concert attendees that I reminded them of Paul Robeson. I did not know who he was, but once I researched his life and discovered his incredible accomplishments, and how he tirelessly stood up for those being mistreated, I wanted to tell his heroic life story. He was an accomplished student, lawyer, football player, singer, actor, social activist and world citizen. I was fortunate to collaborate with the Gordon Hunt, Helen Hunt's father, in putting together this show of Robeson's life, combining narrative anecdotes and 12 songs. It has been very well received for over 15 years. I was also moved to do a show about the Rev. Dr. King by combining my music with the admiration and often little-known facts about this amazing American. His memory deserves to be preserved within all of the arts, and I am honored to do so.
Q: What did you want people to know about each of these men?
A: They were both willing to sacrifice a comfortable and successful life in order to better the course of humanity. Both could have had splendid, prosperous lives, but neither one was able to do that. They were compelled to be people who made a difference.
Q: Your website says you have a reputation as a "spirit singer." What does that mean?
A: When I sing, I draw from within to connect. I allow myself to be used by spirit to convey my music or my message. When I was young, it startled me to have that intense and powerful feeling swell up within me when I performed. Now, I have become comfortable with the spiritual awakening within me and expressing it when I perform. I expect and welcome it, whether I am performing jazz or opera or love songs, as well as the Negro spirituals, or motivational music I perform for my spiritual community. I believe we are all an expression of the One Spirit, and that is what comes out when I perform.
Q: What's been challenging about your work in music?
A: As a younger man, I was torn between my responsibilities as a young father and the career that was calling me. I ended up working in higher education and performing my music secondarily, in order to raise my family. Thankfully, I was able to carve out a lot of time to devote to it. My earlier opera career challenged me in that I rarely saw any diversity in the audience, and I looked elsewhere to expand my career. The blessing of being at this place in life now is that I have the time, energy and total freedom to pursue any music and any genre.
Q: What's been rewarding about your work?
A: It has allowed me to travel the world, to meet amazing people, perform with immensely talented musicians, and to humbly embrace humanity.
Q: What has it taught you about yourself?
A: It has taught me that if you do not answer the call of your creative urges, you will not soar in life. If you love what you do, you will never work a day in your life. Music has always been my calling, and I have always found beauty and joy in answering it.
Q: What is the best advice you've ever received?
A: From my mentor when I was a teen, "You will not be a great singer until you are a great person." And from the director, Gordon Hunt, "It is better to be interested, than to be interesting."
Q: What is one thing people would be surprised to find out about you?
A: People are often surprised to discover that my mother was from Guadalajara, Mexico. I grew up in a bilingual, biracial household of nine kids.
Q: Describe your ideal San Diego weekend.
A: An ideal weekend for us would include a walk on the beach in Encinitas to see a sunset, a quick bite from Lazy Acres Market, and some live theater. Our spiritual practice is always going on, and on Sunday it is spent gathering with other seekers at Seaside Center for Spiritual Living in Encinitas, or Carlsbad Center for Spiritual Living.
Lisa Deaderick is a reporter for The San Diego Union-Tribune.
Sign up for the Encinitas Advocate newsletter
Top stories from Encinitas every Friday for free.
You may occasionally receive promotional content from the Encinitas Advocate.