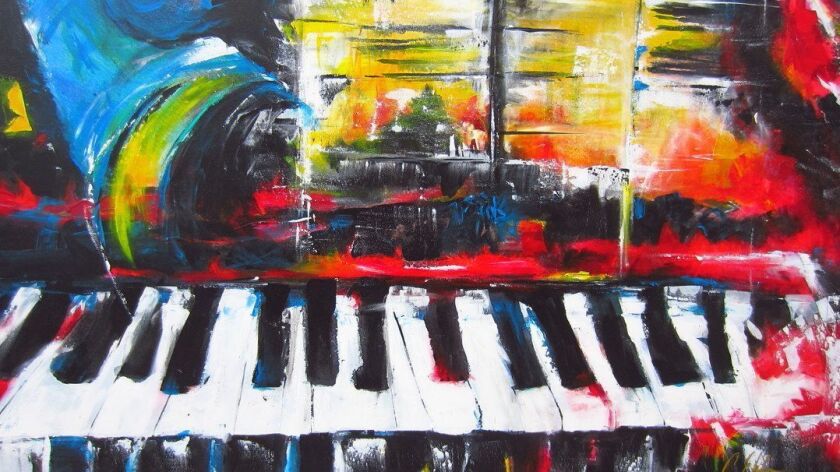 An Encinitas arts department staffer is revealing her own talents in a show now on display.
Cheryl Ehlers, the city's arts program assistant who helps put on art shows throughout Encinitas, presents "Out of Bounds" at the Cardiff-by-the-Sea Library through June 30.
The 13 detailed, acrylic pieces reflect Ehlers' unique style using abstract and contemporary techniques. She notes that as viewers walk about the library, they should not be able to immediately identify that all the pieces were done by the same artist, as each piece is distinct from one another.
Ehlers recently gave a tour of her show to the Encinitas Advocate and spoke about what inspires her and her history as an artist.
What was your inspiration behind 'Out of Bounds'?
I named it 'Out of Bounds' because it is everything that I do out of the bounds. I'm multi-genre, so this particular art that's in here is done for a complete abstract show that I do twice a year for the Jazzercise Corp. I curate their art for them, and it's all abstract and eclectic art. ... I just thought since it's bright and it's very vibrant, it brings a great energy to a library. ... The art is just what's in my head at the time or an emotion or a thought. I just plop it on the canvas. It really depicts reflections of a day or moment in my life.
What other styles do you use in your art?
I do contemporary art, as well as mixed media and abstract art. I can do traditional but I don't find a lot of fun in it. I don't like to paint from a photograph. I like to paint what's in my head.
Are there any subject matters that you gravitate toward in your art?
I love music. I'm not a music player but I'm around it all the time on a weekly basis. I also enjoy abstract art. It just flows with where you're at. It's just enough to pique your curiosity. ... I like to paint for feeling and emotion, and that's why I don't really have a particular subject. I love the tropics, so I would [lean] toward probably native types of art, which you're probably not going to see if you look on my website, but I enjoy it.
What paints do you tend to use?
I have been painting watercolors or acrylics for about 40 years. I've tried oil twice, and I think I'm afraid of it. I don't know why. I like things to be done quickly, and oil takes too long to dry. I even use heaters on my acrylic paints because they don't dry fast enough for me.
You work with the city and have helped put on other people's art shows for five years. What's it like for you now to be in the spotlight at a city venue?
It's always very strange for me because I always put the other person ahead of me. I've always been one that wants to reach out for emerging artists and to help them learn how to market themselves. I have found some of the most talented individuals that just have no self-worth and don't know how talented they are. ... I never expose myself. They usually end up finding out themselves.
---