Artist paints new mural to help revitalize street in Cardiff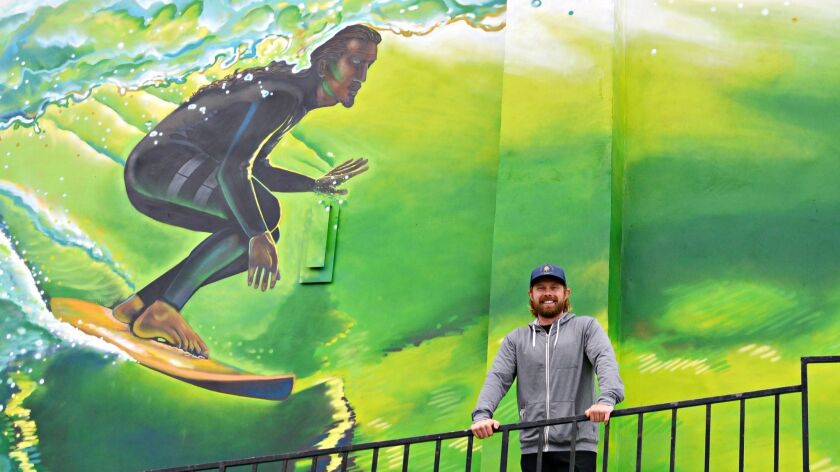 When Skye Walker set out to paint a new mural to help revitalize Newcastle Avenue in Cardiff, he didn't immediately know the project would pay so much homage to the Encinitas community he has lived in for two decades.
The "Evening Gold" painting, on a mixed-use building in the heart of Cardiff, was originally a photo taken by legendary surf photographer Todd Glaser of celebrity pro-surfer Rob Machado. Both Glaser and Machado live in Cardiff.
"This just resonated because Todd's a local Cardiff guy, Rob's local and I'm local," Skye said. "With the Cardiff 101 and having this landmark mural of sorts that just brings everything together, I'm just humbled to be able to try to translate it to make it do that."
The mural, at 2121 Newcastle on the side of the Cardiff Reef Apartments building, features a depiction of Machado surfing through green-hued waves at sunset at Cardiff State Beach.
Skye — who has also painted murals at businesses like the former Whole Foods location on Coast Highway 101 and Royal Liquor in Leucadia — began painting "Evening Gold" on May 1 and completed it one week later, dividing his painting time over 60 hours to combat the winds and rain. He estimated he used 40 cans of spray paint for the project.
"With spray paint, it's all about blending in certain murals," the artist said. "Even doing straight fills was hard because the wind was just blowing the paint up into the atmosphere. We just kind of had to time things right."
Additionally, Skye could not work overnight because he needed the light to work with a spectrum of colors that were within the same range, such as the different hues of green in the waves.
Roberta Walker, executive director of Cardiff 101 Main Street, said Skye's piece is the start of a "cultural arts district" in Cardiff through Chesterfield. The association received a grant from the City of Encinitas for such artwork in the area.
"We have these amazing artists in Cardiff and Encinitas," Roberta said. "We really want to showcase that. There hasn't really been that much focus on that in Cardiff. Newcastle is the start of this cultural arts district that we're forming, and we really want to use art to revitalize this street to turn it into a more vibrant, social walking district."
Additionally, she said Cardiff 101 is in discussions with the city to install art pieces and signage on roadways, like traffic circles.
Adam Robinson — who owns the Encinitas-based development firm RAF Pacifica Group, which encompasses buildings such as the Cardiff Reef Apartments and the former Whole Foods — was the first property owner to offer his site toward Cardiff 101's vision.
"We wanted to do something special because Cardiff doesn't really have a downtown. It has a loop," Adam said. "This corner wasn't activated really well. I had no idea what we wanted to do here exactly. I just knew we wanted to do something. When Cardiff 101 presented us with Skye's work, we thought it was more than perfect."
The three-story, 15,000-square-foot building was built in the 1970s, before Encinitas was incorporated, Adam said. It houses six commercial units on the ground floor and 12 one-bedroom apartments.
"We were just doing a rehab on it because it was kind of an eyesore," he said. "We wanted to add art to the exterior of the project."
Skye said that as people walk by his mural, he hopes the piece sparks conversation and inspiration.
"Murals lift up any community," he said. "Obviously, there are so many different ways to do murals and different kinds, but when you engage the community with public art, it just really inspires people and gets them interested. It drives communities in a way that nothing else does."
---
Sign up for the Encinitas Advocate newsletter
Top stories from Encinitas every Friday for free.
You may occasionally receive promotional content from the Encinitas Advocate.