Cardiff recognized as one of the nation's best restored beaches
State, county and city representatives gathered together at Cardiff State Beach on July 17 to celebrate the beach's recent recognition as one of the nation's best restored beaches.
The distinction, given by the American Shore and Beach Preservation Association (ASBPA), follows the June completion of a four-month sand replenishment effort in which more than 440,000 cubic yards of sediment — or 73 million beach pails — was dredged from the central basin of the San Elijo Lagoon Ecological Reserve and transferred onto North County beaches, including Cardiff and Fletcher Cove in Solana Beach. The project is part of an ongoing $118 million lagoon restoration effort to preserve the habitat and reinforce the shoreline.
The lagoon restoration is part of Build NCC, a long-term project by SANDAG and Caltrans for improvements to transportation, environmental and coastal access along the 27-mile North Coast Corridor of San Diego County.
Encinitas has undergone three beach replenishment projects over the last 20 years, with the most recent replenishment being the largest one.
For this work, Cardiff State Beach was recognized by the ASBPA as one of the nation's top five best restored beaches of 2018. The Encinitas-based beach was the only recognition on the west coast.
"ASBPA is a strong advocate for beach nourishment for four primary reasons," said Kim Garvey, president of the ASBPA's California chapter. "Recreation is obvious but also the ecological benefits that beach nourishment provides, as well as coastal shore protection and the economic advantages. On the economic front, there's a huge return on investment in beach nourishment projects."
Garvey added the primary criteria of the award is based on economic and ecological benefits, as well as the short- and long-term successes and the challenges overcome as part of the project.
She said the city will be presented with a physical award at the ASBPA's summit next year in Washington, D.C.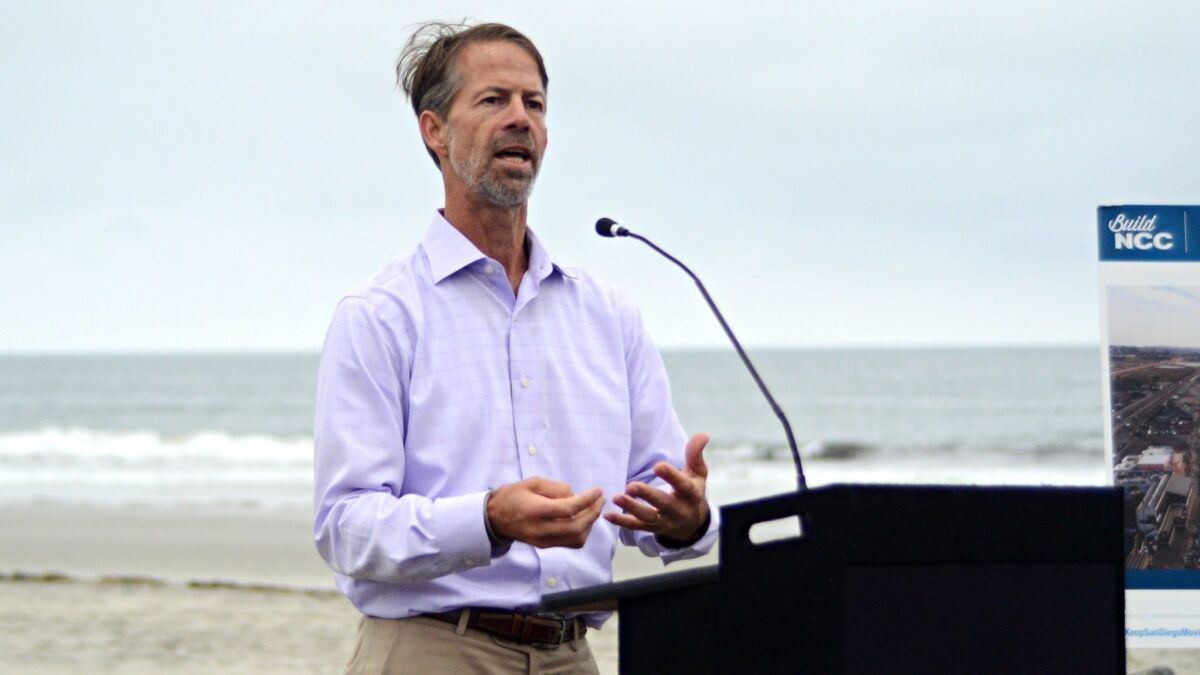 Doug Gibson, executive director and principal scientist of the San Elijo Lagoon Conservancy, said his group found an excess of material that they tested and ended up being suitable for beach nourishment. He added the sand was a "resource of the state" and therefore they were directed to put the material on the beach.
"I think that dual benefit is very important," he said. "The recreational aspect of this material is very important. But as important is protecting our resources, Highway 101. This is one of the lowest sections of Highway 101 through the state that typically gets overtopped. As sea level comes up, it's going to be more and more threatened. Giving this wide buffer is going to be important."
Gibson added that beginning in the fall, the lagoon will begin a "living shorelines" project in which sand dunes will be built along a stretch of Highway 101 to create an additional level of protection and habitat.
Encinitas Mayor Catherine Blakespear noted her recent trip to Washington, D.C. earlier this year, where she and Solana Beach representatives lobbied for sand replenishment every five to 10 years.
"It's very difficult to make progress on big projects," Blakespear said. "Having a big project like this happen in our city and provide almost a half-million cubic yards of sand to our local beaches is really important to us."
The mayor added that sand makes the beach more enjoyable for residents and tourists.
"When it's cobblestones, it's not nearly as nice," Blakespear said. "You almost can't walk across the beach when it's cobblestones. When it's sand, people bring their beach towels, their kids, they throw their frisbees, they dig for sand crabs, they build sandcastles, all of these really fun things we think about for our youth, when we went to the beach with our families. We want that to be part of our Encinitas culture for generations to come."
---
Sign up for the Encinitas Advocate newsletter
Top stories from Encinitas every Friday for free.
You may occasionally receive promotional content from the Encinitas Advocate.