Art classes help those with brain injuries, other challenges thrive
Kay Bain Weiner is no stranger to art or to Scripps Memorial Hospital in Encinitas.
During a recent stay at the hospital following a neurological injury, the Encinitas-based artist and author — who's raised money for the Scripps Foundation for more than two decades with her husband on the board of directors — recently received a taste of a program at the hospital that caters to her love for creativity.
On select Tuesdays and Saturdays every month, Scripps offers a healing arts class to patients with neurological disorders and brain injuries. The lessons, led by artist Denise McMurtie, aim to allow patients to explore their creative side, exercise their motor skills and keep them motivated and uplifted.
Synergy Arts Foundation is the initiator and primary funder of this project, partially funded through a grant to Synergy by the City of Encinitas' Mizel Family Foundation grant program. The classes are offered free of charge to inpatients at Scripps and Encinitas residents who are recovering from neurological issues such as brain injuries, strokes, spinal cord injuries, Parkinson's disease and Multiple Sclerosis.
"Even though I've been doing art practically all my life, the addition of that class was a highlight to me," said Bain Weiner, who was recently admitted to the hospital for a medication-induced infection that affected her ability to walk and use her arms. "I really believe that art, music and dance are all part of the therapy that is needed for one's well-being. I'm a firm believer that art is extremely important in one's life. The creativity part of art is so important to the healing of patients who are here. I see the smiles on their faces and the feelings of accomplishment, and I think that all adds to their well-being."
McMurtie, who has taught the hospital's art classes for more than a year and had prior experience with dementia facilities throughout the county, said art uses the same parts of the brain as meditation.
She said she has noticed that her students are those who "are taking advantage of their healing process."
"They totally don't focus on their pain or their disability," she said. "They're just in the moment."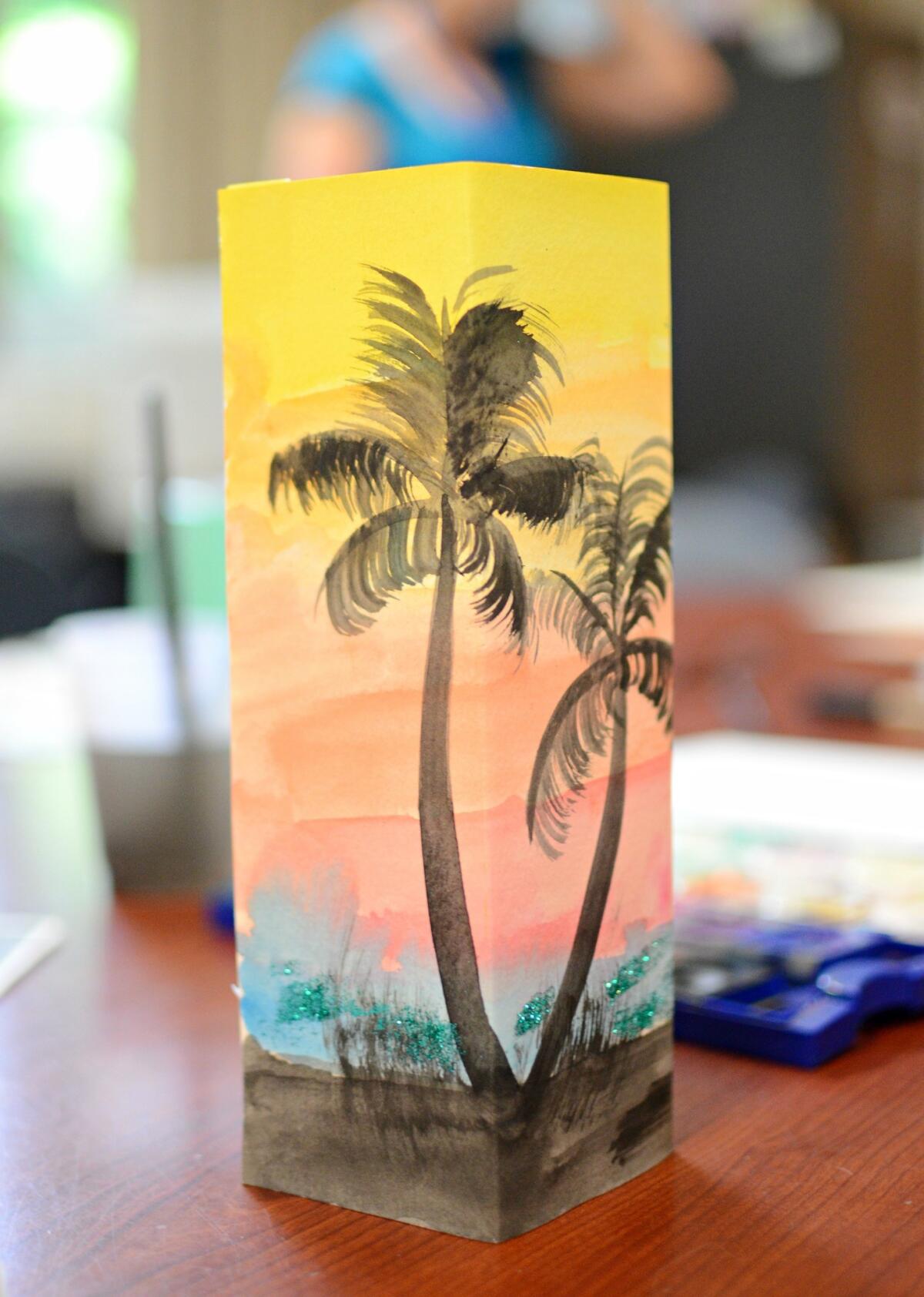 On a recent Wednesday, Phil Newman sat propped up in a motorized chair, his left arm limp, with an assistant helping him glide watercolor paints across a page.
The Wisconsin man — who was paralyzed from the waist down after a bodysurfing accident during his son's bachelor party in San Diego in July — said he was motivated to go to the class despite having "zero artistic ability."
"I figured I'd give it a try," he said. "I'm looking forward to seeing what I can do. I've got this holder for the brush and need support for my elbow. I think this is a good additional way to rehab and keep me motivated. I'm making progress, and I think this will help."
McMurtie said the classes are available to people of all skill levels, including beginners like Newman and more seasoned artists such as Bain Weiner.
Additionally, because everyone's capabilities and motor functions are different, McMurtie allows each participant to choose his or her own piece and style. That also allows for "group reinforcement," she said.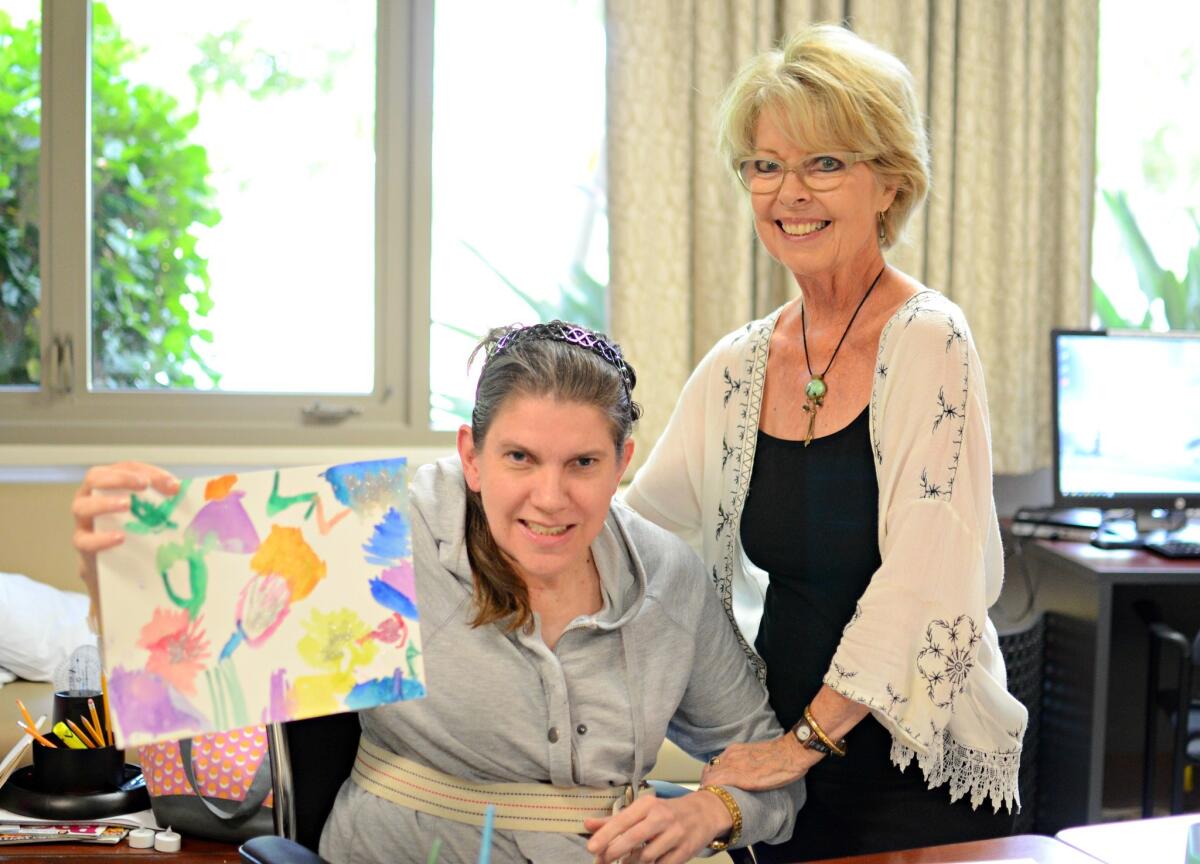 "It's not like a cookie cutter type of thing where we all paint the same thing," she said. "Everybody is very supportive and complimentary. It raises the ego and self-esteem having this little group here telling others that their paintings are beautiful. ... This gives people a chance to expand the light that they are inside. That doesn't change. Bodies may change, but lights don't change. This gives people a chance to have a tangible piece of evidence to go with that."
Classes are also offered at the Prebys Cardiovascular Institute; Barbey Family Emergency and Trauma Center; and the John R. Anderson V Medical Pavilion, according to Scripps.
Sign up for the Encinitas Advocate newsletter
Top stories from Encinitas every Friday for free.
You may occasionally receive promotional content from the Encinitas Advocate.