Encinitas events this week (Sept. 14)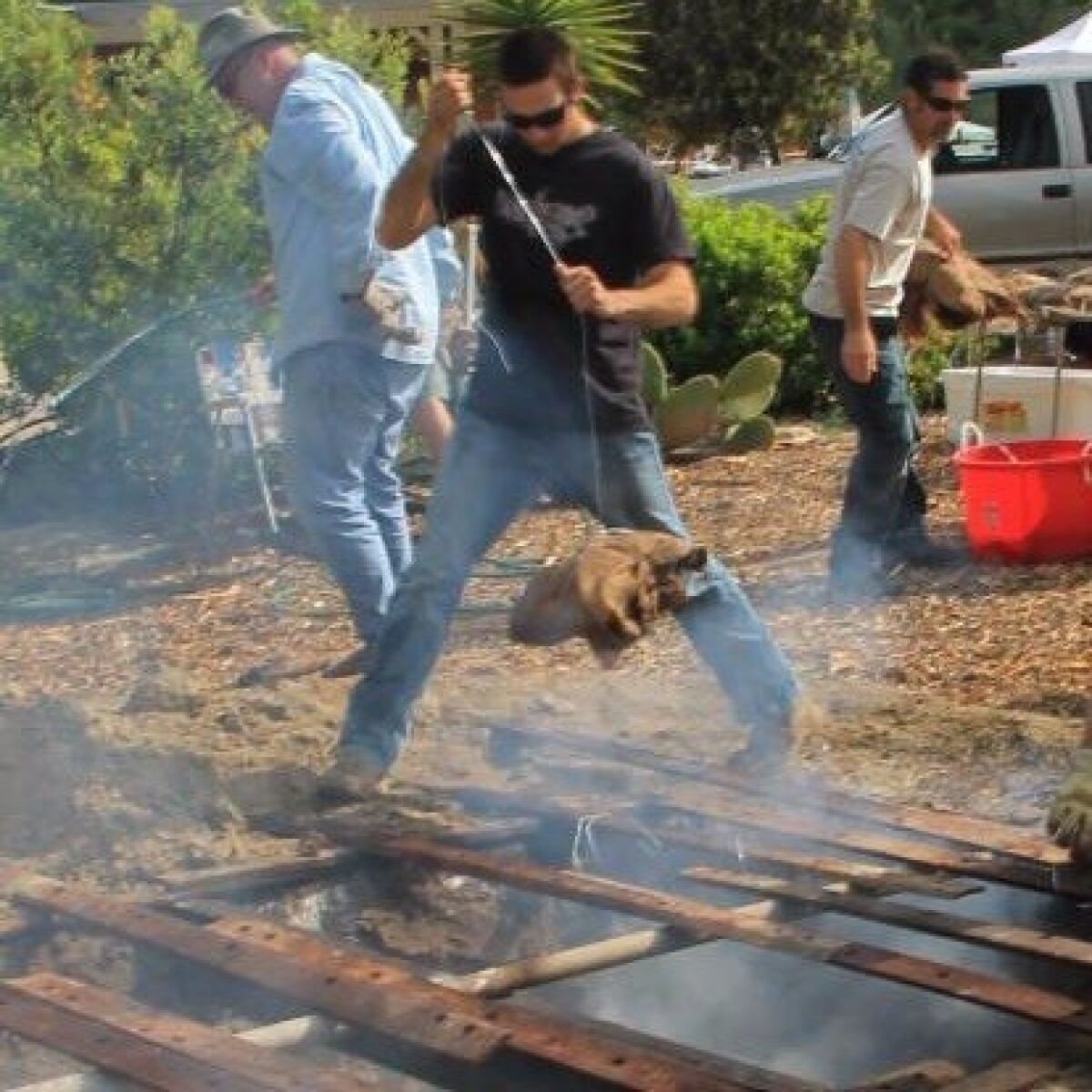 Heritage Museum 30th Anniversary events
The San Dieguito Heritage Museum will celebrate its 30th anniversary with three family-friendly events over the weekend. The Americana Music Fest — with 10 musicians and bands on three stages — will also include vendors, food trucks and a beer garden by Pizza Port on Sept. 14 from 4 to 9 p.m. The deep-pit BBQ fundraiser on Sept. 15 from noon to 3 p.m. will feature melt-in-your-mouth meat and live music, along with a craft beer garden, bake sale, photo booth, silent auction and more.
Kid's Day will wrap up the weekend on Sept. 16 from noon to 4 p.m. with a performance by Hullabaloo, arts, crafts, games, contests, and a petting zoo.
All events will take place at the San Dieguito Heritage Museum, 450 Quail Gardens Drive. For more information, visit https://bit.ly/2QmS4YU.
Encinitas Guitar Orchestra Fall/Winter Session
Be part of an ensemble of more than 30 local guitarists, beginner through advanced, learning music for a concert on Nov. 30. The group is directed by Peter Pupping. Rehearsals will take place on Mondays through Nov. 25 from 7 to 9 p.m. at Bethlehem Lutheran Church, 925 Balour Drive.
LIFE Film: 'Searching For Sugar Man'
This Swedish-British-Finnish film will be screened Sept. 14 from 1 to 3 p.m. on the San Elijo Campus of MiraCosta College, 3333 Manchester Ave. in the student center conference room.
The film follows two South Africans who set out to discover whether the rumored death of American musician, Sixto Rodriguez was true, and if not, to discover what had become of him. Cape Town, South Africa.
For more information, email lifesanelijo@gmail.com.
Music By The Sea Concert: ACE Trio
Ryan Glass, clarinet, Shannon Canchola, flute, and Jason Stoll, piano, will perform at the Encinitas Library, 540 Cornish Drive, on Sept. 14 at 7:30 p.m. For tickets and more information, visit https://bit.ly/2x4xwfX.
Join teams of volunteers at Moonlight Beach, Cardiff State Beach, and San Elijo Lagoon remove unhealthy trash and roadside debris on Sept. 15 from 9 a.m. to noon on three sites in Encinitas. For site locations and more information, visit https://bit.ly/2NCV6d.
Artist's Reception: Fritz Rothman, 'Look What I Found'
A series of collages of the artist's travels. Ephemera works arranged within a square are brought into focus in a harmonious arrangement filled with detail, color, texture, and patterns. Meet the artist and enjoy refreshments on Sept. 15 from 1 to 4 p.m. at the Encinitas Community Center Gallery, 1140 Oakcrest Park Drive. For more information, email rothmans4@att.net.
Performing Arts for Teens and Adults with Autism
Positive Action Community Theatre (PACT) teaches theatre, dance, and group singing in a workshop setting designed that develops social/communication skills to teens and young adults with autism. Volunteers are welcome. Scholarships available. The next classes will take place Sept. 15, 22 and 29 at 5:30 p.m. at Dance North County, 535 Encinitas Boulevard. For more information, visit https://bit.ly/2OciKKu.
Zentangle: Pumpkin Design Workshop
Let Certified Zentangle Teacher Janet Masey, introduce you to the concept of the Zentangle Art Method on Sept. 16 from noon to 2 p.m. at San Diego Botanic Garden, 230 Quail Gardens Drive. Create a perfect decoration for Halloween or a Fall hostess gift. If you can draw a circle and a straight line, then you can 'tangle.' For more information, visit https://bit.ly/2p0Ko2g.
Solana Center Chipper Training Workshop
Daunted by mountains of yard waste? Incorporating a chipper into your maintenance routine can be a game changer. See sustainability in action as you learn the proper use of a wood chipper and how to use chipped material in your compost pile on Sept. 16 from 4 to 6 p.m. at Solana Center, 137 North El Camino Real. You'll leave one step further on your journey to living a sustainable lifestyle. For more information, visit https://bit.ly/2x4xXXD.
Now showing: Won't You Be My Neighbor, Leave No Trace, Three Identical Strangers and Rocky Horror Picture Show. Tickets are $10. 471 Coast Highway 101. Showtimes and info: https://bit.ly/2CJMXiH.
Farm-to-Table benefit event
The Encinitas Community Garden is celebrating its third year and is holding a Farm-to-Table Dinner to support its future. A benefit event will be held Oct. 7 from 3 to 7 p.m. at the garden, 401-473 Quail Gardens Drive. The evening will include Peruvian food prepared by Q'ero chef Monica Szepesy, who will be assisted by Chef Gordon Smith, the Encinitas Community Garden president. Special musical guest Daniel Hendrick will perform. Seating is limited. For more information and to register, visit www.ecgfarmtotable.bpt.me.
Super Nacho band performance benefit for American Legion
The band Super Nacho will raise funds for the Encinitas American Legion post 416 in a concert at the Belly Up in Solana Beach, 143 South Cedros Avenue, on Sept. 14 from 5 to 8 p.m. A portion of ticket sales will be donated to the American Legion's remodeling project.
Hospice of the North Coast is looking for Saturday volunteers to work in its Resale Shop at 278-B El Camino Real (Homegoods Shopping Center). One 4-hour shift per week is required. Volunteers will process customer purchases and price and sort donated merchandise. If you are interested, contact Mary Jo Barry, manager at 760- 943-9921. All profits go directly to Hospice for care and assistance to those in need.
KAABOO Del Mar will be held Sept. 14-16 at the Del Mar Fairgrounds and Racetrack. The event includes music, comedy, food, drink and more. Visit www.kaaboodelmar.com
 Author Jane Austen wrote only six novels, but her wit and wisdom left readers pining for more. Impro Theatre's Jane Austen UnScripted gives audiences a chance to imagine the other books she might have written, 7:30 p.m. Monday, Sept. 17 at North Coast Rep, 987 Lomas Santa Fe Drive, Solana Beach. Tickets: $22-$27. (858) 481-1055. northcoastrep.org
 In "Snowfall," through Sept. 16 at La Jolla Playhouse, UC San Diego campus, change is in the air as Violet prepares to bring twin boys into the world: her husband is secretly planning to leave her, her father is slipping into senility and her daughter has taken a vow of silence. Tickets: $35. lajollaplayhouse.org
'Knock-Out Parkinson's' Gala
The Parkinson's Association of San Diego (PASD) is holding a "Knock-Out Parkinson's" Gala, on Saturday, Oct. 6, at the Birch Aquarium in La Jolla. CBS News 8 Anchor Carlo Cecchetto will emcee the event.
The gala will feature an inspiring speech by Rasheda Ali, daughter of Muhammad Ali, and will include live entertainment, delicious food, libations, spectacular views and silent and live auctions. In addition, the Parkinson's Association of San Diego will honor Dee Silver, MD with a Lifetime Achievement Award and other key Parkinson's community contributors. Tickets are currently on sale at www.parkinsonsassociation.org.
Cancer Research Institute Immunotherapy Patient Summit
A "Cancer Research Institute Immunotherapy Patient Summit" will be held Saturday, Oct. 27, from 10 a.m.-3:30 p.m. at UC San Diego School of Medicine (T. Denny Sanford Medical Education and Telemedicine Center).
Learn about the basics of cancer immunotherapy, a highly promising new approach to cancer treatment. Medical experts along with patients who have been treated with immunotherapy will discuss how research and patient participation in clinical trials is helping us get closer to cures for all types of cancer. Space islimited, so register today. People of all ages and cancer types are invited to attend this free half-day Saturday event. Caregivers, friends, family, and advocates are also encouraged to join.
To register and for more information, visit bit.ly/2CHskUF
Coastal Roots Farm hosts Sukkot Harvest Festival at Leichtag Commons, Sunday, Sept. 30 from 11 a.m. to 3 p.m. at 441 Saxony Road, Encinitas. This annual event for all ages coincides with the last day of the week-long Jewish holiday of Sukkot, and is the Farm's biggest event of the year.
This year's festival theme is Renew & Reroot. The family friendly event will include a host of Jewish learning workshops, farm tours, music, tours of neighboring Butterfly Farms, a "libation station," fermentation tastings, as well as food options for purchase. There will also be a Kids Zone with several activities, including a flower crown making station.
Osher Lifelong Learning at UC San Diego
Discover the joys of continued learning at an Open House on Saturday, Sept. 22, at 9:30 a.m. on UC San Diego's Extended Studies campus, 9600 North Torrey Pines Road.
Presented by the Osher Lifelong Learning Institute, this membership program for adults over 50 offers daytime lectures, seminars and guided tours by renowned university faculty and community leaders.
Subjects include science, medicine, law, art and humanities among others. There are no prerequisites, exams or credit – simply the joy of learning. One highlight during the Fall Quarter is a series on Security, Loyalty & Liberty in America, 1798-present. To learn more visit the UCSD program at olli.ucsd.edu or call 858-534-3409.
Scream Zone opens Sept. 28
The Scream Zone at the Del Mar Fairgrounds returns Sept. 28 for a month of haunts and scream-worthy scarezones.
This year, the 21st annual event runs Sept. 28 through Oct. 31 at at 2260 Jimmy Durante Blvd. The experience will be open from 7 p.m. to midnight on Fridays and Saturdays and from 7 p.m. to 11 p.m. on other nights the event runs.
The Scream Zone, returning for its 21st year, is a labyrinth of horrors and attractions, including a collection of three terrifying haunts: The Haunted Hayride, KarnEvil and House of Horrors. Visit
www.thescreamzone.com or call 858-755-1161.
Sign up for the Encinitas Advocate newsletter
Top stories from Encinitas every Friday for free.
You may occasionally receive promotional content from the Encinitas Advocate.