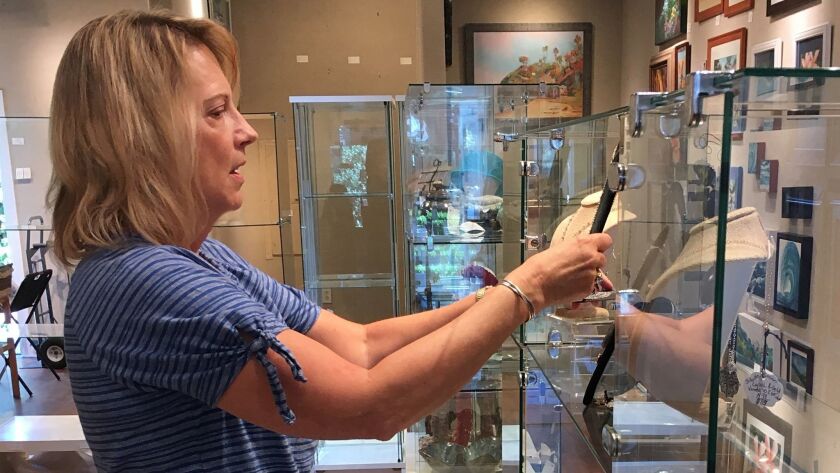 Exhibiting artists at Off Track have been busily working toward reopening their gallery after faulty plumbing caused a leak that seeped under the gallery floor, causing it to discolor and buckle.
The leakage began gradually, taking months before it became noticeable and possibly threatening to gallery contents. Gallery Manager, Judianne Shannon, and the guild's president, Linda Melvin, worked closely with the center's management and maintenance department to determine the extent of the damage and a course of action.
"Once it became obvious that the flooring had to be replaced, all artwork needed to be removed to prevent possible damage, especially to our display furnishings" Shannon said. "It's been a huge job, since more than 100 artists and several hundred pieces of art had to be moved out of our space and then be returned. But as is typical of our members, they responded quickly and were more than willing to help to get the job done."
Located in the Lumberyard Shopping Center, Off Track Gallery is owned and operated by the members of San Dieguito Art Guild. The gallery showcases fine art pieces, sculpture and other 3-dimensional artworks, jewelry and more.
The San Dieguito Art Guild (SDAG) is a non-profit 501 (c) 3 organization that is dedicated to furthering artistic understanding and fostering artistic growth of members and the community at large by promoting interest, education, knowledge and skills in the visual arts.
For more information about the Gallery please call (760) 942-3636 or visit www.offtrackgallery.com.
— Submitted news release
---