Artist creates sculpture out of plastic, trash in Encinitas
A Tibetan artist recently visited Encinitas to create a sculpture out of ocean pollutants and express the dangers of unconsciously throwing items out.
Tashi Norbu, a Holland-based artist who grew up in Bhutan, worked on the "Plastic Soup Buddha" sculpture on a parcel next to the La Paloma Theater on Nov. 13 and 14 before doing a live painting demonstration on Nov. 15. He created the piece in partnership with Earth Elements, a store that promotes higher consciousness through art and holistic medicines.
Norbu created the 13-foot-tall "Plastic Soup Buddha" out of hundreds of toys, wood panels and foam mats that littered local oceans.
The artist, who visited Encinitas as part of a tour and has also created similar pieces around the world, discussed the sculpture on Nov. 14 as he drilled plastic pieces onto the fixture.
This Q&A has been edited for length.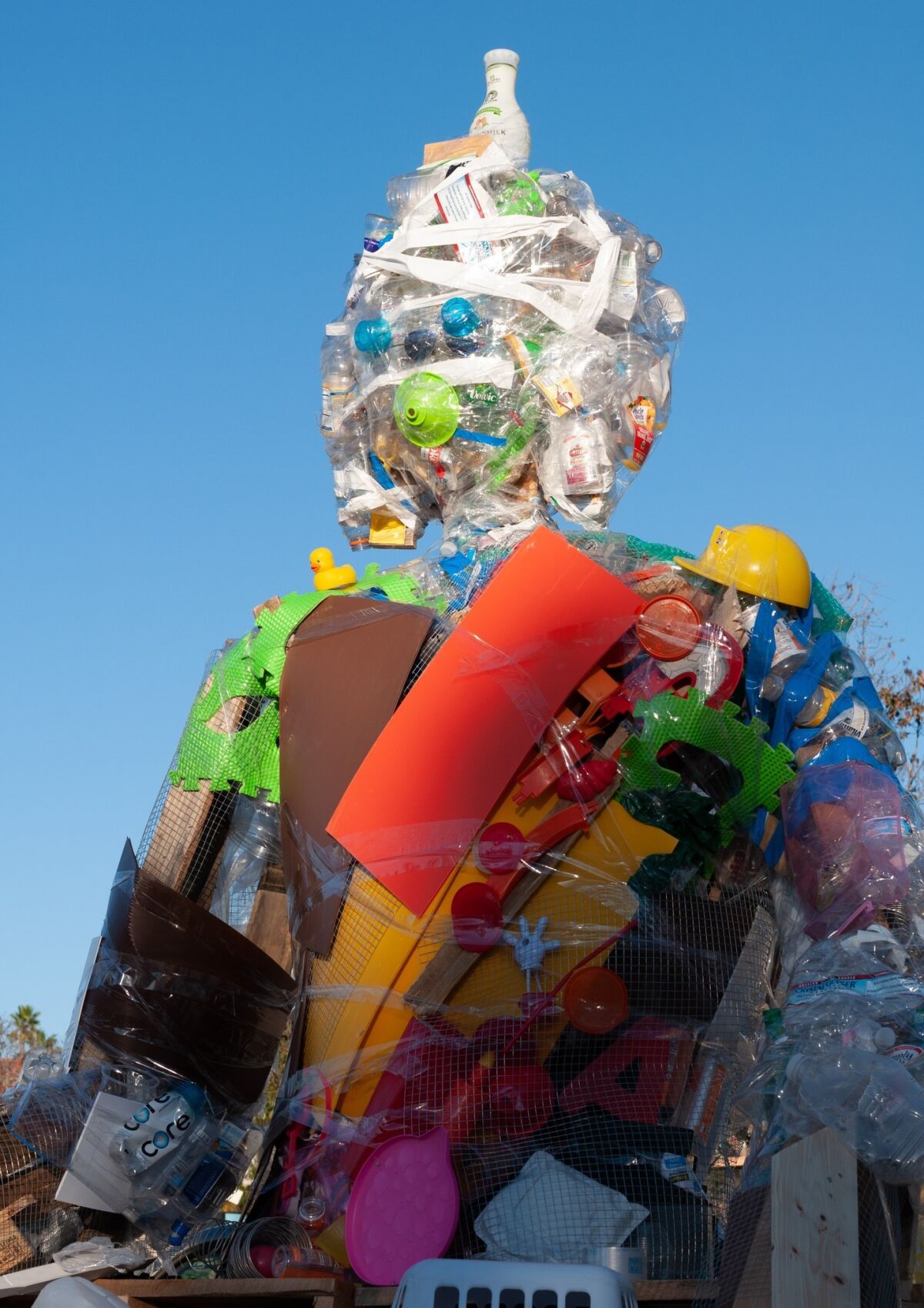 Q: Why did you want to create an art piece based on ocean pollution?
A: As a Tibetan artist, our main motivation and philosophy of life is compassion and love to Mother Nature and certain beings. I had the modern education of creating European fine art. I got into creating awareness through art to bring ecological balance to save the world by just taking the initiative of building these plastic sculptures.
Q: Why is it important to share this kind of message?
A: Basically, we don't realize that when we do the supermarket shopping, we get a lot of these plastic bags. We don't know where it goes. At the end, they go into the ocean and whales die because they eat them. When people see that, they're a little awakened. This sculpture tried to bring the noise for this global problem. I think we should focus on ecological balance then we can save this world together.
Q: Where did you find these materials for the sculpture?
A: People have brought me their toys, which are some of the biggest pollutants. People do anything for their kids. Where I grew up in Bhutan, I didn't have plastic toys. I was in nature. The ground was my drawing pad. Here, people went to the ocean to pick up the plastic [toys] that are coming from the beach.
Q: Do you always create art like this?
A: I use any different forms of art, including paintings. Visual images are very powerful. I paint with mindfulness. That's very good for the people of America, that our mind is not in our home, in our bodies. It's always out there. These kinds of paintings or this form of sculptures are the main purpose of my life to create this awareness.
Q: What do you hope people take away from this piece?
A: Everybody ignores trash. They don't know where it goes. At the end, it really goes to the ocean. These giant species like whales mistakenly eat these, thinking they're food, and they die. We are really killing the earth.
Q: How long have you been an artist?
A: Since I was a child, I was drawing on the ground in Bhutan. I grew up in nature in a traditional monk kind-of dress. There's no television or anything in Bhutan. I even had a little bell attached to my dress so my parents could find me in the forest and I also carried knives for emergencies. I looked like Mowgli from The Jungle Book. ... Now that I see all these plastics everywhere it was like, 'Wow.' My life is one time. This world is dying.
Sign up for the Encinitas Advocate newsletter
Top stories from Encinitas every Friday for free.
You may occasionally receive promotional content from the Encinitas Advocate.