Breast cancer survivors create art out of bras
One cup is decorated with bright, colorful flowers, while the other is adorned with a spiderweb pattern and arachnids.
For Ann Blasi, the bra represents her journey with breast cancer.
"You never know what's in your breast," said the Oceanside woman. "You think it's all sweetness and light, and hidden in there sometimes can be something scarier."
Blasi, who was diagnosed with colon cancer in 2013 and breast cancer in 2014, was one of about 10 breast cancer survivors who created purses and art pieces out of bras in an "Artful Bras and Purses" class Dec. 1 at UC San Diego Health - Cancer Services in Encinitas.
Alessandra Colfi, expressive arts therapists, leads the art classes on Fridays throughout the year since 2010.
The creations have been displayed at galleries across the county, like Front Porch Gallery in Carlsbad, The Heritage of the Americas Museum at Cuyamaca College, Oceanside Library and UC San Diego Moores Cancer Center.
Colfi — who leads a variety of expressive arts programs to engage patients in self-exploration, self-expression and help them through their healing process — said many of the materials are donated and vary in color and size.
"The important thing is to have choices because cancer is a disease that puts you against the wall," she said. "You want to have choices. This is a symbolic way to express that. ... Every time I get the opportunity to exhibit, I think it kind of makes the patients see the full validation of their work and see how the community comes together to learn more about what they're going through but for them to also know they're creative."
Nancy Kimerly, a volunteer and breast cancer survivor who helped Colfi found the "Artful Bras and Purses" class, said she was inspired to do something different with her lingerie after she could no longer wear them.
She then thought to create the purses, gluing the cups together to form the bag and using the bra straps to wear around the shoulder.
"The notion to me of re-purposing this beautiful object that was made for one thing and turning it into something equally beautiful but different is so wonderful," she said.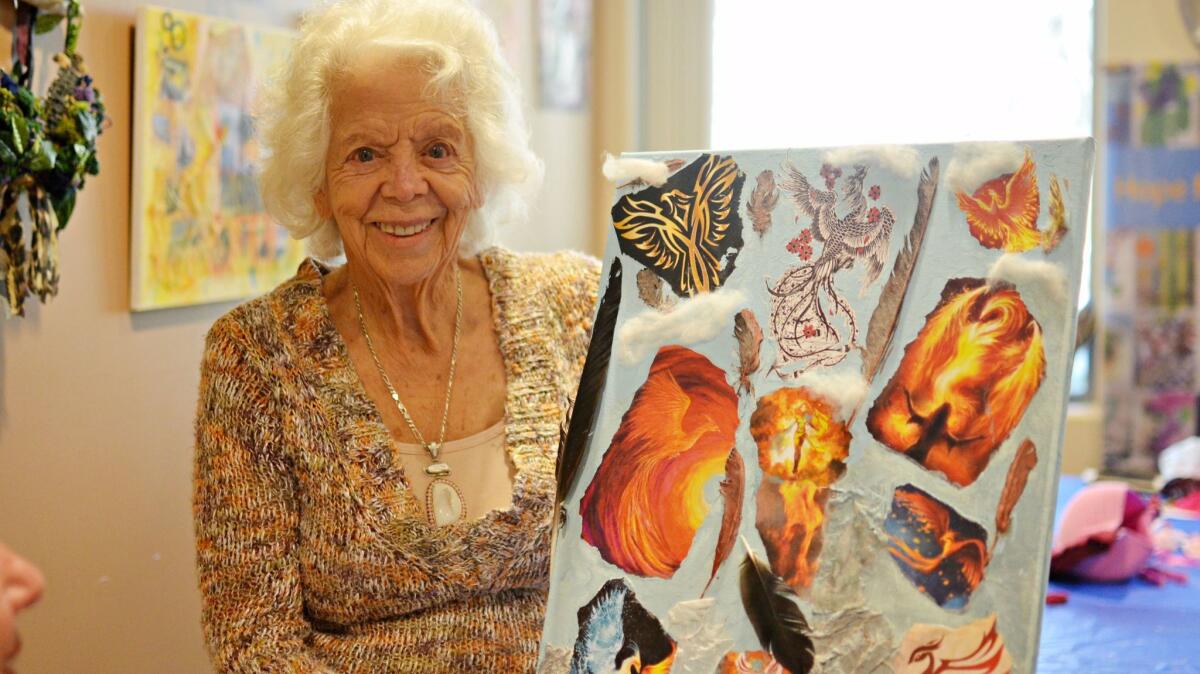 Kimerly said the activity helps survivors — who call themselves phoenixes, named after the bird who revives itself from the ashes — bring self-esteem and control back into their lives.
She recalled one lady who had a double mastectomy and created the "most gorgeous artful bra."
"She went in the bathroom, put the bra on, came out and said, 'This is the only time I've never cried looking at my bras,'" Kimerly said.
Blasi said the classes allow survivors to connect with one another in a setting that is freeing and not depressing.
"Everybody here understands where you're coming from," she said. "If you're feeling down or upset, somebody will come up with something to get you out of yourself."
Patricia Ladd, an Encinitas resident, met Colfi in a previous art class before finding out about the activities for breast cancer survivors.
Ladd, who had always dabbled in arts and crafts as a teacher, said she looked to art as the therapy to help her through her diagnosis.
"Alessandra really got me on the path to express myself," she said. "She was like my angel. I forget about everything when I'm here. I didn't want to go to support groups and talk about [cancer.] But I knew that if I'm in this safe environment, and I can have my mind busy, I don't have to talk about the horrible stuff."
For more information about "The Artful Bras and Purses" and other programs, email Alessandra@AlessandraColfi.com
Sign up for the Encinitas Advocate newsletter
Top stories from Encinitas every Friday for free.
You may occasionally receive promotional content from the Encinitas Advocate.