Local artist's paintings of ocean now on display in Encinitas gallery
A local art teacher hopes to evoke feelings of peace from the ocean, but also acknowledge the water's power in an art show now on display at the Encinitas 101 Main Street Association gallery.
Angela Jackson, who lives in Cardiff and has taught at San Dieguito Academy since 2005, displays mixed-media paintings dedicated to the waters of Encinitas, Hawaii, Cabo and other places around the globe in her "Ebb and Flow" show.
Jackson's work is on display at the Encinitas 101 Main Street Association gallery, 818 S. Coast Highway 101, through Dec. 31. For more information, visit www.angelajacksonartist.com.
The Encinitas Advocate recently sat down with Jackson to discuss her work.
Why are you excited for this show?
I'm just really thankful for the opportunity and just being a part of the community as well. I like being able to give a voice to local artists here in Encinitas.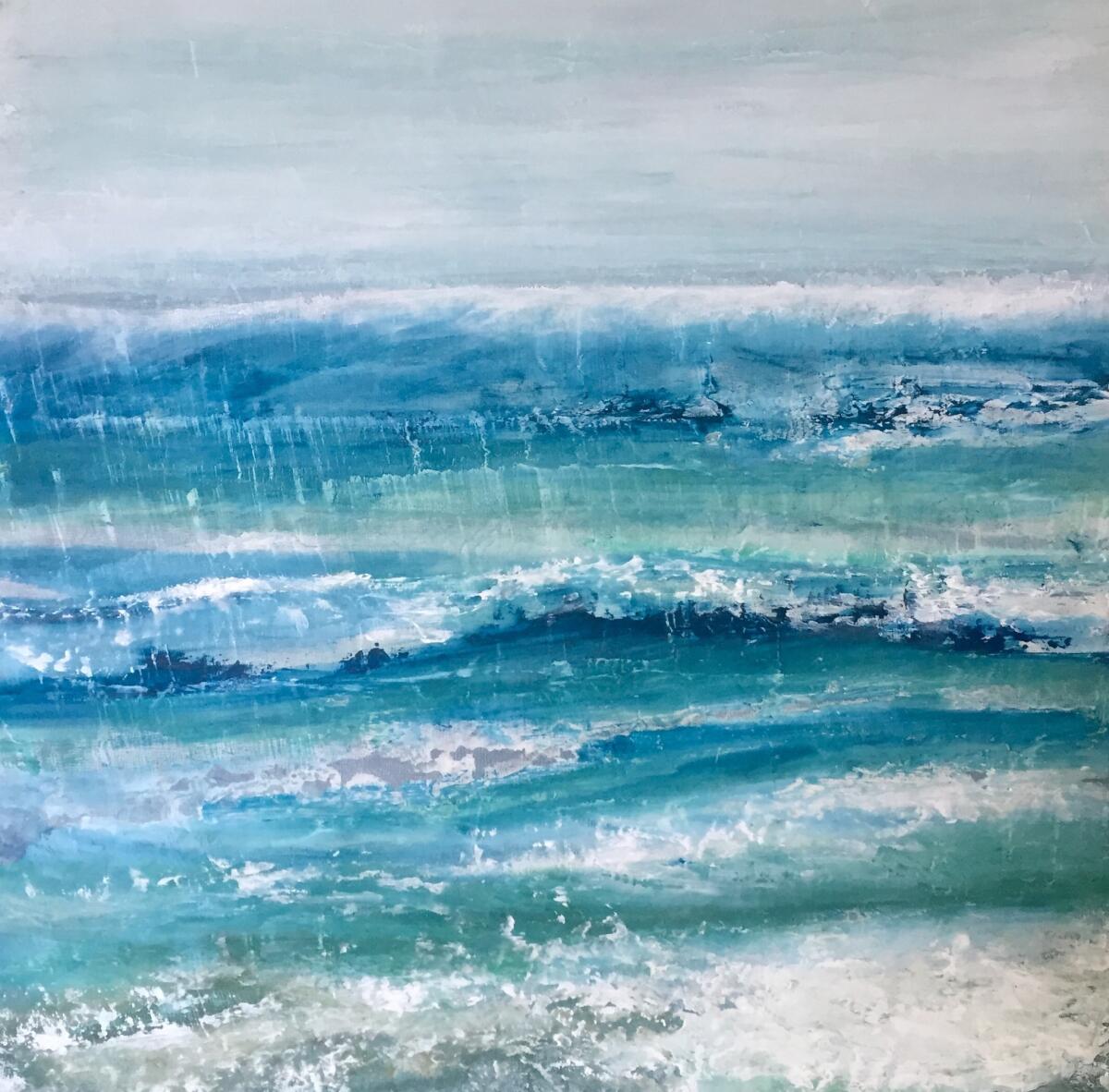 Why do you gravitate toward painting the ocean?
I grew up in Pennsylvania about two blocks from the river. For me, being close to water is just something that is really important. The water just pulls me in. I noticed that a few years ago when I started painting the ocean, that it changes every day. A lot of the paintings definitely have a calming presence to them, and some have a bit more of a power presence.
What materials do you use to create your art?
Being a painter today is super broad in a way because you're pulling different materials. I normally use acrylic and acrylic texture paste. Sometimes I use rice paper as a base and layer with texture, then I start building on top with layers. The final layer is actually local beeswax. Part of that is for protection. It's a great natural varnish. It also gives another layer of texture. Because my husband is a surfer, it also kind of references the surf culture with waxing your board.
What is your background in art?
I've been painting for about 20 years, but I really didn't get serious about showing and putting my work out there until 2011. That's when I began to reconnect with myself through yoga, meditation and spending time with nature. That was the perfect vehicle for me to delve deeper into my art. When I met my husband, and he'd be out in the water surfing, I'd bring my watercolors and take photographs and begin working on this body of work that has become my focus.
How do you hope people react to your art? Are you looking to evoke any certain types of emotions?
I leave it up to the viewer. However, a lot of people gravitate toward it because they do see the peacefulness, and that's really something a lot of people mention to me. There are some other paintings that kind of show the power and strength of the ocean, and they see that as well. It's really open to interpretation but I have had some feedback for those two reasons.
What message do you hope to spread as an artist?
Being a full-time art teacher and also being a practicing artist, I want to encourage people to create and put their work out. You have to carve time out, just like you have to carve time out for exercise. It's just so important for your well-being and soul. It's a beautiful thing to set aside some time on your calendar, set a reminder, for studio time to be that creative person.
Sign up for the Encinitas Advocate newsletter
Top stories from Encinitas every Friday for free.
You may occasionally receive promotional content from the Encinitas Advocate.