Students at Encinitas school walk out in Trump protest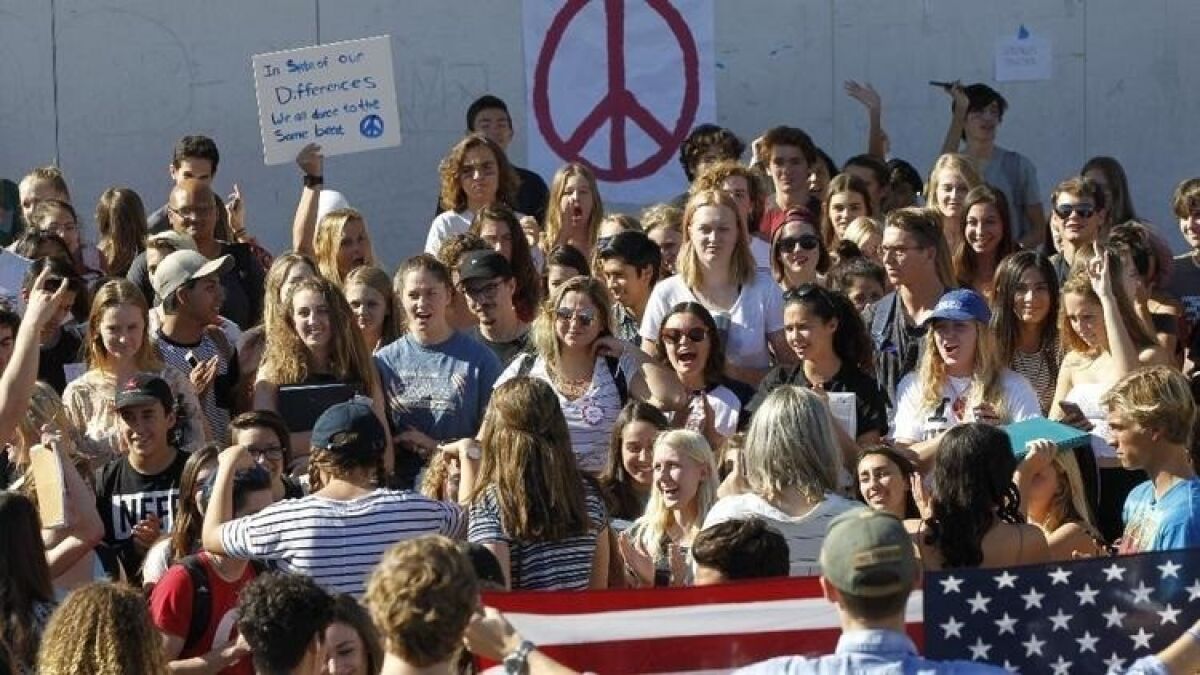 Too young to vote but old enough to voice opinions, several hundred students at San Dieguito High School Academy walked out of class Nov. 10 to protest the election of Donald Trump to the U.S. presidency.
"The moment I realized that Trump was the person we chose to elect, I cried for an hour," said Cordelia Degher, 16, one of the organizers of the walkout. "I was disappointed that our country would vote for someone like that."
Students at the Encinitas campus poured out of classes at 1 p.m. and sat down together at an amphitheater, facing about two dozen counter-protesters holding Trump signs or American flags. Degher had texted invitations to friends, urging them to protest Trump's "racism, sexism and intolerance" by leaving their third period classes to assemble on campus.
"Guys don't know what it feels like for us to hear the things he's said about women," said Colleen Coveney, 16.
Male classmates said they do understand that distress.
"I know you are angry, and I know you're hurting," senior Austin Dilley told the anti-Trump crowd. "This is not the future we want for our country or our state or our school. We need to reject their hate and meet it with compassion."
Others said they opposed Trump but questioned the protest, telling classmates that unwelcome election results are the price of democracy.
"I'm a Democrat," said Matt Benowitz, 17. "But we have a system in place that allows us to choose our president. I'm holding that American flag not because I'm a Trump supporter but because I'm an American. You cannot silence those who oppose you."
Aris Lazerson, 16, said he is Jewish and had family members who died in the Holocaust, but warned against over-reacting to Trump's polarizing stances.
"Trump is not Hitler," he said. "Trump is Democratically elected. I don't agree with his policies. I know you don't agree with what he stands for ... I want to assure you that you are safe."
Holding a Trump sign, Skyler Terry, 17, said he didn't fully support either candidate, but the controversy over Hillary Clinton's e-mails swayed him toward Trump, who he hopes will reform tax policy and improve the economy.
Jill Butler, 17, said she turns 18 on Sunday and missed the chance to vote by days, but still wanted to voice her objections to Trump's election.
"No matter what race you are, what religion you are, we're all brothers and sisters," Butler said. "This is a way we can make our opinions heard, even though we are too young to vote."
Principal Bjorn Paige sent an e-mail to parents and students notifying them of the planned walkout. He said the school wouldn't prevent the students from gathering, but that their absence from class would be unexcused.
Linnea Leidy, 17, who helped organize the walkout, said it was worth it.
"People think teenagers are the most stupid part of our population, but I'm really proud of what we did (Nov. 10)," she said.
– Deborah Sullivan Brennan is a writer for The San Diego Union-Tribune
---
Sign up for the Encinitas Advocate newsletter
Top stories from Encinitas every Friday for free.
You may occasionally receive promotional content from the Encinitas Advocate.