Local author recounts 5,000-mile bicycle ride across the country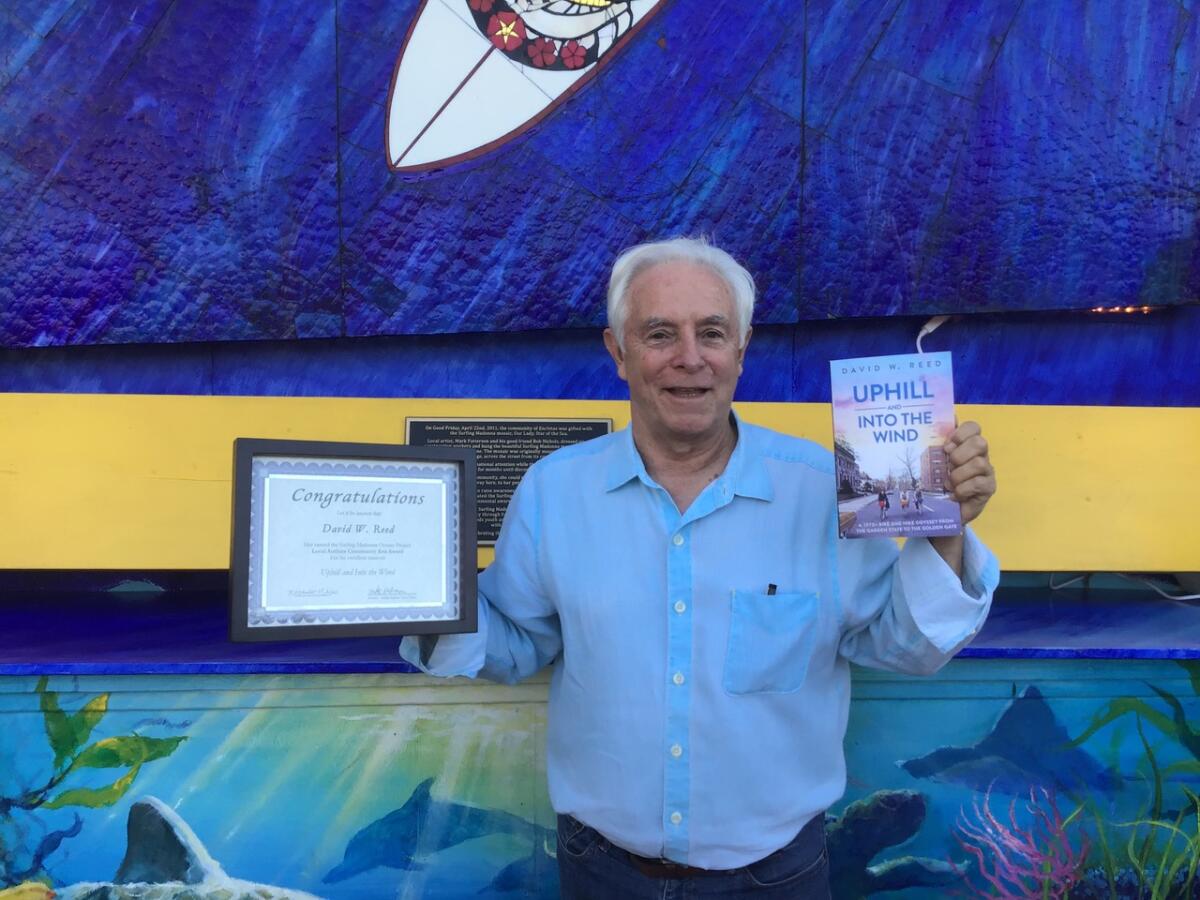 Disillusioned by a president embroiled in controversy, and discouraged by an increasingly unpopular war overseas and systemic racism at home, 23-year-old David Reed "just wanted to get out of Dodge."
"Does that sound familiar?" said Reed, author of a newly released memoir, "Uphill and Into the Wind," about how he embarked on a cross-country bicycle ride of more than 5,000 miles in April 1973.
That journey took place as allegations of corruption in the Nixon administration, lives lost in the Vietnam War and protests spurred by racism dominated each news cycle. Comparing the issues America faced then to the ones the country faces now, Reed said "it's amazing how relevant" his book is.
"I think what's happening today is more egregious in many ways," added Reed, now a landscape architect who lives in San Diego.
Reed set out from his home state of New Jersey with two new friends, heading south into Shenandoah National Park in Virginia. The trio headed west through Kentucky, Missouri and Kansas, stopping at Rocky Mountain National Park in Colorado. From there, they ventured north into Canada and south to San Francisco.
Along the way, Reed and his friends experienced hospitality from the locals they encountered, who sometimes offered food, indoor plumbing, a laundry room and a place to sleep for the night.
"That went on all across the country," he said. "We didn't expect to be taken in by people so warmly. It was a surprising and wonderful treat for us every time it happened. I can only hope that that American spirit is still out there when you get down to a one-to-one level."
Most nights, the trio slept outside. After waking up and having a quick breakfast, they rode their bikes almost all day. Their five-month trek also includes time they stopped to explore several national parks.
From a butterfly migration to a tornado, Reed also details the full range of nature they experienced throughout the country.
"It's so full of adventure," he said. "There were so many amazing experiences we had."
And with America again divided over a controversial president, wars overseas and racial inequality, Reed said the book also calls to mind the adage that "those who don't learn from history are doomed to repeat it."
"Democracy is up to us," he said. "We have to forge democracy. It's our right and our privilege, but you have to do something about it, you can't just sit back."
When he decided several years ago to start a memoir, Reed sorted through about 400 pages of journal entries that he wrote during the cross-country trip. He added that "the biggest thrill of all is the feedback" he's been getting since the book's September release.
Accolades include the Local Authors Community Arts Award from the Encinitas-based Surfing Madonna Oceans Project. Copies of the book were also given to the Cardiff and Encinitas libraries. His memoir also climbed to the #2 spot of Amazon Kindle's "New Release in Adventure and Explorer Biographies."
"Uphill and Into the Wind," published by Acorn Publishing, is available in hardcopy and ebook editions on Amazon, in book stores and more. A portion of the sales will go to the Environmental Defense Fund to help fight climate change. For more information, visit uphillandintothewind.com.
Sign up for the Encinitas Advocate newsletter
Top stories from Encinitas every Friday for free.
You may occasionally receive promotional content from the Encinitas Advocate.