Rady Shell 2023 summer season will feature Buddy Guy, Patti LaBelle, Van Morrison, Jethro Tull and more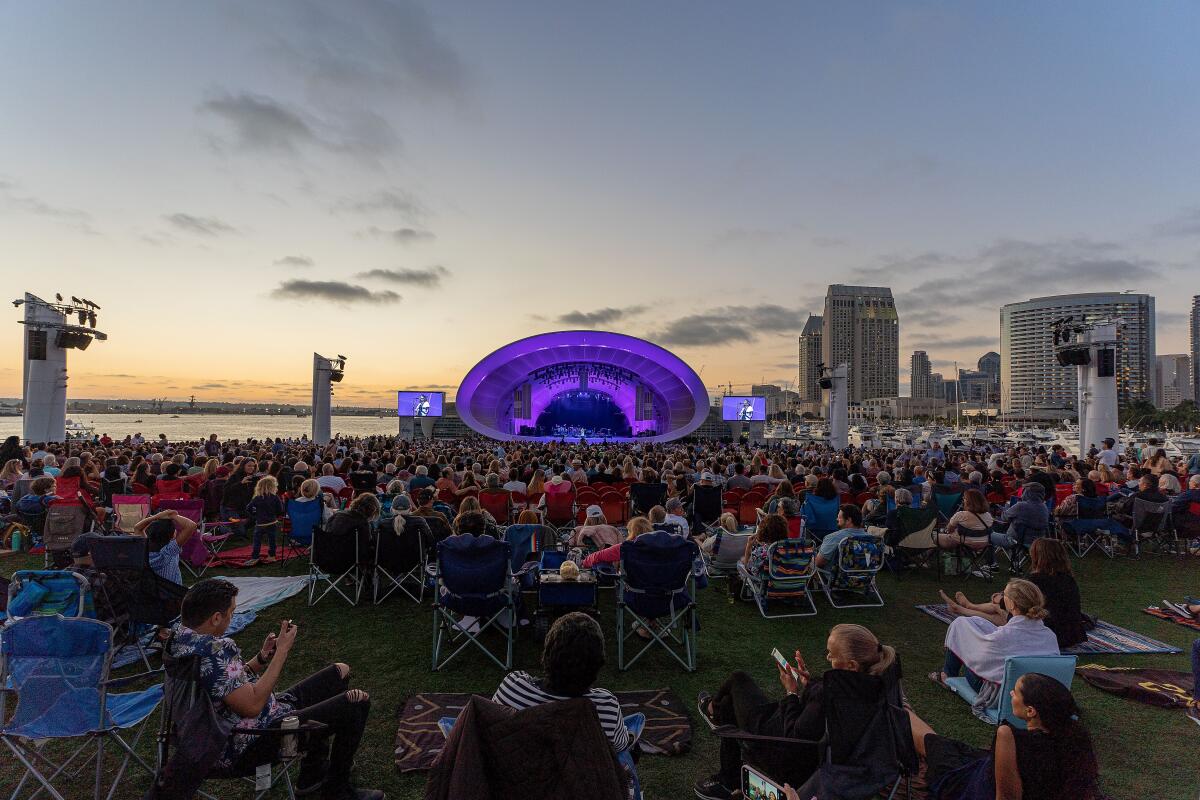 The lineup at the San Diego Symphony's $85 million open-air venue also includes everyone from The Jacksons and Judy Collins to Charlie Puth and the Gipsy Kings
Bonnie Raitt and Alicia Keys performed two months apart last fall at the San Diego Symphony's Rady Shell at Jacobs Park, but the multiple Grammy Award-winners had similarly enthusiastic reactions.
The two music legends, who are longtime friends, drew a sold-out audience of 4,700 to their performance at The Rady Shell at Jacobs Park
"What a venue — oh my god!" Raitt told the audience as she took the stage at her Sept. 28 concert.
"This is my first time at The Shell and it's one of the most beautiful places in the world," Keys said at her Nov. 5 concert at the bayside venue in downtown San Diego.
The unannounced benefit show by the 15-time Grammy Award winner, a day before her concert at Viejas Arena, raised $3.1 million for the year-old San Diego nonprofit
Such reactions from high-profile artists come as music to the ears of the San Diego Symphony.
The Shell, built at a cost of $85 million and open year-round, debuted in the pandemic-buffeted summer of 2021 when most indoor live-music venues were still shuttered. It quickly became a hit with audiences and performers (and their booking agents and managers).
The resulting buzz has helped the state-of-the-art venue attract some major new performers for its upcoming 2023 summer concert season. The 31-performance lineup also includes a number of artists who have previously performed at The Shell.
"I'm super excited that it's already our third season," said San Diego Symphony Music Director Rafael Payare.
"I just got back from London, where I spent seven weeks, and many people there are aware of The Shell. They've seen pictures of it and they ask me: 'Is it really that beautiful?' Everybody is intrigued by it."
The globe-trotting Venezuelan orchestra leader, just back from his latest European tour, is excited to soon take his first bite of the Big Apple
The 2023 summer season will open with Payare leading the orchestra in a June 30 concert that will include the West Coast premiere of Roberto Sierra's 18-minute trumpet concerto, Salseando. Pacho Flores, making his debut at The Shell, will be the featured soloist.
Other newcomers to the venue will include Charlie Puth on July 9; The Jacksons (featuring Tito, Marlon and Jackie Jackson); The Village People on July 16; Ziggy Marley on Aug. 6; Patti LaBelle on Aug. 19; Van Morrison on Sept. 4; Buddy Guy on Sept. 7; and the latest iteration of Jethro Tull on Sept. 26. Also new to the venue is Guster, whose July 29 performance will be an orchestral one with the symphony.
Artists who will be returning this year to the bayside venue include the Beach Boys on July 1; Mariachi Los Camperos on July 30; Mavis Staples and Trombone Shorty on Aug. 6; the Gipsy Kings on Aug. 13; Gladys Knight on Aug. 19; and jazz mainstays Charles McPherson and Gilbert Castellanos on Sept. 9.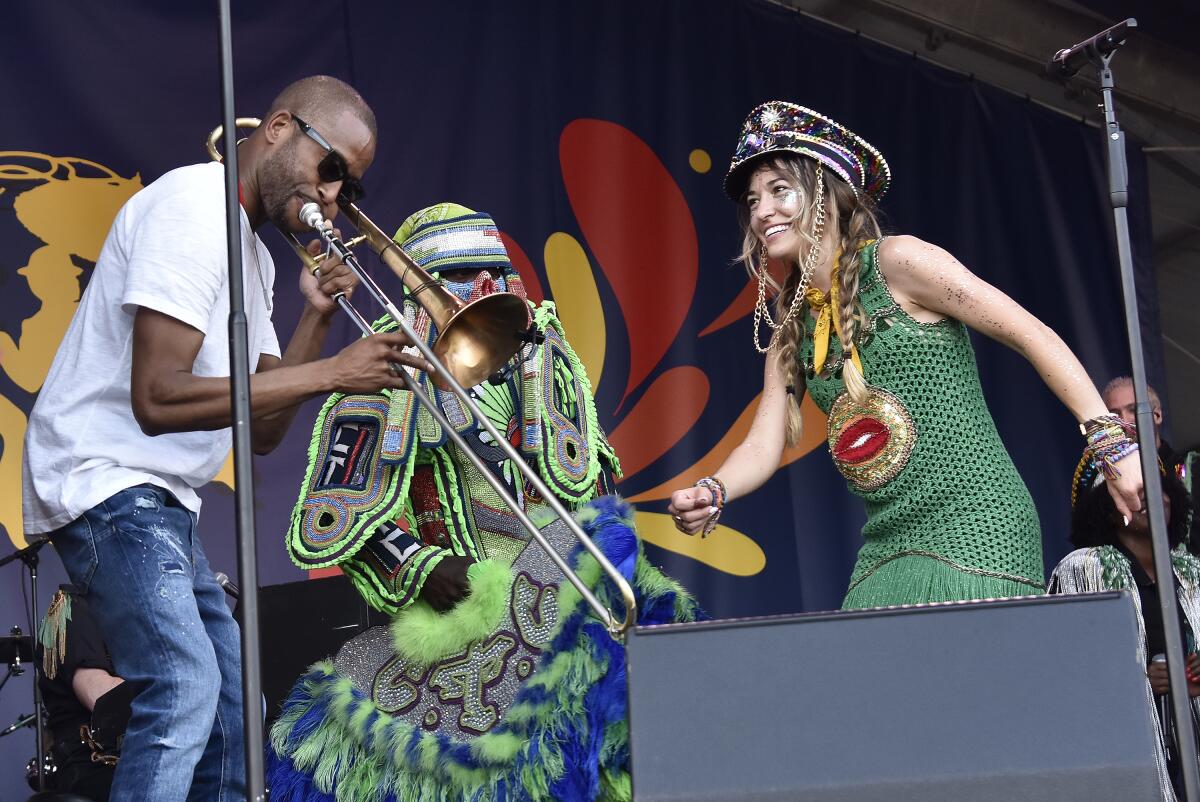 'Building the audience'
If the dates of some of these performances appear to overlap, it's because they do.
Vocal greats LaBelle and Knight are sharing the bill on Aug. 19. Likewise, the Aug. 6 performance by Staples and Shorty is part of a multi-act lineup that also includes lap-pedal-steel guitar wiz Robert Randolph and his band.
"You might see certain artists — like the Beach Boys and Gipsy Kings — become staples at The Shell because they've done well and the relationship we have with them is a good one," said San Diego Symphony Vice President of Artistic Administration and Audience Development Lea Slusher.
She has booked each of The Shell's summer concert seasons since it opened and has played an instrumental role in helping the venue draw the music industry's attention.
"When we opened in 2021," said San Diego Symphony CEO Martha Gilmer, "we knew it would take a while for people to get to know what the venue is and what its capabilities are. Lea has done a fabulous job."
Slusher has helped coordinate unique orchestral performances at The Shell, including with Oakland funk band Tower of Power and San Diego-based Grammy-winner Jason Mraz. And she lured away such longtime Humphreys Concerts by the Bay performers as Raitt, Smokey Robinson and the Gipsy Kings.
"We want to offer a diverse range, so that anybody who likes music can find something in our season they like," said Slusher, who on Jan. 2 married Steve Hornsby on the stage of The Shell.
Wedding guests get 'orchestra' seats at Jan. 2 marriage of San Diego Symphony V.P. Lea Slusher and her beau
"We're building the audience. People who come in not knowing The Shell and have a good experience will be more likely to come back and take a chance on an act they maybe don't know as well."
Filmed by Apple and Olivia Rodrigo
The Shell is located next to San Diego Bay and occupies about a third of downtown's 10.8-acre Embarcadero Marina Park South. The venue is open 85 percent of the year as a public park, including the expansive turf lawn in front of the stage.
Many of the rehearsals by the orchestra and its musical guests are open to the public. So are most sound-checks by artists performing non-orchestral concerts at the venue, whose namesakes — Ernest and Evelyn Rady and Irwin and Joan Jacobs — contributed more than $15 million and $11 million, respectively, in underwriting. More than 99 percent of its $85 million cost was privately funded.
Designed by Tucker Sadler Architects, The Shell is 57 feet high and 92 feet wide. It resembles a combination of Australia's famed Sydney Opera House and a more intimate, non-landlocked Hollywood Bowl.
The venue's striking visual appearance and setting have garnered international attention, thanks in part to its panoramic views of Coronado, the downtown San Diego skyline and the adjacent bay and marina.
"On clear days, you can see Mexico!" said Payare, who raves about the Meyer Sound Constellation audio system, the first ever built for an outdoor venue.
"And, he added, "I tell people that, 97 percent of the time, the sky in San Diego is ridiculously blue."
In September 2021, barely a month after The Shell opened, Apple featured the venue in the filmed roll-out for its iPhone 12. When 2022 Best New Artist Grammy Award-winner Olivia Rodrigo performed a sold-out May 2022 concert at The Shell, her record company used a drone to film Rodrigo and her 8,500 fans from above.
Appearing in San Diego the same night as Debbie Harry and Blondie, Rodrigo delighted her fans, including Skylar Levitan, 11, who sang along throughout (but left out the periodic F-bombs)
Also, a depiction of The Shell will be featured when Legoland California Resort in Carlsbad unveils its 3,200-square-foot Lego rendering of San Diego as part of its Miniland USA attraction.
Last year, The Shell hosted a number of private corporate events. One of them featured a performance by Billy Joel. Another featured Sting. Both were booked through the San Diego Padres, which is credited as a valued partner by the symphony.
'Work in progress'
In spite of such high-profile exposure, Slusher is quick to note that The Shell is still establishing itself.
"Every year, you learn something new and have to make adjustments," she said. "We learn more each season about the scheduling of The Shell, about being strategic regarding when the orchestra is or is not playing, and when to strike the stage (for different productions). We're evolving."
Symphony CEO Gilmer and Craig Hall, the orchestra's vice president for marketing and communications, agree with Slusher's assessment.
"We've learned a lot about how the venue operates," Gilmer said. "And gotten a lot smarter about everything — traffic flow, audience flow, (food and drink) concessions, what kind of events sell and where they sell, what part of the venue sells first, overall buying patterns, audience patterns, ingress, egress. We understand all the fundamentals of the venue a lot better now."
"We haven't pulled back thinking we have it all down," Hall said.
"When we opened in 2021 — when the pandemic was having such an impact on all of us — it was important that every concert presenter, business owner and concertgoer understood that it wasn't 'normal' (operating procedures).
"So, this third season might be considered more of our second 'regular' season and we still have a lot of work to do. There may be a lot of people who haven't heard of The Shell yet or have heard of it, but haven't been here yet. We're focused on letting people know this venue exists — here it is! — and here's what we have coming.
"We have a long way to go before we're as established as the Hollywood Bowl, Ravinia (in Chicago) or Tanglewood (in Massachusetts), which have been around a long time. We're still very much in the growth phase."
One visible change for concertgoers this year at The Shell will be a reconfiguration of part of the Bridgeview seating area, where five rows of single theater-style seats have been replaced by 140 tables — each with two seats. In addition, 12 tables have been added in the Marina section. These changes will reduce the venue's capacity for seated concerts by 200.
"In 2021, we had 3,500 seats for most concerts and in 2022 we had 4,700. This year, we'll have 4,500," Hall explained. "We eliminated one Bridgeview section to accommodate more table seating with food and beverage service, which is very popular with our attendees."
However, the biggest change in store for the symphony is one that won't be readily visible at The Shell, but will be just over a mile away.
The Shell's 2021 opening came a year after Copley Symphony Hall at Jacobs Music Center — the symphony's longtime indoor home — closed to begin an extensive, $125 million renovation. The 112-year-old hall will reopen for the symphony's 2023/2024 Jacobs Masterworks season, which begins Nov. 4 at the downtown venue, which is about a 20-minute walk from The Shell.
The 2022/2023 Jacobs Masterworks series opened and closed at The Shell, with indoor concerts held in between at various venues across San Diego County. Now, with Copley Symphony Hall set to reopen in eight months, the Jacobs Masterworks series will pivot back indoors.
"That opens up a whole lot more outdoor concerts that we can do at The Shell," Hall said. "We didn't have two of our own venues before, so now we'll figure out what works better outdoors or indoors. It's a work in progress and we are finding our way."
Hall, Gilmer and Slusher anticipate there will be instances when the symphony will concurrently present orchestral concerts in Copley Symphony Hall and non-orchestral concerts at The Shell.
"We always set goals," Gilmer said. "And sometimes they are wildly exceeded, which is great, and sometimes they aren't. You can't hit a home run every time. You want to be really proud of what you present to audiences, and I am."
The Shell by the numbers
After opening in August 2021, The Rady Shell at Jacobs Park presented 28 paid events that drew a total of 88,000 people in its first 61 days of operation. At the time, capacity was limited to 3,500 per concert because of the pandemic.
The total attendance in 2022, when the venue's capacity was increased to 4,500, was 181,994 for 53 concerts. This total does not include the attendance at concerts at The Shell presented by outside promoters.
The Rady Shell at Jacobs Park 2023 Season Lineup
All concerts are at 7:30 p.m. unless indicated otherwise.
Friday, June 30: Opening night, with the San Diego Symphony, conducted by Rafael Payare, featuring trumpeter Pacho Flores. $22-$100.
Saturday, July 1: The Beach Boys. $22-$220.
Sunday, July 2: "ARETHA: A Tribute," with the San Diego Symphony, conducted by Lucas Waldin, featuring vocalists Capathia Jenkins, Ryan Shaw, Sydney Harper, Rajdulari and Rannold Chalmers. $22-$100.
Tuesday, July 4: C&C Music Factory and DJ Prince Hakim. $22-$100. (7 p.m.)
Friday, July 7: "Apollo 13 in Concert," with the San Diego Symphony, conducted by Nicholas Buc. $32-$135.
Saturday, July 8: "How to Train Your Dragon in Concert," with the San Diego Symphony, conducted by Nicholas Buc. $22-$100.
Sunday, July 9: Charlie Puth. $50-$280.
Friday, July 14: Steve Hackman's "Tchaikovsky x Drake," with the San Diego Symphony, conducted by Steve Hackman. $22-$100.
Sunday, July 16: The Jacksons and Village People, $32-$135
Friday, July 28: National Youth Orchestra-USA, with Sir Andrew Davies and Gil Shaham. $20-$75.
Saturday, July 29: Guster, with the San Diego Symphony, conducted by Enrico Lopez-Yañez. $22-$100.
Sunday, July 30: Mariachi Los Camperos with the San Diego Symphony, conducted by Enrico Lopez-Yañez. $20-$75.
Friday, Aug. 4: "Beethoven by the Bay," with the San Diego Symphony, conducted by Johann Stuckenbruck, featuring pianist Eric Lu. $22-$100.
Saturday, Aug. 5: "Clouds in My Coffee: The Trailblazing Music of Joni Mitchell, Carole King and Carly Simon," with the San Diego Symphony, conducted by Ted Sperling, featuring vocalists Andréa Burns, Morgan James and Capathia Jenkins. $22-$100.
Sunday, Aug. 6: Trombone Shorty & Orleans Avenue and Ziggy Marley, with Mavis Staples and the Robert Randolph Band. $32-$135. (6 p.m.)
Friday, Aug. 11: "Harry Potter and the Deathly Hallows, Part 2, in Concert" with the San Diego Symphony, conducted by Justin Freer. $32-$135.
Saturday, Aug. 12: "Harry Potter and the Deathly Hallows, Part 2, in Concert" with the San Diego Symphony, conducted by Justin Freer. $32-$135.
Sunday, Aug. 13: Gipsy Kings, featuring Nicolas Reyes. $32-$135.
Friday, Aug. 18: Judy Collins and Madeleine Peyroux, with the San Diego Symphony Orchestra, conducted by Sean O'Loughlin. $32-$135.
Saturday, Aug. 19: Gladys Knight, Patti LaBelle. $45-$220.
Sunday, Aug. 20: "When The Saints Go Marching In," with trumpeter and conductor Byron Stripling and the San Diego Symphony, featuring vocalist Miche Braden, keyboardist Bobby Floyd and bassist Rob Thorsen. $22-$100.
Friday, Aug. 25: "Broadway Romance," with the San Diego Symphony, conducted by Rob Fisher, featuring vocalists Mikaela Bennett and Ross Lekites. $22-$100.
Saturday, Aug. 26: "In the Air Tonight: A Symphonic Celebration of Genesis and Phil Collins," with the San Diego Symphony, conducted by Stuart Chafetz, featuring drummer Brian Kushmaul and vocalists Aaron Finley and Brook Wood. $22-$100.
Friday, Sept. 1: "Tchaikovsky Spectacular," with the San Diego Symphony, conducted by Christopher Dragon, featuring pianist Steven Lin. $22-$100.
Sunday, Sept. 3: Counting Crows, with Frank Turner. $45-$220. (6:30 p.m.)
Monday, Sept. 4: Van Morrison. $65-$325.
Thursday, Sept. 7: Buddy Guy's "Damn Right Farewell Tour," with Christone "Kingfish" Ingram, $32-$135
Saturday, Sept. 9: "Bebop and Beyond: The Music of Charlie Parker and Dizzy Gillespie," with alto saxophonist Charles McPherson, trumpeters Gilbert Castellanos and Jeremy Pelt, alto saxophonist Antonio Hart, bassist David Wong and drummer Joe Farnsworth. $20-$75.
Friday, Sept. 22: "Classic Albums Live performs Creedence Clearwater Revival: Chronicle, Vol. 1.", $22-$100.
Saturday, Sept. 23: "Classic Albums Live performs Led Zeppelin II." $22-$100.
Tuesday, Sept. 26: Jethro Tull. $45-$220.
Tickets: Series tickets go on sale at 10 a.m. today and are available online at TheShell.org, by phone at (619) 235-0804 and at the symphony's downtown box office at 750 B Street. Single tickets go on sale in May.
Series packages: Friday, Saturday and Sunday "A" packages — 8 concerts, $162-$878; Friday, Saturday and Sunday "B" packages — 4 concerts, $85-$530; Friday, Saturday and Sunday "C' packages — 4 concerts, $85-$530.
For tickets, visit theshell.org
george.varga@sduniontribune.com
Sign up for the Encinitas Advocate newsletter
Top stories from Encinitas every Friday for free.
You may occasionally receive promotional content from the Encinitas Advocate.