Despite the shutdown of San Diego Rep, JFest rises again as an independent organization
The Lipinsky Family San Diego Jewish Arts Festival has new staff, new partners and new venues for its 30th season this summer
Last spring, the 29th Lipinsky Family San Diego Jewish Arts Festival was well under way at the Lyceum Theatre in downtown San Diego when its founding organization, San Diego Repertory Theatre, collapsed with an insurmountable $2 million of debt.
San Diego Rep is no more, but JFest is rising again. Thanks to an outpouring of support from Jewish community organizations, private donors, international artists and local venue operators who have offered both financial support and performance space, the 30th anniversary JFest will return June 1 through July 16 in a newly reimagined form.
In the past, JFest held most of its events at the Rep's former home, the city-owned Lyceum Theatre in Downtown San Diego. The new festival will present events all over the county at venues in La Jolla, Encinitas, Balboa Park, Hillcrest, Solana Beach, East Village and Carlsbad. This year's venues include two professional theater companies, a Universalist church, a farm, a movie theater and a Jewish temple.
JFest's founding artistic director Todd Salovey said he was overwhelmed by the community's desire to rescue the festival, particularly the generous sponsorship by the fest's longtime donors, the Lipinsky family of San Diego, as well as a new producing partner, the Lawrence Family Jewish Community Center in La Jolla.
But even with these offers of support, Salovey said it was herculean effort to cobble together a new management team and festival program. He said it was touch and go for months, but several weeks ago, he and his team saw the light at the end of the tunnel.
"We felt like a startup," he said. "There was a lot of work to do without us knowing what would actually happen. About a month ago we all looked at each other and realized that this is going to happen."
Salovey has returned in the role of artistic director. JFest's new managing director is Matt Graber, who served as director of marketing and, later, director of external affairs, at San Diego Rep from 2015-2022 and is now chief marketing officer for San Diego Opera. Joining them as associate producer Rebecca Myers, who is the producer of the fest's 3-year-old Whole Megillah Jewish New Play Festival, and Ali Viterbi, a festival producer and associate artistic director for more than a decade.
Graber said this summer's festival will be a "proof of concept" test to see if the public will support the festival in its new form. If successful, the creative team plans to put together a new mission, vision and values statement as well as a three-year fiscal plan.
Although it's been a challenging year relaunching the festival, both Graber and Salovey said they feel a sense of optimism about the future.
"It has given us a freedom that we can make the festival take on different programming and be more ambitious," Salovey said. "That will be super exciting."
Besides working with the local artists that past fest-goers know and love, Salovey said he would love to attract even more international touring Jewish artists like frequent past performer Hershey Felder and this summer's Perla Batalla. He'd also like to produce more new events, like this summer's 24-hour "Eco-Jewish Play Fest," and perhaps partner on full theatrical productions with other local theater companies.
But one thing that won't change is the festival's core goals.
"We love that our audience is not just Jewish," Salovey said. "It's important we demystify and de-stereotype the images of what we think Jewish people are and we develop an audience across communities."
Graber said that a rising tide of antisemitism both in the U.S. and abroad has made it more important than ever for the festival to expand and diversify its audience.
"We want to represent Jews of many hues and we want to take the festival out to people," he said. "We have to do what we can to un-otherize ourselves. That message about antisemitism is not just targeted to White male Americans but also marginalized communities. One of the best ways to un-otherize people is through art. We want to represent the entire breadth and weight of the diaspora."
Below is the schedule for the 2023 Lipinsky Family San Diego Jewish Arts Festival. Tickets, priced from $18 to $50, go on sale today on the newly launched website sdjfest.org.
2023 JFest Schedule
Festival launch party — Details to come. 7:30 p.m. June 1. Lawrence Family Jewish Community Center, 4126 Executive Drive, La Jolla.
"Witnesses" Concert — One-time reunion concert-style performance of CCAE Theatricals' award-winning world premiere 2022 musical inspired by the diaries of five European Jewish teens who perished in the Holocaust. 2 p.m. June 4. Lawrence Family Jewish Community Center, La Jolla.
"Judaism & Art" by Rabbi Meir Soloveitchik — The senior rabbi of Congregation Shearith Israel in Manhattan will be the festival keynote speaker. 7:30 p.m. June 5. Congregation Adat Yeshurun, 8625 La Jolla Scenic Drive North, La Jolla.
The Whole Megillah New Jewish Play Festival. — "Unapologetically Jewish" new plays will be presented at local theaters. 7:30 p.m. June 7 and 7 p.m. June 11 at the Old Globe, 1363 Old Globe Way, Balboa Park; 7:30 p.m. July 6 and 2 p.m. July 9 at New Village Arts, 2787 State St., Carlsbad.
"Neshama — Music of the Soul" — A communitywide concert of pop, folk, klezmer, classical, Sephardic, dance and Middle Eastern music. 7:30 p.m. June 8. The Old Globe, Balboa Park.
14th annual Woman of Valor — Celebration of six San Diego Jewish women: Annie Benaroch, Amelia Glaser, Jan Landau, Fanny Krasner Lebovitz and Sheila Lipinsky and Beth Sirull. 1 p.m. June 11. Leichtag Commons, 441 Saxony Rd, Encinitas.
"Hereville" — Family-friendly musical by Robby Sandler and Lizzie Hagstead about a time-traveling, monster-fighting orthodox Jewish girl. 7 p.m. June 11 at the Old Globe, Balboa Park; 2 p.m. July 9 at New Village Arts, Carlsbad.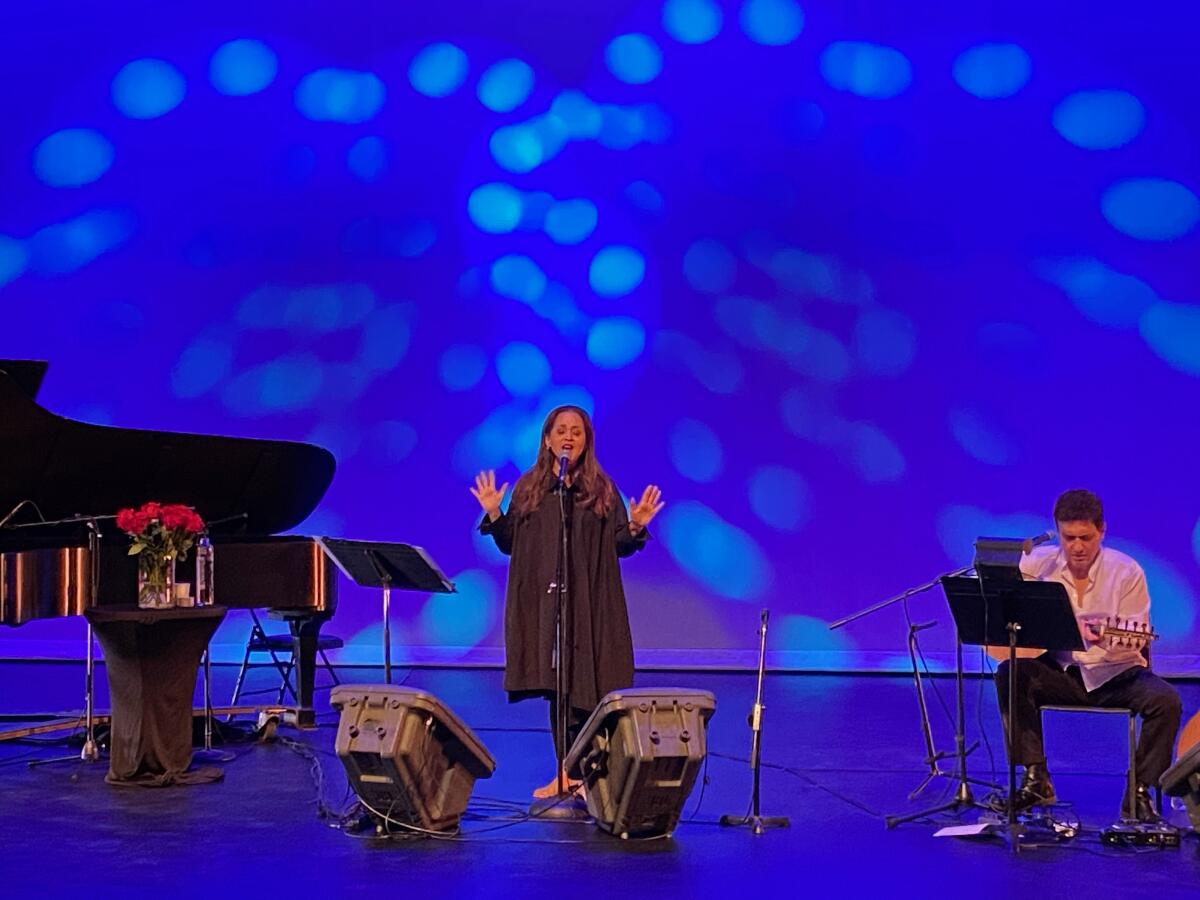 Perla Batalla in House of Cohen — The Grammy-nominated Batalla, who once toured as a backup singer with legendary Canadian singer-songwriter Leonard Cohen, performs some of his lesser-known songs and shares anecdotes about their friendship. 7:30 p.m. June 15. Lawrence Family Jewish Community Center, La Jolla.
Theatre Dybbuk presents "The Merchant of Venice (Annotated), or In Sooth I Know Not Why I Am So Sad" — This Los Angeles-based Jewish theater company presents its latest play, exploring the history and theatricality of one of William Shakespeare's most controversial plays. 2 p.m. June 18. Lawrence Family Jewish Community Center, La Jolla.
Matisyahu in Concert — This Jewish American singer, known for his pop hit "One Day," performs reggae, rap, beatboxing and alternative pop. 8 p.m. June 20. Belly Up Tavern, 143 S. Cedros Ave. Solana Beach.
22nd Klezmer Summit: The World of Jewish Music — Yale Strom & Elizabeth Schwartz and Hot Pstromi will perform Jewish music from Western and Eastern Europe and the Middle East with guests Farhad Bahrami, Corale Thuet, Robert Zelickman and Fred Benedetti. 7:30 p.m. June 21. First Universalist Unitarian Church of San Diego, 298 W. Arbor Drive, Hillcrest.
"Recordially Yours, Lou Curtiss" — Screening of Yale Strom's new documentary that chronicles the life and times of local audiophile and raconteur Lou Curtiss, who created both the San Diego Folk Festival and Adams Ave. Unplugged Festival and ran Folk Arts Rare Records in San Diego. (The screening will be preceded by a talk on Jews and folk music at 6:15 p.m.) 7 p.m. June 25. Digital Gym Cinema, Park & Market, 1100 Market St., East Village.
"Chagall" — Co-created by writer/composer Yale Strom and writer/director Todd Salovey, this concert reading traces how Bella and Marc Chagall became refugees in their lives and art. 7:30 p.m. July 6. New Village Arts, Carlsbad.
Eco-Jewish Play Fest — Coastal Roots Farm will collaborate with Rebecca Fletcher on this new event, where seven writers, directors and stage managers and 21 actors will be given 24 hours to create seven short plays inspired by the farm's core Jewish values of sustainable agriculture and food justice. 6 p.m. July 16. Leichtag Commons, Encinitas.
Sign up for the Encinitas Advocate newsletter
Top stories from Encinitas every Friday for free.
You may occasionally receive promotional content from the Encinitas Advocate.