Opinion/Letters to the Editor May, June 2021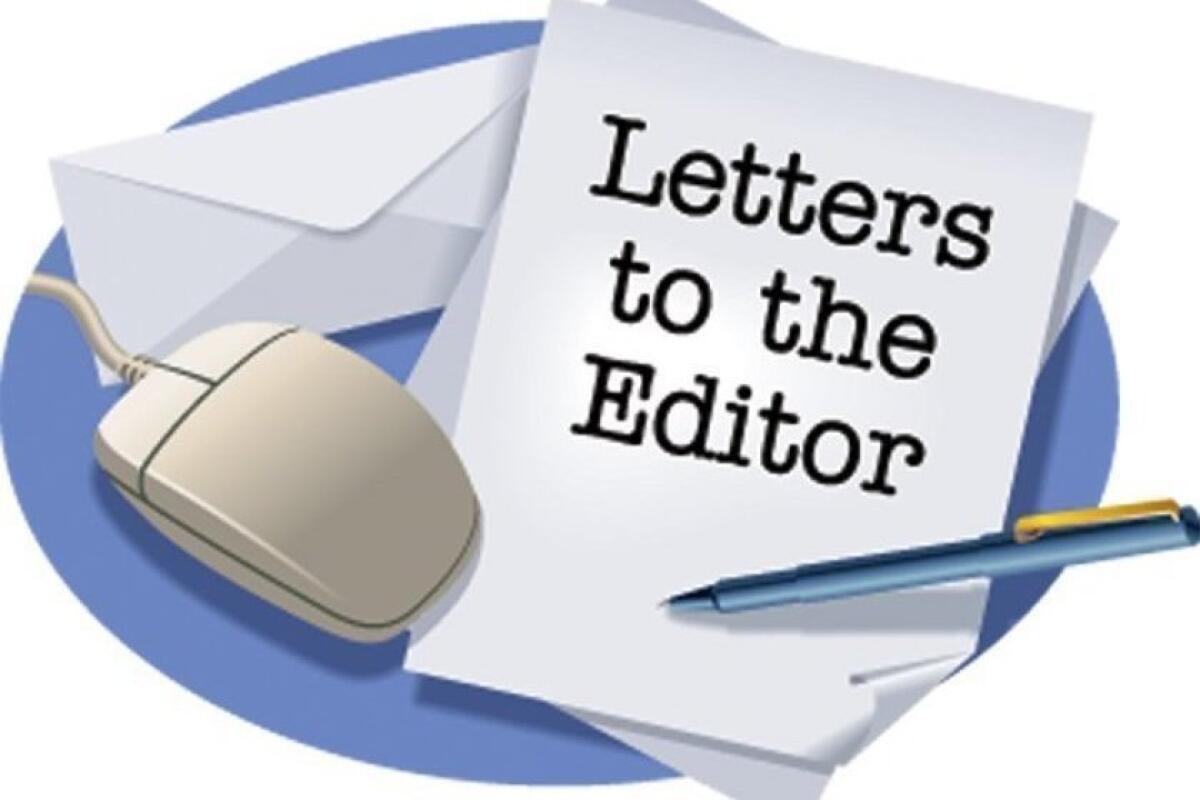 May 7 issue:
An open and fair election in Area 5 would help instill trust in the end result
Excellence. . . respect . . . transparency . . . integrity. These are the values that have made the San Dieguito Union High School District number one in San Diego County. Superintendent Bill Berrier, who served from 1972-2001, laid a stable foundation under which we have thrived as a district. For years after he retired, we enjoyed stability and continued excellence. We built state-of-the-art facilities through Prop AA and created an atmosphere for student achievement that is the envy of San Diego County.
Recently, our well-respected Area 5 board trustee resigned, and within 20 days, a new trustee was appointed without regard for community input. Because our board is elected by area, the recent appointment put that replacement decision squarely with four sitting trustees, none of whom are Area 5 constituents.
In partnership with our community, the educators of SDUHSD launched a petition for a special election in Area 5. This would ensure a proper introduction to the candidates, and thereby allow 26,000 voters to have an informed choice through a fair, transparent and public process. We do not have an opinion on any of the seven candidates who applied for this position and would welcome the opportunity to get to know them all in an open and fair election.
Some have concerns that a special election could be costly. While factors may mitigate that, it is important to point out that this board majority chose to prematurely buy out our superintendent's contract at a cost of $280,000. This fiscally irresponsible decision allowed this majority to name an interim superintendent within a mere 48 hours of Dr. Haley's resignation. In prioritizing use of district funds, we support choices that uphold our values and respect our community.
Also of primary concern to us is the chaotic nature of our board's decision-making process, most notably since Trustee Gibson's resignation. The process of filling the superintendent and trustee vacancies was rushed, not transparent, and fraught with abuses of power, all circumventing board policies and Education Code.
In this pandemic, we have also seen hostility grow within our community -- hostility and disrespect for teachers, administrators, parents, and the very fabric of public education.
We cannot stand by.
We don't just work here - we live here, our children go to school here. We are your children's teachers, counselors, and educational specialists dedicated to serving all students. As we strive for continued excellence, your schools depend on the integrity of their leaders, on sound processes and sound choices. In this case, an open and fair election in Area 5 would help instill trust in the end result. On that, we cannot put a price.
Duncan Brown, on behalf of 96 co-signers/local teachers, the names of whom can be seen on the Teachers of San Dieguito Facebook page.
Proposed amendment to 'Solid Waste Collection Service Rates'
Every resident in Encinitas was recently mailed a "Notice of Public Hearing On Solid Waste Collection Rates." The proposal is to impose an "Organics Collection Service Rate," increase the "Franchise Fee," implement a "Five-Year CPI Fee Adjustment schedule," and impose a "Temporary Special Fee."
The proposed "Organics Collection Service Rate" for residential single family is $3.88/month. The "Franchise Fee," currently 5%, is proposed to double to 10%. Residential rates would increase by $1.36/month. The CPI Fee Adjustment Schedule is 4.5%. The "Temporary Special Fee" covers the distribution of kitchen caddies and paper bags for residents to transport food waste from the kitchen to the green cart. That fee is $0.94/month for a period of 12 months.
The total cost of the proposal varies, depending upon the size of the collection cart. If you have the small (35 gallon) cart, your monthly cost will increase from $14.50/month to $20.28/month. Most residents have the larger (95 gallon) carts; the cost will increase from $22.15/month to $28.33/month. Since most Encinitas residents have two carts, minimum, the cost will increase from $29/month to $40.52/month (35 gallon carts), and from $44.30/month to $56.66/month (95 gallon carts). For additional information, see the mailer. If you do not have the mailer, you may pick one up at Encinitas City Hall.
For most Encinitas residents, the cost of solid waste collection represents but a small expense relative to overall expenses. However, the proposed increase, expressed as a percentage, is very substantial. Should your carts be the 35 gallon, the percent increase is 39.9%. Should your carts be the 95 gallon, the percent increase is 27.9%.
Should you be one of the many residents who compost, this added expense is completely unnecessary. If you do not compost, you may already place green food waste (wilted vegetables and the like) with your yard waste (lawn cuttings, shrub trimmings) and, again, find this completely unnecessary.
In summary, the objective of this post is to inform and to initiate discussion. Be advised that the public hearing to consider this matter is scheduled for May 12, 2021. Email, facsimile, or other electronic communication will not be accepted. Your comments must be written, contain your signature as the property owner or renter of record, and your address/Assessor Parcel Number. Your comments can only be mailed or delivered to city hall in person prior to the public hearing. In short, should you choose to comment, it will require substantial effort on your part.
The City of Encinitas has a franchise agreement for waste collection with EDCO. EDCO recently mailed residents its Spring 2021 edition of Environmental Times, wherein they state, "Residential Organics Recycling is Coming!" and "When the program starts on June 1, 2021…". In other words, EDCO considers the Council action done. You may obtain this mailer from EDCO.
This rate increase for solid waste collection is presented to residents at the same time as the Leucadia Wastewater District is proposing a sewer service charge increase.
Bruce St. Gean
Encinitas
Note: A correction to the letter above published May 21:
The City of Encinitas provided the following corrected information:
EDCO customers are billed every other month so residents with a 35 gallon trash cart will be billed at a rate of $20.28 per month and will see $40.56 on their bill (because they are billed every two months). Residents with a 95 gallon trash cart will be billed $28.33 per month and will see $56.66 on their bill. Customers are billed according to the size of their trash container, not according to how many carts they have. Additionally, City Hall is still closed to the public so residents will need to call and request another mailer to be sent.
June 3 issue:
Response to SDFA teachers union petition to recall
On May 20, after an 11-hour San Dieguito Union High School District board meeting, I stepped out into a dark parking lot and was ambushed by Duncan Brown, the head of SDFA (the teachers union), who shoved a recall notice into my hand.
Addressing the needs of our schools — and our students — during these times of distress and challenge, turned into a view "behind the curtain" that revealed what became, over years, the norm. Our district lost touch with its purpose — the best interests of the students. Re-opening efforts balanced with safety, and the quality of in-person experiences are but a handful of elements I've prioritized with my platform of students and families first.
Absent from Brown or the union, is a clear call to prioritize the students who've struggled for so long alone, in what has become a year of isolation, at the precise time in their lives when interpersonal growth is so entwined with peer interaction. This has been shamefully absent from the union's actions and narratives.
A significant part of my campaign as a trustee was built on the platform to return to the district's purpose while safeguarding and accommodating our talented faculty. The voters spoke with my election last fall to the board of trustees and I moved with purpose to restore the school district to the children and families. Despite union pushback through the fall and winter, we were finally able to reopen schools for the final quarter of the school year.
I am now concerned that students may be forced to the backseat once again, as the teachers union, in conjunction with the California Teachers Association out of Sacramento, attempts to recall both me and Ty Humes, who was unanimously appointed to the school board to fill a vacant seat. These efforts serve only SDFA, who seems intent on wresting control while saddling the district with the costs of the elections, estimated to be as much as $1.3 million out of the general funds. Our district has been running a deficit for the last five years. This is taxpayer money, and should be used for school, not for the political benefit of the unions.
As our district celebrates in-person graduations at our high schools and middle schools (a development I fought for), I remain resolved. I was elected to ask the tough questions and to advocate for parents, students, and taxpayers. I will continue to be tough. Students and families first—that is my platform and I live it every day.
Michael Allman
Board trustee, SDUHSD
The legacy of SDUHSD Area 4
42.31% — that is how much of the San Dieguito Union High School District (SDUHSD) Area 4 vote Michael Allman received in 2020. He won by 326 votes. As we embark on a recall of Mr. Allman, we implore this community to take a hard look at how Mr. Allman won the seat – a seat held for 24 years by Joyce Dalessandro.
As many in our community know, Joyce is a beloved community volunteer who literally built our schools from the ground up. Mrs. Dalessandro's accomplishments are too numerous to recount in this space, but there is a reason she is the 2020 DeDe Alpert School Board Member of the Year. Like Joyce, we are community volunteers who have tirelessly worked inside our schools and out to make our schools and our community safe places where gratitude and compassion are in abundance and all students, parents and staff are cared for and taken into account. Our track record and commitment to this community and our schools speaks for itself as does Mr. Allman's lack thereof. And that is why, in a commitment to protecting the integrity and respect of our school district, we have followed the lead of our daughters and have signed on with 6 other community members to launch a recall of Michael Allman. In doing this, we proudly walk alongside our San Dieguito Faculty Association (SDFA). SDFA is 620 members strong, and those members are our neighbors, friends, favorite teachers, counselors, speech and language pathologists and so much more.
Over the summer we will be walking alongside the SDFA and our community to knock on every door needed to secure not just the 5,008 required signatures, but so many more because this is not a community of division, racism, cyberbullying, lies, cheating or hate . . . it is a community of gratitude, compassion, connection, love, honor and dedication – all things that Joyce Dalessandro taught us and built our schools on. We hope you will join us. To find out more, please e-mail GratefulinArea4@gmail.com.
Stephanie Kowack and Heather Dugdale
June 18 issue:
Who runs our schools?
Parents, taxpayers and school boards should run our schools. Teachers unions should not control school districts. San Dieguito Union High School District (SDUHSD) is an excellent district with excellent teachers. However, I fear for the future of these schools and schools across the nation.
I am a grandfather of a child attending a SDUHSD school. There have been four generations of teachers in my family. My parents insisted on respect for teachers. There are limits on my respect for people and organizations that do not value my concerns. We must change things right now.
Let me go straight to the bottom line. It is not appropriate to silence parents, board members and friends of the school district. When you disagree with someone, the proper way to approach the disagreement is to discuss the issues. Creating myths and then spreading false information to strengthen the myths is dangerous to the democracy. The constant attacks by the San Dieguito Faculty Association on the school board makes it difficult for me to understand how this district can provide the education that all our children need.
There are five board members (trustees) at SDUHSD. It is possible that there may be less than five members soon. Over the last two years there have been four board members threatened with either recalls or a special election. It is almost certain that one member will be recalled and another subject to a special election. The cost to the school district for these elections will be as much as $1,300,000. We have an interim superintendent now. We need a new superintendent and a stable school board.
I will support all board members and faculty who work toward the improvement of the schools. I will not support anything that wastes large amounts of money. After-school activities should be encouraged and provided money for them to continue. I understand there is not enough money right now for some after-school activities.
Finally, the union and others are setting a bad example for students. I want our future adults to see how democracy and fair negotiations should be done.
Bill Graham
Carlsbad
Sign up for the Encinitas Advocate newsletter
Top stories from Encinitas every Friday for free.
You may occasionally receive promotional content from the Encinitas Advocate.