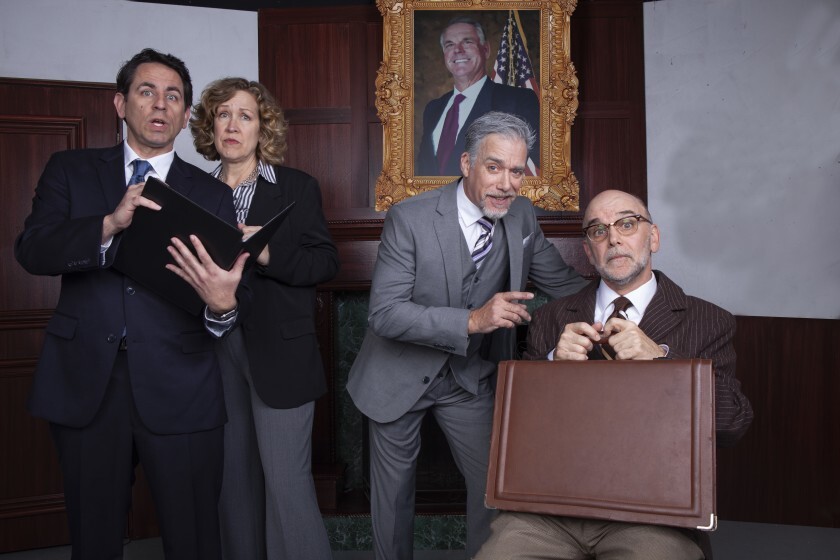 Solana Beach company is staging Paul Slade Smith's comedy about a camera-shy policy wonk who suddenly becomes a governor
Canyon Crest Academy's Creative Writing Club recently announced the speaker line-up for the 9th Annual CCA Writers' Conference to be held Saturday, March 28.
Canyon Crest Academy's Girls Who Code club and the affiliated all-girls Ravenettes robotics team began 2020 with a new outreach event with the goal to encourage more girls to explore computer science and engineering.

San Diego International Jewish Film Festival is celebrating its 30th anniversary this year, and Feb. 13-23, 2020 will show 35 films in four different venues: Reading Cinemas Town Square in Clairemont, Garfield Theatre at Lawrence Family Jewish Community Center in La Jolla, Museum of Photographic Arts (MOPA) in Balboa Park, and La Paloma Theatre in Encinitas. There's a lot to choose from, with dramas, comedies and documentaries about the arts, history, sports, family conflicts, and Israeli-Palestinian relations.

The Sweetheart's Ball, which is a night of fun for the whole family, will be held on Friday, Feb. 21, from 6 – 8 p.m., at the Encinitas Community and Senior Center located at 1140 Oakcrest Park Drive, Encinitas.

Art Night Encinitas The community is invited to partake in an evening of visual art as Encinitas civic and local art galleries open their doors to celebrate the City's diverse art scene.

The Encinitas-based Ovation Theatre's musical production of "Matilda" debuts Jan. 31 at 7 p.m., with additional performances this weekend, Feb. 1-2 at 2 p.m. each day, and next week from Feb. 7-9.

Alan Alda appeared in the auditorium at Scripps Research in La Jolla on Jan. 16 to announce a partnership that will teach scientists how to communicate more effectively to the public and to other scientists. The Emmy-winning actor is making Scripps the West Coast home of Alda Communication Training, a Long Island-based program that sharpens the communication skills of people who spend much of their days staring at computer screens and microscope slides and speaking in the language of their academic papers.