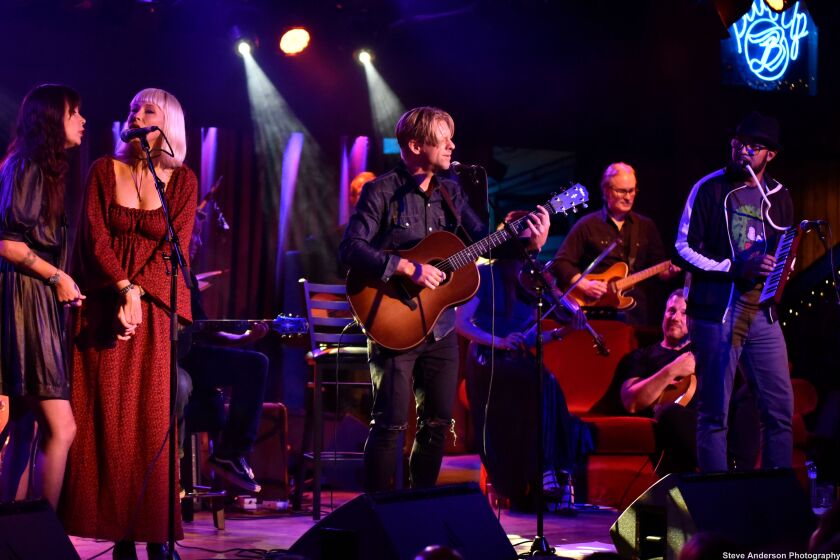 For The Sender is returning home to the historic La Paloma Theater for its annual Holiday Show on Dec. 14 at 7:30 p.m.
12th Annual Kringle Mingle returns to Cardiff Town Center Join Santa in Cardiff-by-the-Sea for the 12th Annual Kringle Mingle, a free holiday gathering at Cardiff Town Center on Sunday, Dec.1, from 1 p.m.-5 p.m.

"Nails have been a path to artistic expression for thousands of years," reads a sign at the entry to Oceanside Museum of Art's supersized exhibition "Tiny Canvases: The Art of Nails." Farther along, there's a sign about the history of nail adornment, mentioning "manicure kits dating as far back as 3200 BCE in the tombs of Babylonian soldiers." Babylonian soldiers? Who knew? Jan Arnold did. She's the co-founder and style director of Creative Nail Design (CND), the company that co-produced this stunning display of nail art, which opened in October and continues through Feb. 9, 2020.

There's no greater proof of San Diego's famously fair weather than this: In 82 years, the Del Mar race track has never lost a single day of horse racing to inclement weather.

All are welcome to attend the North County Justice Allies at its first public meeting Nov. 18 as a newly incorporated 501(c) (4) public benefit organization.
The 29th Annual Holiday Street Fair, sponsored by UC San Diego Health, returns to downtown Encinitas on Sunday, Nov. 24 from 9 a.m. - 4 p.m.
The Hutchins Consort presents: Armistice "Armistice: music of sorrow, reconciliation, healing and peace" will feature Treble Violinist Steve Huber in Elgar's Sospiri, as well as Barber's Adagio for Strings and the late Fred Charlton's Octopus Therapy.

In Neil Simon's classic comedy "The Sunshine Boys," a long-retired vaudeville duo agree to set aside their decades-long animosity to re-team for one last performance. But some old habits die hard. The 1972 comedy gets a funny and spirited workout at North Coast Repertory Theatre in Solana Beach, which is the ideal venue for the play. It presents Simon's works more than any other local professional theater and its longtime artistic director, David Ellenstein, has long provided senior actors — like Simon's 70-something vaudevillians — the chance to show audiences that they've still got it.

The public is invited to hear Brandie Taylor, chairwoman of the Iipay Nation of Santa Ysabel, speak at a "Legacy of Leadership" event presented by the Del Mar-Leucadia Branch of the American Association of University Women.

Park Dale Players: Team Zombie A musical satire based on the Twilight book series, this Park Dale Player children's theatre show is about a young zombie who just wants to get a little respect and love.

Local Plein Air painter Cathy Wessels will be one of the featured artists at a painting and sculpture exhibit sponsored by the City of Encinitas City Civic Art Program.

The LITVAKdance Fall 2019 Concert will be held at San Dieguito Academy Nov. 2 at 3 p.m. and 7 p.m. and Nov. 3 at 1 p.m. and 5 p.m.