'Dreams and Contemplations' exhibit cut short because of coronavirus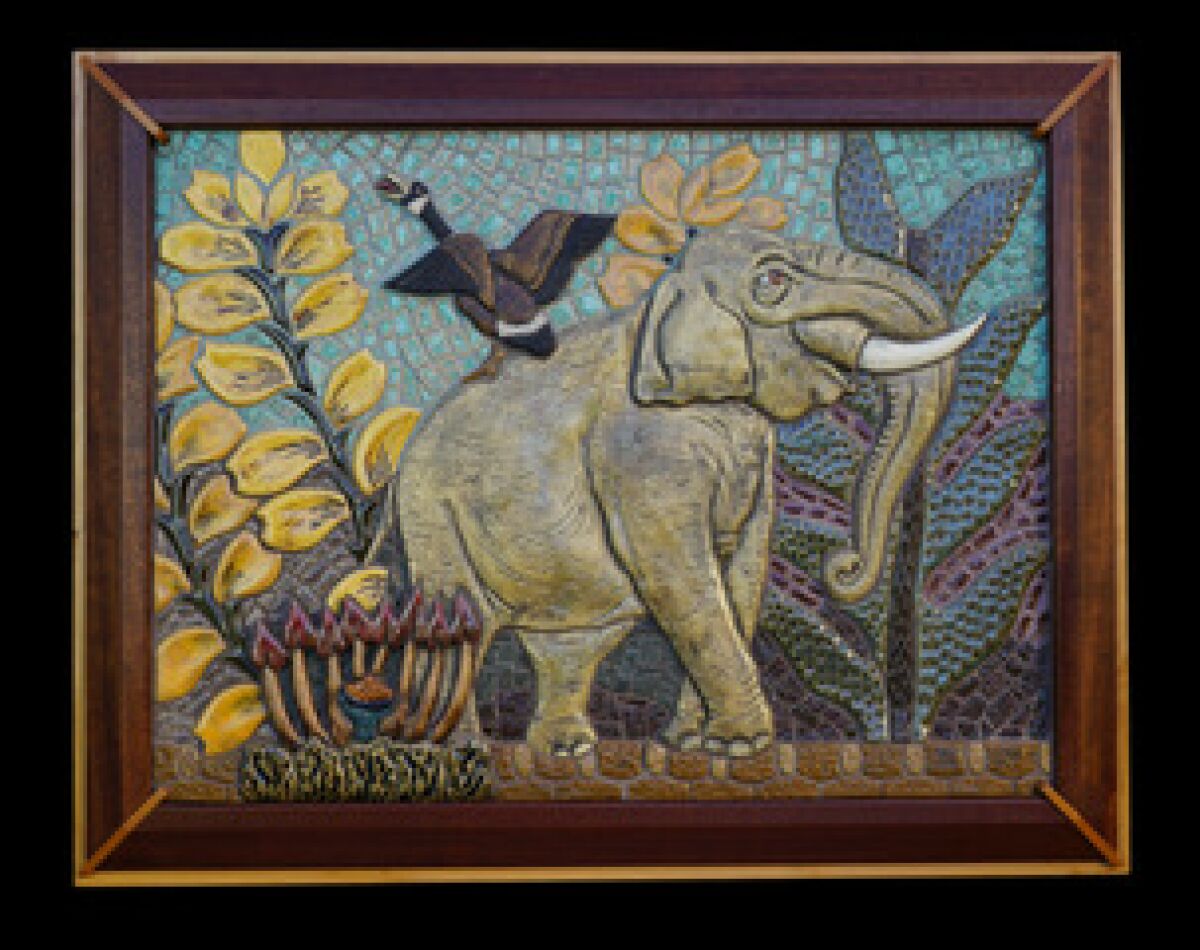 Local artist Karen Bouse's exhibit, "Dreams and Contemplations," was scheduled to be on display at the Encinitas Community & Senior Center through April 22.
Instead, it closed after about two weeks due to the novel coronavirus outbreak. A reception scheduled for April 11 was also canceled.
Though the 22 works, which took about 10 years to complete, didn't get the coming out Bouse expected, their inclusion in the city's art exhibit was the culmination of a long journey to develop her style as an artist.
"My style is a combination of mosaic, sculpture," Bouse said. "Its got high relief, low relief, and also I did it in a style that puts it like a painting on a wall."
After moving from Pennsylvania to Los Angeles at 19, she eventually spent 10 years in the motion picture industry. At 35, she moved to Lake Wohlford in Escondido, where she still lives and works out of her home studio, Indigo Design Studios.
"Talking Trout" by Karen Bouse
(Courtesy)
"Little Man Living in the Fishtank"
(Courtesy)
In 2003, her house burned down in the Paradise Fire. She started a custom tile business and rebuilt her home at the same location.
"From there I wanted to express my own inner prompting and ideas," said Bouse, who started doing tile paintings in addition to her commercial work.
During her time in San Diego, she has studied Earth symbolism with an Apache medicine man for several years and attended Palomar College to learn foundry, sculpture, mold making, welding, painting and ceramics.
The materials that go into her works include handmade mosaic ceramic tile and raw clay. The finished products are framed by master craftsmen.
Some of the artists who have influenced her are Frida Kahlo, Pablo Picasso and Georgia O'Keeffe. But she said she was careful to maintain her own unique perspective.
"I didn't want to be too influenced by other artists or culture," Bouse said. "So I kind of stayed basically away from it because I wanted to develop my own style."
In "Dream and Contemplations," Bouse included a written story with each piece. In an artist statement included with the exhibit she wrote, "These clay works are meant to act as a bridge between the worlds of reality and imagination. My goal is to empower the viewer with energy and insight. It is my intent that the deeper message will come through and create a reflective surface for awareness, self reflection and growth."
The city of Encinitas holds a visual art program consisting of 50 exhibits by local artists displayed each year at the Civic Center Gallery at City Hall, the Encinitas Library Gallery or the Encinitas Community Center Gallery.
"There's nothing like seeing them in person," Bouse said of her works. "There's so much dimension and texture in them."
For more information about Bouse and her work, visit idsceramics.com.
Sign up for the Encinitas Advocate newsletter
Top stories from Encinitas every Friday for free.
You may occasionally receive promotional content from the Encinitas Advocate.