Theatre School @ North Coast Rep presents comedic take on all of Shakespeare's plays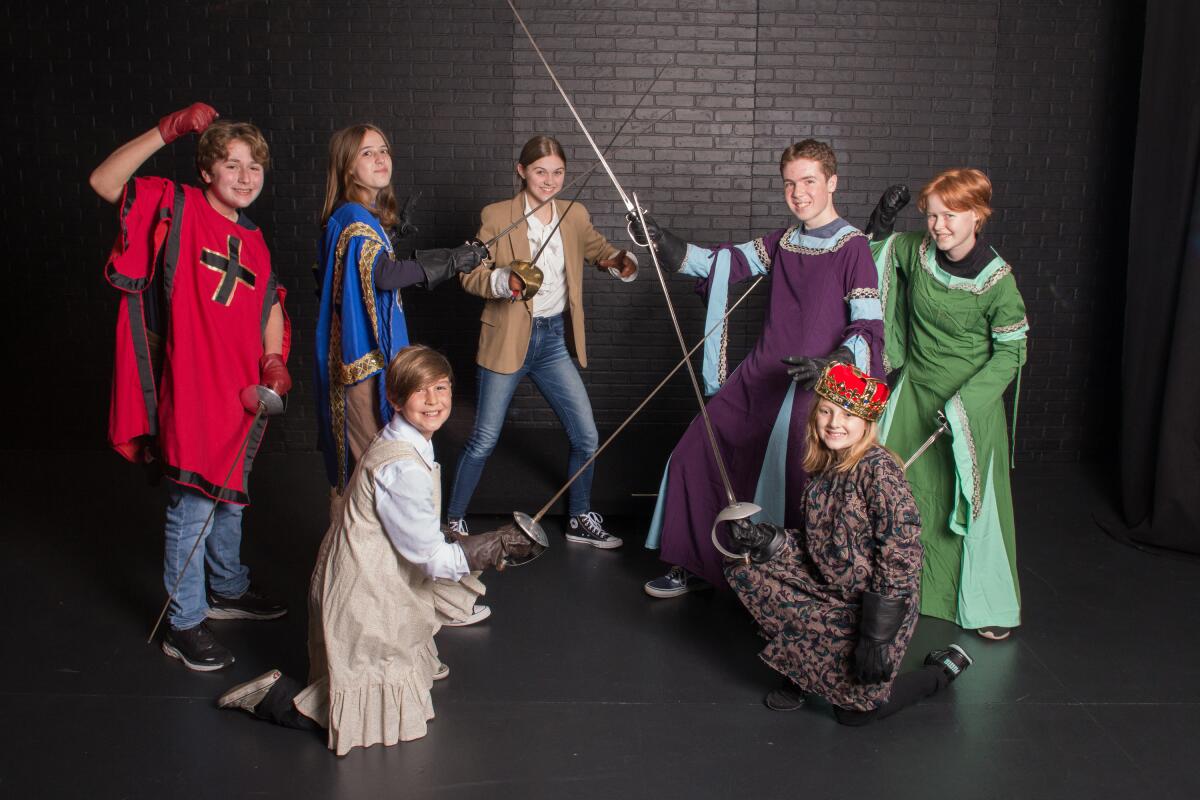 The Theatre School @ North Coast Rep will present a wild twist on Shakespeare, "The Complete Works of William Shakespeare (Abridged)" as its next student production Feb. 16-19. All 37 plays in 97 minutes! These madcap actors in tights weave their wicked way through all of Shakespeare's comedies, histories, and tragedies in one wild ride that will leave you breathless and helpless with laughter. An irreverent, fast-paced romp through the Bard's plays, "The Complete Works of William Shakespeare (Abridged)" was London's longest-running comedy.
Director Benjamin Cole is delighted to present this comedic take on all of Shakespeare's plays with some incredible student performers. "This script offers not-so-subtle references to contemporary references with unexpected new twists and turns that our students are laughing out loud as we put the show together," Cole said in a news release. "It provides so many opportunities for empowering the inner clown in each of these actors." Assistant Director Steve Smith added in the news release, "To appreciate William Shakespeare is to indulge in a contradiction: he's the genius behind centuries-old texts who made his impact by shirking the rules and keeping things fresh, inventing hundreds of words and expressions.
How, then, to best honor the Bard? "The Complete Works of William Shakespeare (Abridged)" lovingly mocks the Swan of Avon, pairing inside jokes for his most faithful fans with a plethora of pop culture references, helping make this mad dash through the entire canon accessible for all. The show runs a spritely 97 minutes with one intermission and hopes to inspire a renewal of the love for Shakespeare and live performance for all audiences.
Featured in the cast are: Allister Bradberry, Solana Beach; Kai Bunyak, Cardiff; Basil FitzGerald, Escondido; Elise Holland, Rancho Peñasquitos; Isabella Podesta, Carlsbad; Eben Rosenzweig, Carlsbad; Nicole Sample, Carlsbad; and Audrey Wilkins, Carlsbad. Additional production staff includes Stage Management by Nicolas Castillo, Lighting Design by Matt FitzGerald, and Sound Design by Melanie Chen Cole.
Performances are Feb.16 - 19 on the mainstage at North Coast Repertory Theatre, 987 Lomas Santa Fe Dr. Suite D, Solana Beach, 92075, with show times at 5:30 p.m. Thursday, Friday, and Saturday, and 2 p.m. Saturday and Sunday. Ticket prices are regularly $25 for adults and $21 for seniors 65 and older, children under age 17, and active military. Call the box office to reserve your tickets today: 858-481-1055.
The Theatre School @ North Coast Rep provides theatre instruction and six student theatre productions throughout the year, offering accessible and fun training for various age groups. Check out all the upcoming options on the Theatre School website: www.northcoastreptheatreschool.org. — North Coast Rep news release
Sign up for the Encinitas Advocate newsletter
Top stories from Encinitas every Friday for free.
You may occasionally receive promotional content from the Encinitas Advocate.