March 10: Local and regional events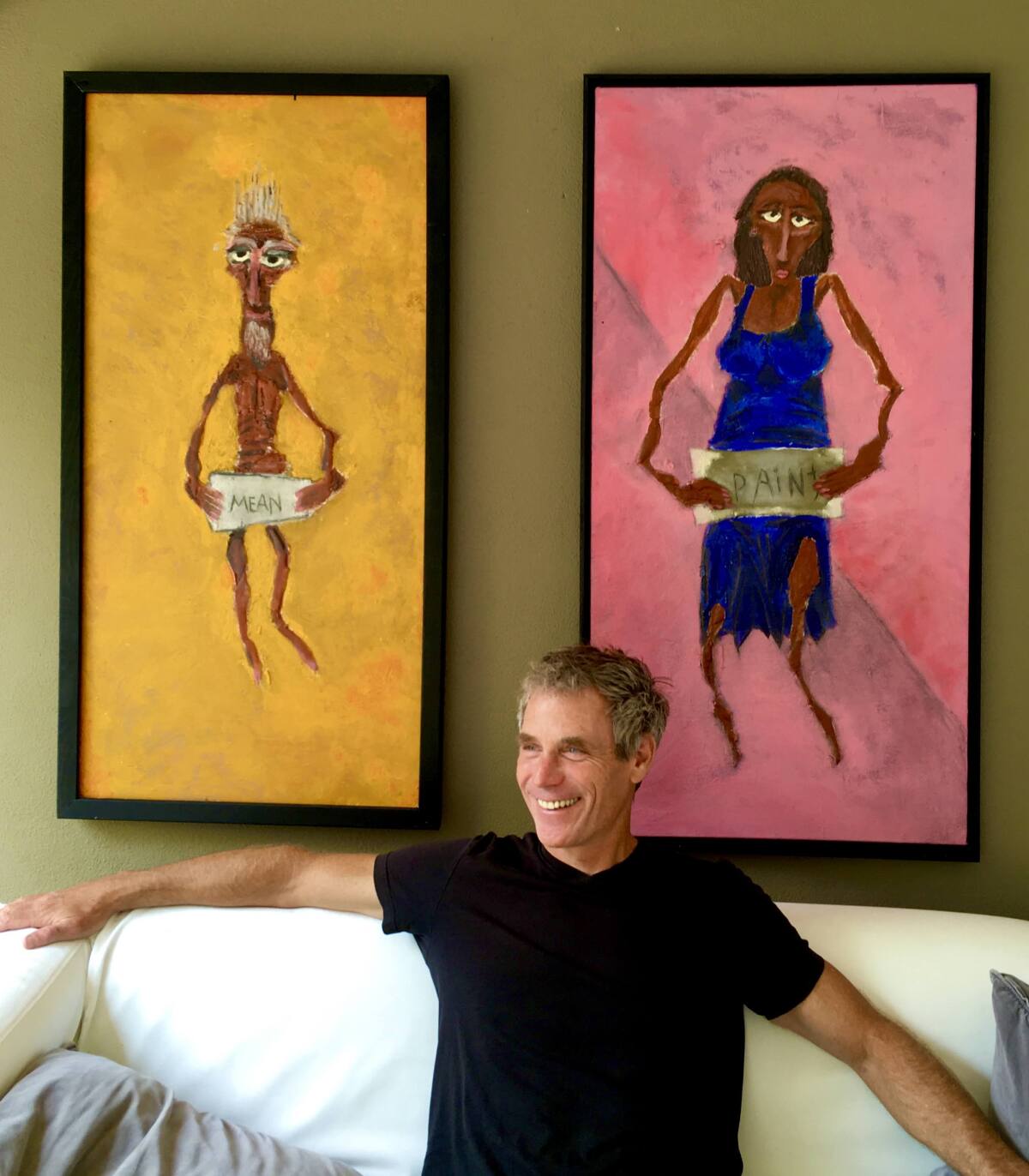 New art show by The Creative Collective features work by accomplished artist Max Roemer
The Creative Collective presents work by renowned Encinitas-based artist Max Roemer, the latest show by the artist group that has become an exciting addition to San Diego's art and gallery scene.
Roemer is a German-born contemporary painter and sculptor who is known for his expressive use of found materials and natural objects. Roemer describes his work as "letting things become what I imagine them to be: trees turned to figures and animals, portraits and icons from sawdust and sand."
The artists' reception is held Saturday, March 11, from 1 p.m. to 6 p.m., with a live raffle. The Collective hosts new shows monthly and openings the second Saturday of each month.
The gallery is located at Flower Hill Promenade, 2720 Via De La Valle, Del Mar, 92014, and open Friday, Saturday, 1 p.m. - 6 p.m. or by appointment. To arrange for your private tour, TEXT Nicholas 858-205..4731
Visit www.sdcreativecollective.org for more information.
Local author to present fun storytime event for kids at Encinitas Library
Phyllis Schwartz, author of "When Mom Feels Great, Then We Do Too", will hold a fun-filled story circle event for kids of all ages and their caregivers at the Encinitas Library (Community Room) on Saturday, March 11, at 10:30 a.m. All are welcome to enjoy this heartfelt story of when parents don't feel too well and how children can shine bright on cloudy days. Following the reading, children will have the opportunity to create their own wacky hats and partake in a Motown dance party.
The Encinitas Library is located at 540 Cornish Drive, Encinitas; 760-753-7376.
New podcast available from chamber
The Encinitas Chamber of Commerce has launched "Encinitas Chamber Chat Live," a new podcast for members of the community. Carol Knight, community relations and membership director of the chamber, will host the bimonthly series.
The debut episode is available at bit.ly/3IgDKNy and focuses on San Diego's older adult population and options for downsizing and retirement. Future editions will feature topics such as local retail, arts and nonprofits, business and marketing tips, and updates on issues from the City Council. For more, visit encinitaschamber.com.
Batiquitos Lagoon presentation: 'The Great Pacific Garbage Patch'
Batiquitos Lagoon will hold a presentation on March 11 at 10 a.m. titled "The Great Pacific Garbage Patch" by Dr. Jenni Brand, who is a climate scientist at King Philanthropies. Her research reveals there is a lot more plastic waste out there than known. Learn about the lasting impacts of daily use of plastics. This free family event is good for ages 12+. Meet at the Nature Center, 7380 Gabbiano Lane, Carlsbad. For more information, visit www.batiquitoslagoon.org.
'A Mindful Walk' starts at Torrey Pines State Natural Reserve
The Torrey Pines Docent Society will hold "A Mindful Walk" at Torrey Pines State Natural Reserve every Sunday from 8 a.m.-10 a,m, starting March 12. This free guided walk invites visitors to slow down, connect to their senses, breathe and be fully present in nature.
Participants will meet at the Visitor's Center near the Torrey Pines State Natural Reserve upper parking lot. Visit torreypine.org for more information.
All vegan food market to be held in Encinitas
Moonlight Marketplace, @moonlightmarketplace, in conjunction with Vegan Depot, @vegandepot_events, will host the inaugural all vegan market featuring vendors who specialize in vegan food, organic produce and vegan food products. Vegan Depot will take place on Saturday, March 11, at Moonlight Marketplace, 459 South Coast Hwy. 101, Encinitas, from 10 a.m. to 4 p.m. Vegans and non-vegans are all welcome. Free of charge.
Moonlight Marketplace is the outgrowth of the Los Angeles Silverlake Flea and Vegan Depot, an offshoot of Corona's popular vegan eatery, Organic Junkie. After the closing of Organic Junkie, owner Christina Bohannon started Vegan Depot with the intent to bring the world of vegan food to various Souther California communities.
Coastal Roots Farm monthly farm tour
Coastal Roots Farm will hold its monthly farm tour Sunday, March 12, from 9:30 a.m.-11 a.m.
Get a behind-the-scenes glimpse of the farm's production methods as you enjoy a gentle walk through the ever-evolving and diverse vegetable, herb, and flower gardens. This 90-minute public tour takes place on the second Sunday of every month. You'll learn about Coastal Roots Farm's innovative practices and programs and visit its market-style production beds, Education Farm and Gardens, chickens, compost operations, and Food Forest. Masks highly encouraged. Pre-registration only. Suggested donation $18/person. Register at coastalrootsfarm.org/event/monthly-farm-tour/
American Red Cross Blood Drive to be held in Cardiff
An American Red Cross Blood Drive will be held Monday, April 3, from 11 a.m.-5 p.m. at the Elks Lodge in Cardiff (Main Ballroom, 1393 Windsor Road, Cardiff, 92007).
For an appointment, visit redcrossblood.org (sponsor code: Elks2243) or call 1-800-RED CROSS (1-800-733-2767). Contact Maria Schreiber at 908-342-5010 or at downtownmaggie@gmail.com
Operation HOPE-North County golf tournament fundraiser
Operation HOPE-North County will hold its 1st annual golf tournament, Swing into HOPE", celebrating 20 years of service to the community providing safe shelter to families experiencing homelessness and food insecurity. Join the event on Friday, March 17, at the St. Mark golf course in Lake San Marcos. Registration is open and includes a cart with GPS, lunch and a gift bag. Fun contests include "Longest Drive, Closest to the Pin, and a Putting Contest." Fun silent auctions and raffles will be available. All proceeds will benefit families with children and single women in shelter at Operation HOPE-North County and after care services through the Pantry of HOPE.
For more information and to register for the event visit operationhopeshelter.org
'World of Orchids' showcase at San Diego Botanic Garden
San Diego Botanic Garden (SDBG) will hold the third annual spring orchid showcase, World of Orchids, running Saturday, March 11 through Sunday, April 9. The exhibition will be staged in the state-of-the-art, 8,000-square-foot, glass-enclosed facility, the Dickinson Family Education Conservatory, by SDBG's highly-awarded Artist-in-Residence René van Rems, AIFD, who serves as creative director for the exhibit for the third year in a row.
Reservations are required. Entrance to the exhibition includes access to the vendor booths and the rest of the Garden's 37 acres during the same visit. For more information and to reserve an entrance date and time, visit sdbg.org/world-of-orchids
TinyFest California shows off small homes
The Del Mar Fairgrounds hosts TinyFest California from 10 a.m. to 5 p.m. Saturday, March 11, and March 12. Meet tiny-home builders and van conversion specialists, talk with homeowners who have
"gone tiny," hear expert speakers and tour tiny houses, van conversions, backyard cottages (ADUs)
and more. The event includes vendors, live music and entertainment. Tickets $20 adults, free for ages 15 and younger. Visit tinyfest.events/california-san-diego-2023
Events at the Del Mar Fairgrounds
A variety of events are being held this month at the Del Mar Fairgrounds. For more information, visit delmarfairgrounds.com/events-calendar/
Photo contest calling for submissions
The nonprofit San Diego Floral Association is running a photo contest on "The Power of a Single Flower" for both amateurs and professionals. The winning photo will be featured on the front cover of San Diego Floral's magazine California Garden in the July/August 2023 issue. Deadline for submissions is March 31. Entry fee supports the nonprofit's programs. Visit sdfloral.org —SD Union-Tribune report
Sign up for the Encinitas Advocate newsletter
Top stories from Encinitas every Friday for free.
You may occasionally receive promotional content from the Encinitas Advocate.