March 24 issue: Local and regional events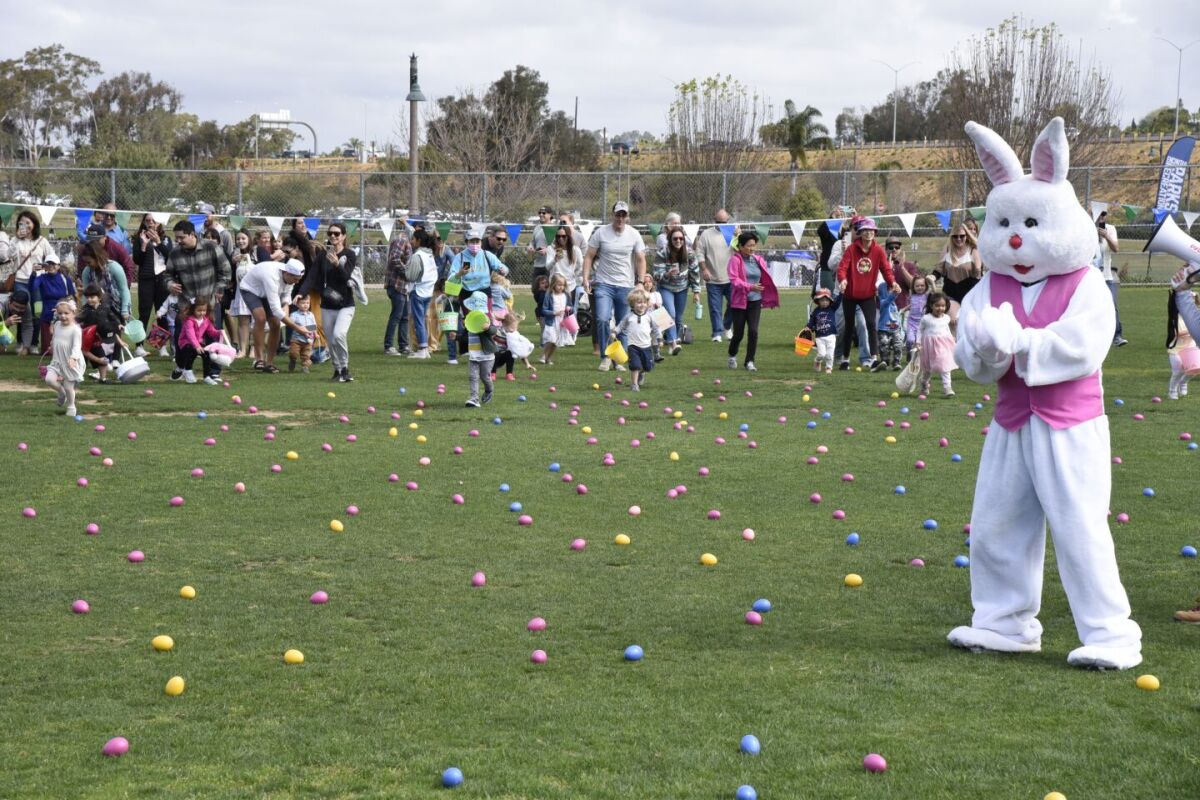 Encinitas Spring Egg Hunt
The city of Encinitas will host the Spring Egg Hunt on Saturday, April 8 from 10 a.m. to noon at Encinitas Community Park (425 Santa Fe Drive, Encinitas). Adding to the fun of 20,000 eggs up for grabs, this year's event will feature Hullabaloo live in concert. No sign-up is required for this event, just bring your basket and enjoy the fun. Egg hunt times are 10:15 a.m., 11 a.m. and 11:45 a.m., split by age groups on the upper and lower fields.
Overflow event parking and shuttle buses are available at the San Dieguito Academy High School parking lot at the corner of Nardo and Melba Roads.
Oakwood Brass to perform at Encinitas Library
Oakwood Brass will perform on Friday March 24, 7:30 p.m. at the Encinitas Library, 540 Cornish Drive. Established in 2009, the Oakwood Brass - Outreach Project presents music that is fun and lively to audiences using the classical brass quintet sound.
The group currently presents a wide range of exciting programming featuring music from a large assortment of genres including classical, jazz, contemporary, and popular media. Oakwood Brass is a modern brass quintet aiming to revitalize chamber music performances using contemporary media to attract new listeners to classical instrumentation.
The group seeks to connect the classical sound to music that children and adults know from their own lived experiences.
General admission tickets are $20 in advance, $25 at the door. Call 760-633-2746 for $10 student tickets. To buy tickets online go to: bit.ly/3LymC9a
Classical/new age solo piano with Christine Brown
An evening of relaxing solo piano with Christine Brown will be held Saturday, March 25 from 7 p.m.-8:30 p.m. at the Encinitas Library (540 Cornish Drive). Beautiful, modern classical/new age solo piano. Composer Brown shares her favorite songs and the stories behind the music. $20 general admission, $10 students.
Free First Wednesdays Concert Series at Cardiff Library presents Leonard Patton
Friends of the Cardiff by the Sea Library will present the next First Wednesdays Concert Series event on Wednesday, April 5, from 7 p.m.-8 p.m. at the Cardiff by the Sea Library (Community Room). The free event will feature Leonard Patton, a talented and versatile singer, percussionist, actor, songwriter, teacher, and more. Patton sings soul, jazz, pop, theatre, and originals.
He is also the impresario of the new music club The Jazz Lounge.
Cardiff by the Sea Library is located at 2081 Newcastle Avenue, Cardiff (between Birmingham and Liverpool). For more information, visit friendscardifflibrary.org or call 760-635-1000.
Pet Loss Support Program offered
The Pet Loss Support Program at Rancho Coastal Humane Society offers free, one-on-one, 20-minute telephone consultations for people who recently lost pets, have pets suffering from major illnesses, or are in the process of saying goodbye to pets.
For more information or to make an appointment to speak with a counselor, call (760) 753-6413 or email jjanowiak@sdpets.org. —Linda McIntosh, SD Union-Tribune
American Red Cross Blood Drive to be held in Cardiff
An American Red Cross Blood Drive will be held Monday, April 3, from 11 a.m.-5 p.m. at the Elks Lodge in Cardiff (Main Ballroom, 1393 Windsor Road, Cardiff, 92007).
For an appointment, visit redcrossblood.org (sponsor code: Elks2243) or call 1-800-RED CROSS (1-800-733-2767). Contact Maria Schreiber at 908-342-5010 or at downtownmaggie@gmail.com
Operation Game On 8th annual 15-Inch Cup Challenge
Operation Game On will hold its 8th annual 15-Inch Cup Challenge on Monday, April 17 from 1 p.m.-4 p.m. at Fairbanks Ranch Country Club's driving range. The 8th Annual OGO 15-Inch Cup Challenge will feature four Challenge distances, ranging from 50-yards to 125-yards, as well as cash prizes for hole-in-one wins, great food, beverages, music and more. Operation Game On is a nonprofit organization that provides golf as a form of rehabilitation for returning combat-injured troops suffering from physical and mental disabilities. Visit operationgameon.org for more information and to register.
Birch Aquarium to celebrate Earth Day with fun, family-friendly event
This Earth Day, Birch Aquarium is throwing a Party for the Planet, offering guests a fun opportunity to celebrate the ocean's biodiversity and learn how they can take action to make a difference.
As the public outreach center for Scripps Institution of Oceanography at UC San Diego, the aquarium aims to connect families to the ocean through research, play and social learning that support healthy habitats. Held over two weekends, Party for the Planet runs from 11 a.m. to 3 p.m. on April 22-23 and 29-30. Interactive activities include earth-friendly crafts, live music, a community art project, a scavenger hunt and more.
Birch Aquarium educators and Scripps scientists will be hosting hands-on stations that discuss how people can collectively tackle some of the planet's greatest challenges. The event is included with the cost of General Admission, which is $24.95 for adults and $19.95 for children ages 3-17.
The aquarium is open from 9 a.m. to 5 p.m. daily and advanced reservations are required for all guests, including members. Visit aquarium.ucsd.edu for more information about Party for the Planet.
California's new Poet Laureate celebrates National Poetry Month in San Diego
In what promises to be San Diego's biggest poetry event in recent history, at least five Poet Laureates will grace the podium at the 2023 Kowit Awards and Poetry Celebration on April 7 from 6:30 p.m.-9 p.m. at the San Diego Central Library.
New San Diego Poet Laureate Jason Magabo Perez will introduce the first Asian American CA Poet Laureate, Lee Herrick, as the keynote speaker for the 2023 Kowit Awards and Poetry Celebration. A "Meet the Poets" reception kicks off the evening with a mini-book fair, live music, street food, and signature cocktails from East Village's newest culinary gem, Modbom. Poet Laureate of Davis, CA, Julia B. Levine, will share her 2022 Kowit Award winning poem, "The Extra Angels," to be followed by short readings from several decorated poets of note. A lively open-mic after party, hosted by Poets Underground, concludes the festivities.
General admission: Open to the public and free with registration at sandiegopoetryannual.com/kowit/
VIP tickets: Limited number available with sponsorship. Contact Jane Muschenetz, director of partnerships, at (617) 308-1505 to learn more.
Free introduction to Square Dance classes
A free introduction to Square Dance classes will be held March 23 and March 30 at the Seven Oaks Community Center, 16789 Bernardo Oaks Drive, Rancho Bernardo, 6:30 p.m. to 8 p.m. Come to one or both nights. No partner or dance experience needed. Great way to socialize and keep fit in mind and body. It's free, it's fun, not that far away. For more information, contact the Wranglers Square Dance Club at westwoodwranglers@gmail.com
Learn how to show roses at the San Diego Fair
Del Mar Rose Society will host Linda Clark, presenting what is involved in submitting roses for the annual San Diego Fair Rose Show, on Thursday March 30, 6:30 p.m. at the Del Mar Powerhouse Community Center, 1658 Coast Blvd. Reception followed by lecture at 7 p.m. Call 760-809-6860 or delmarrosesociety.org.
Free Alzheimer's Educational Conference
The Alzheimer's Foundation of America (AFA) will host a free Alzheimer's & Caregiving Educational Conference for Southern California residents on Wednesday, April 19, from 10 a.m. to 1 p.m. as part of its 2023 national Educating America Tour.
It will take place at Hilton Irvine/Orange County (18800 MacArthur Blvd., Irvine). The free conference is open to everyone and will allow participants to learn from experts in the field of Alzheimer's disease, brain health, and caregiving.
To register and for more information, go to www.alzfdn.org/tour. Advanced registration is highly recommended.
The Parkinson's Association of San Diego to hold 21st Annual 'Step by Step 5k Walk'
The Parkinson's Association of San Diego (PASD) is holding its 21st Annual "Step by Step 5k Walk" on Saturday, April 1, at Liberty Station. CBS News 8 Anchor Carlo Cecchetto will emcee the event.
Walk Chairperson Lisa Evans points out that there are several ways you can participate: 1. Walk yourself (with your family); 2. Join a team; 3. Form your own team; or 4. Make a contribution to the Association( if you'd like; make it in memory of or in honor of a loved one). Register online: www.parkinsonsassociation.org or call 858-215-2570.
Proceeds from the Walk enable the PASD to continue to make critical resources available to thousands of San Diego County residents who have or are affected by Parkinson's disease. All funds raised from the event stay within San Diego County.
The Walk commences at 9 a.m., with check-in starting at 7:30 a.m. The donation is $50, youth 12 to 17 are $10 and children under 12 are free. The donations are tax deductible under IRS guidelines and includes a Walk Step by Step T- Shirt. There will be over 50 health and other resources in attendance in the exhibitor area. The walk is dog friendly.
'Beyond King Tut: The Immersive Experience' extends stay at Del Mar Fairgrounds
Beyond King Tut: The Immersive Experience, a new exhibition developed in partnership with the National Geographic Society, has extended its run at the Wyland Center at the Del Mar Fairgrounds for an additional six weeks, through May 7, by popular demand.
For the remainder of the run, Beyond King Tut is welcoming sixth grade students in San Diego to the exhibition free of charge when visiting with an adult with a paid admission. Details are available at beyondkingtut.com/city/san-diego/
This year's exhibition whisks guests on a multi-sensory journey through nine galleries that tell the story of the boy king and his world, and the thrill of one of the greatest discoveries of all time – the king's tomb with all its treasures inside – with dazzling imagery presented larger than life throughout the experience.
Photo contest calling for submissions
The nonprofit San Diego Floral Association is running a photo contest on "The Power of a Single Flower" for both amateurs and professionals. The winning photo will be featured on the front cover of San Diego Floral's magazine California Garden in the July/August 2023 issue. Deadline for submissions is March 31. Entry fee supports the nonprofit's programs. Visit sdfloral.org —SD Union-Tribune report
Events at the Del Mar Fairgrounds
A variety of events are being held this month at the Del Mar Fairgrounds. For more information, visit delmarfairgrounds.com/events-calendar/
Volunteers sought to help foster children
The San Diego nonprofit Voices for Children, which was founded in 1980, is looking for volunteers to advocate for foster children in need.
The nonprofit started a new program called "Your Voice, Their Future" to encourage community members to become Court Appointed Special Advocates, aka CASAs.
Volunteers are trained and supported by the nonprofit to speak up for foster children in court, school and medical settings to make sure their needs are met. The "Your Voice, Their Future" campaign runs through May 1. Visit speakupnow.org.
Humane Society holds Wildlife Baby Shower
The San Diego Humane Society is preparing for the spring baby season when thousands of orphaned wild animals will rely on the nonprofit for lifesaving care. The Humane Society seeks the community's support for its 13th annual Wildlife Baby Shower, a virtual event benefiting its Project Wildlife program. Participants can buy supplies from Amazon or Target or make a donation. For the wish lists, visit sdhumane.org/babyshower.

Sign up for the Encinitas Advocate newsletter
Top stories from Encinitas every Friday for free.
You may occasionally receive promotional content from the Encinitas Advocate.