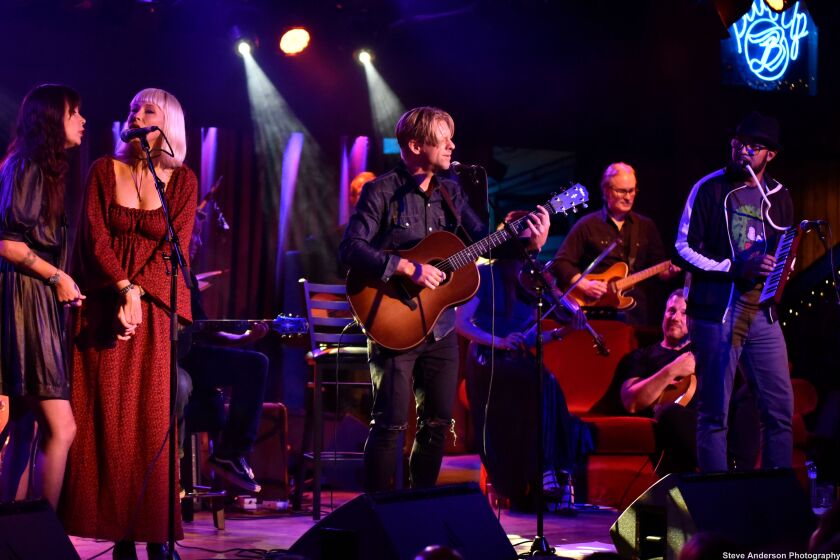 For The Sender is returning home to the historic La Paloma Theater for its annual Holiday Show on Dec. 14 at 7:30 p.m.
12th Annual Kringle Mingle returns to Cardiff Town Center Join Santa in Cardiff-by-the-Sea for the 12th Annual Kringle Mingle, a free holiday gathering at Cardiff Town Center on Sunday, Dec.1, from 1 p.m.-5 p.m.

"Nails have been a path to artistic expression for thousands of years," reads a sign at the entry to Oceanside Museum of Art's supersized exhibition "Tiny Canvases: The Art of Nails." Farther along, there's a sign about the history of nail adornment, mentioning "manicure kits dating as far back as 3200 BCE in the tombs of Babylonian soldiers." Babylonian soldiers? Who knew? Jan Arnold did. She's the co-founder and style director of Creative Nail Design (CND), the company that co-produced this stunning display of nail art, which opened in October and continues through Feb. 9, 2020.

There's no greater proof of San Diego's famously fair weather than this: In 82 years, the Del Mar race track has never lost a single day of horse racing to inclement weather.

All are welcome to attend the North County Justice Allies at its first public meeting Nov. 18 as a newly incorporated 501(c) (4) public benefit organization.
The 29th Annual Holiday Street Fair, sponsored by UC San Diego Health, returns to downtown Encinitas on Sunday, Nov. 24 from 9 a.m. - 4 p.m.