Encinitas Sister City Program: 2019 Amakusa Student Exchange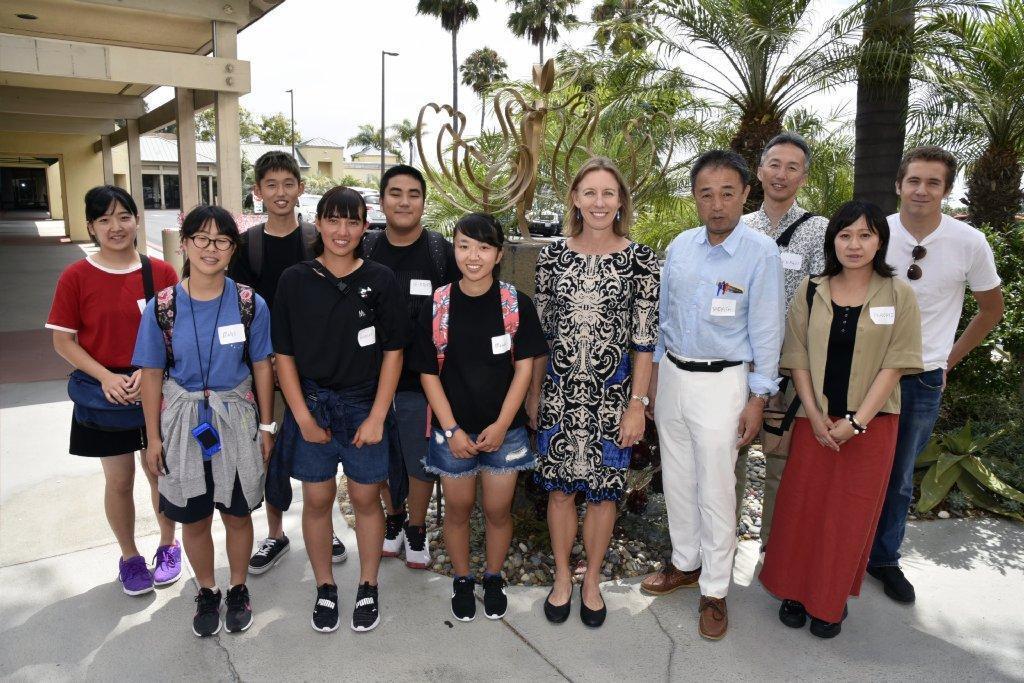 Mayor Catherine Blakespear (center) is joined by six exchange students from Encinitas sister city Amakusa, Japan (at left), Department of Education delegates Tadashi Nagomoto and Keishi Idenaga, Amakusa teacher Naomi Furuta, and a previous Encinitas exchange student/current student host, at City Hall by the "Three Dove Monument," a sculpture received as part of a previous Sister City program gift exchange.
( McKenzie Images )
Carolyn Cope of The Encinitas Historical Society (far left) conducted a walking tour for the visitors.
( McKenzie Images )
Mayor Catherine Blakespear at Encinitas City Hall with the sculpture "Three Dove Monument," received as part of a previous Sister City program gift exchange.
( Mckeznie Images )
Amakusa, Japan exchange students and their teacher take a break on the stage of the La Paloma Theatre.
( Mckenzie Images )
From July 29 through Aug. 4, six students and a teacher from Amakusa, Japan are visiting Encinitas as a part of Encinitas' 30-year-long sister city relationship with Amakusa. The visiting students, teacher and host families are participating in a variety of special activities throughout the week. Photos on this page were taken July 30 at "Meet the Mayor," a City Hall visit to meet Encinitas Mayor Catherine Blakespear. Participants also took a walking tour of downtown Encinitas.
The community will have the opportunity to celebrate the Sister City relationship between Encinitas and Amakusa at the 10th Annual Japan Festival on Saturday, Aug. 3, 1-4 p.m. at the Encinitas Library.
Amakusa is located on the southwest tip of Japan and was chosen as a Sister City for its similarities to Encinitas as a beautiful small, coastal community. The purpose of the Encinitas Sister City Program is to promote a greater understanding and respect between the citizens of Encinitas and Amakusa by enriching the cultural and economic resources of each city through the planning and implementation of programs that foster mutual understanding, respect and goodwill.
Photos by McKenzie Images

---
Sign up for the Encinitas Advocate newsletter
Top stories from Encinitas every Friday for free.
You may occasionally receive promotional content from the Encinitas Advocate.