Encinitas couple gets the royal treatment while helping children in Serbia
Encinitas residents Charles and Linda Van Kessler share a passion for helping kids in need. That's why they founded the nonprofit charity Passion 4 K.I.D.S. (Kids in Desperate Situations) back in 2005. The organization helps handicapped, neglected, abandoned, abused and underprivileged children of any race, color and creed as well as children in acute, life-threatening, emergency situations in the United States and Serbia.
Recently, they took a trip to Serbia, as guests of the Crown Prince Alexander (the godson of Queen Elizabeth) and Crown Princess Katherine of Serbia at their Royal Palace. The Royal Couple, who serve as the country's king and queen, share the Van Kessler's passion for helping children, particularly Serbian orphans.
The Van Kesslers accompanied the royal couple to visit children in two orphanages and two children's hospitals in Serbia. They also participated in an event at the royal palace where 1,200 orphans were provided with food, entertainment and personal gifts. Passion 4 K.I.D.S. donated 3,000 stuffed animals for the event.
This newspaper caught up with Linda Kessler recently to hear firsthand about the visit and their mission.
How did this whole royal trip to Serbia come about?
I became good friends with HRH (Her Royal Highness) Crown Princess Katherine several years ago. We bonded over our shared love of helping children in need and we communicated regularly. Crown Prince Alexander and Crown Princess Katherine are in their early 70s and spend literally all their time helping orphans and children in need who are still hurting so badly from the ravages of Communism.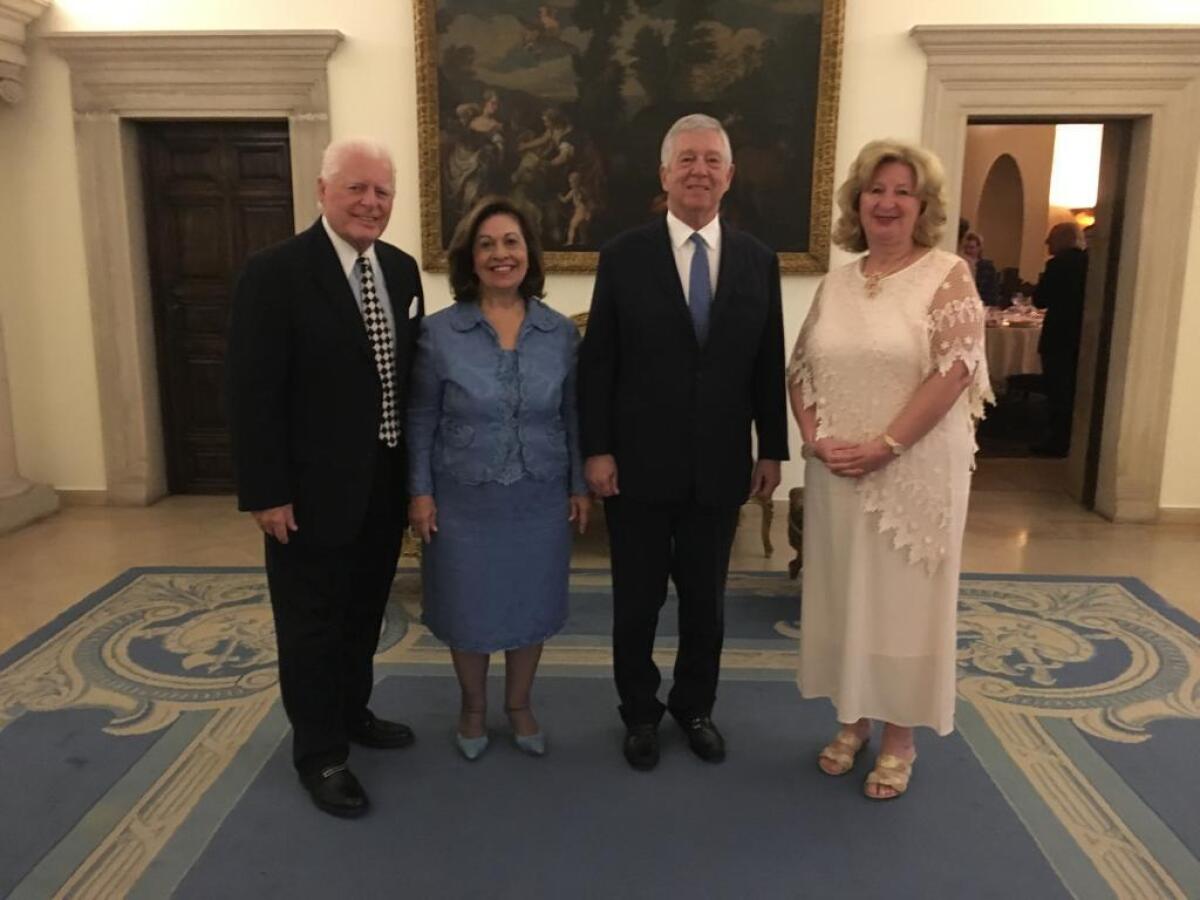 Why is the royal couple so focused on helping orphans?
When they returned from exile in 2000, they found Serbia in horrific condition. People didn't have food or proper shelter. There were many new orphans -- both from the war as well as from parents who could no longer afford to take care of their children.
So they made it their life's mission to travel around the world (at their own expense) and raise funds for very specific needs at orphanages and children's hospitals. Although the Queen of England is the Prince's godmother, the royal couple does not have the wealth of other royal families because most of what they owned was stolen by the Communists.
What surprised you about the trip?
Although I have known Princess Katherine for several years now, seeing her as well as the Prince "in action" is something I will never forget. They worked late into the night and very early in the morning contacting people around the world for specific needs. One day they are with the Queen of England or the King of the Netherlands and the next day they are sitting on the floor in an orphanage playing with children
What was it like at the orphanages in Serbia?
The orphanages were heartbreaking. The children sleep and play in the same large room and are divided up by age. When the door would open and we would walk in, dozens of little ones would come running to us, holding onto our legs or securing a place on our laps where they stayed our entire visit. When it came time to leave, there were many tears on both ends.
I know that your husband, Charles, was raised in a state-run orphanage in Amsterdam, Holland.
Charles still has nightmares about what he went through as a child. He sees the Nazis breaking down their door and dragging his father and grandparents away from the dining table. He hears his mom scream while holding on to him. She had no way to take care of him and, at age 2, put him in a state-run orphanage where abuse of every kind was rampant and malnutrition ravaged his body.
There were 13 children in just two beds, and they were forced to do heavy grown-up jobs or get beaten. Not able to take the abuse and considering suicide, Charles chose to run away at age 10 and live on the streets of Amsterdam.
Why do the two of you continue to do this work?
We are just two ordinary people trying to do extraordinary things for children in need. We both have a deep love for children and, of course, Charles' horrific childhood gives him a profound desire to help children who are suffering like he did. We feel God has called us to be his hands and feet for these little ones who are suffering on such great levels.
We hope we can inspire others to do the same. We are not wealthy and literally have to "beg" to get the funds to make important and often life-saving gifts to these children. We do not take any salaries so everything donated goes directly to a specific need a child has.
Our greatest need is to have more monetary donations so we can help more children in meaningful ways. Anyone wishing to donate can go to www.passion4kids.org.
Sign up for the Encinitas Advocate newsletter
Top stories from Encinitas every Friday for free.
You may occasionally receive promotional content from the Encinitas Advocate.