Local scout completes restoration of 1950s lifeguard boat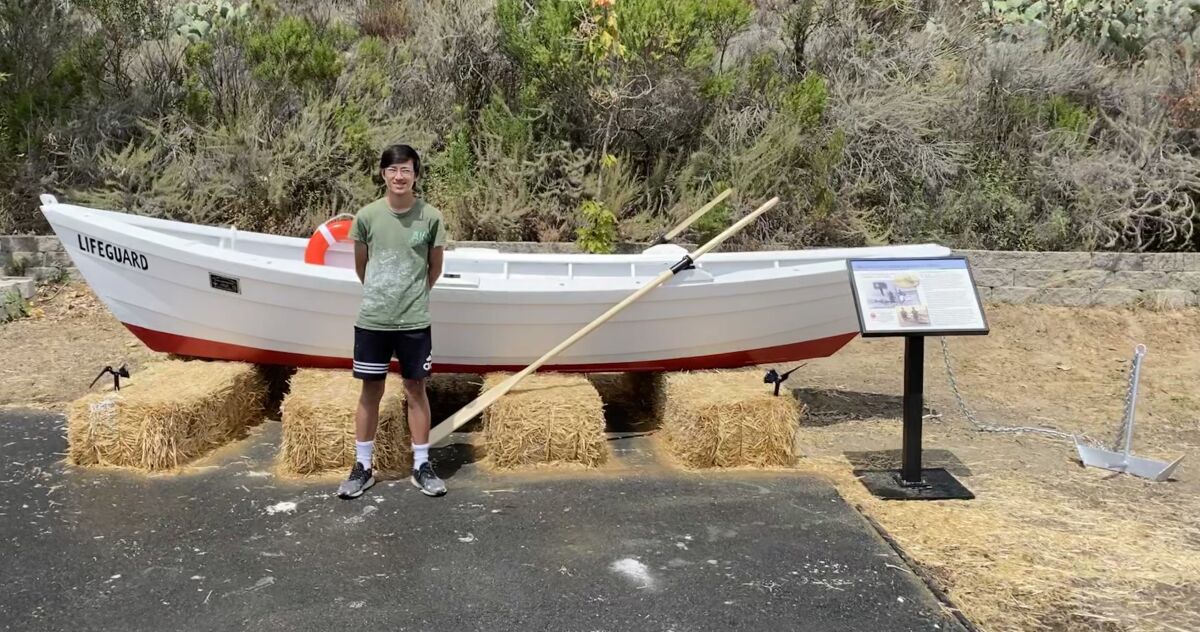 Fourteen-year-old Boy Scout Ethan Huntington, a member of Encinitas-based Troop 777, recently completed a restoration of a 1950s lifeguard boat for his Eagle Scout Service Project.
"There were a lot of hurdles we had to overcome while we were planning the project," said Ethan, a student at Pacific Ridge School in Carlsbad.
The nonmotorized boat, known as a dory, was used by lifeguards on local beaches decades ago for rescues, before Jet Skis and other modern innovations made water rescues a little easier.
"It was a huge inconvenience moving these boats back and forth from the shore to the ocean," Ethan said.
The one Ethan restored was in the possession of the San Dieguito Heritage Museum in Encinitas, where he first came across it.
When Ethan began the project, the boat was covered in toxic paint, had cracks running along its body, and had an anchor covered in barnacles and rust. He said he found someone on Craigslist who had the proper equipment to safely remove the paint.
He and the team of scouts who helped him used wood filler to plug inch-long holes running down the boat, and they used power sanders before priming and painting it.
The boat's original oars were beyond repair, he said. The finished project, which was completed on June 17, included reproduced oars.
"After taking everything one step at a time, we got over these hurdles," said Ethan, adding that he was "very happy with the result."
It has a plaque on the side dedicating the project to Encinitas lifeguards and the lives they have saved over the years.
Ethan, who said there were times when he felt like giving up because of the complexities involved with the restoration, credited his father for helping him keep the project on track.
"Whenever I didn't feel like doing the planning or working, he would keep pushing me," he said. "I also had to demonstrate leadership and perseverance throughout this project."
Ethan said the project was about a year in the making. When he first started thinking about possible Eagle Scout projects, he said he wanted to pursue something a little different than the kiosks, picnic tables, benches and other commonly completed Eagle Scout projects.
"I sort of just wanted something different at this point, something that I would look back on in 20, 30 years and I would be like, 'Hey, I did that,'" he said. "No one else has done a project like this."
Sign up for the Encinitas Advocate newsletter
Top stories from Encinitas every Friday for free.
You may occasionally receive promotional content from the Encinitas Advocate.