Encinitas farm ventures into coffee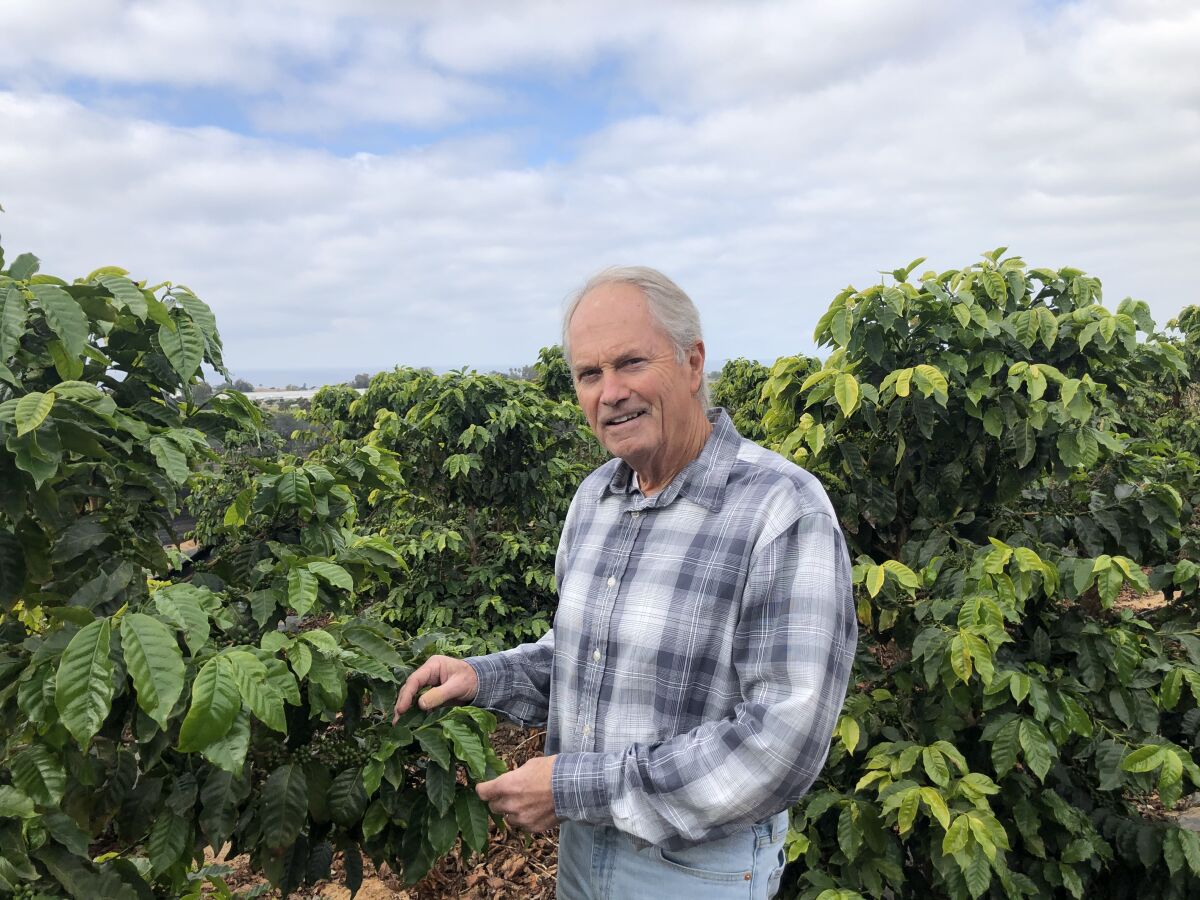 After deciding years ago to branch out into coffee production, Encinitas-based Quail Haven Farms used about 350 plants to produce 4,500 pounds of coffee berries, which yield the beans used to make the beverage.
With hundreds more plants that are maturing, the farm expects to increase that level of production in the years ahead.
"We liked the idea of it and we thought this would be an interesting crop to try, and we began experimenting with the crop about four or five years ago," said Chris Calkins, a San Diego County native who has worked in Encinitas since the 1980s and owns the farm.
"Coffee seems about as interesting in this area as anything, and I drink coffee," he added.
Quail Haven entered into a partnership with FRINJ Coffee, which works with California farmers to bring their coffees to market.
Calkins, whose farm produces olive oil and other products, also said he takes pride in giving the community more locally-sourced items to choose from.
"So much of what we eat and drink is produced far away and you don't ever have a touch and feel for it to really understand where it came from and how it's produced," he said. "Being able to produce something locally and organically in a place where people could come and touch and feel it if they want to would be valuable to the community."
The farm is also benefiting from a growing coffee culture that has taken hold over the past several years, including more discerning tastes for certain varietals.
"People have become connoisseurs at various levels," Calkins said. "There are people who are very interested in quality and distinguishing the character and quality of different coffee crops."
FRINJ Coffee CEO Jay Ruskey added that "with coffee, it's a very complicated process."
"That complexity is enough to draw in a consumer that is willing to pay for quality," he said.
Ruskey said he saw the potential for coffee in California in 2002, when he planted a trial crop at his family farm in California. He noted that many coffee shops have gone into business in recent years.
"The coffee industry itself has gone through several waves of development, from a craft wave to a science wave and now we're coming into an experience wave, where people are looking for more depth and understanding," he said.
"I'm very excited to see what the future of San Diego coffee will be," he added.
For more information, visit frinjcoffee.com
Sign up for the Encinitas Advocate newsletter
Top stories from Encinitas every Friday for free.
You may occasionally receive promotional content from the Encinitas Advocate.