Never Stop Discovering: Nature-loving kids help support local business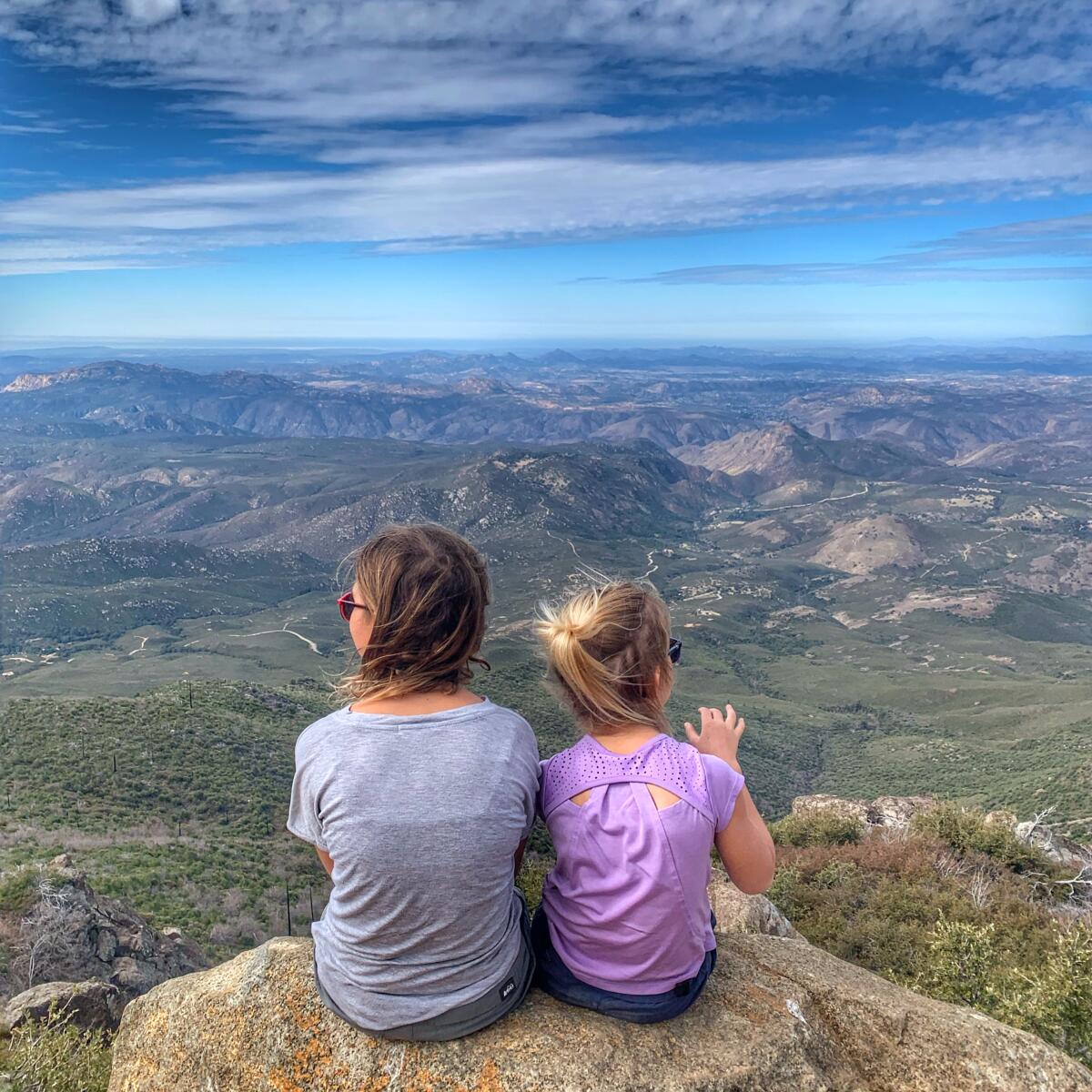 For Encinitas sisters Maya and Sahara Wells, kindness is in their nature.
Maya, 9 and Sahara, 7, started their own company Never Stop Discovering with a mission to teach kids about adventure, about the beauty and lessons of nature and to give help to those who need it. Since December the girls have been selling t-shirts to support local small businesses and last month made a $500 donation to Santhi Castle, owner of Encinitas Karate.
As their parents Vanessa and Tommy Wells are small business owners, the family talks a lot about business in their house. When the girls got the idea to start their own small business they knew that they wanted it to be all about exploring the natural world.
"We're always outside," said Maya, who was born in New Zealand before the family moved to Encinitas.
Their parents have nurtured a love of travel and adventure. The Never Stop Discovering Instagram page shows the girls camping, hiking, fishing, surfing, exploring wildlife and enjoying nature everywhere from Cuyamaca Rancho State Park to Inyo National Forest, Montana and Yellowstone National Park. Locally, a favorite hike is Annie's Canyon Trail and the girls are dreaming of taking trips to Hawaii and Brazil.
And they love going to the beach.
"I feel like the beach is a free amusement park in some ways," said Vanessa.
The girls have been backpacking with their parents since a young age and the longest family hike they have conquered together was nine miles. It was actually out on a hike that Maya got the idea for their fundraising t-shirt—when it was time to head back and she wasn't quite ready to stop discovering, she said: "There should be a shirt that says it!"
The shirts are kid-sized and the message "Never stop discovering" is stamped on the back. On the front, the girls picked designs of an eagle and a bear. They posted the shirts on their website and put flyers up in their neighborhood. As donations came in, their next step was deciding which local business they would support first.
One day on a trip for treats at Yummy Cupcakes in Encinitas Village Square, the girls ran into Ms. Castle. Her business, like so many others, had been severely impacted by COVID-19 and the girls recognized that she needed help. Their sweet tooths had led them to their first Never Stop Discovering beneficiary.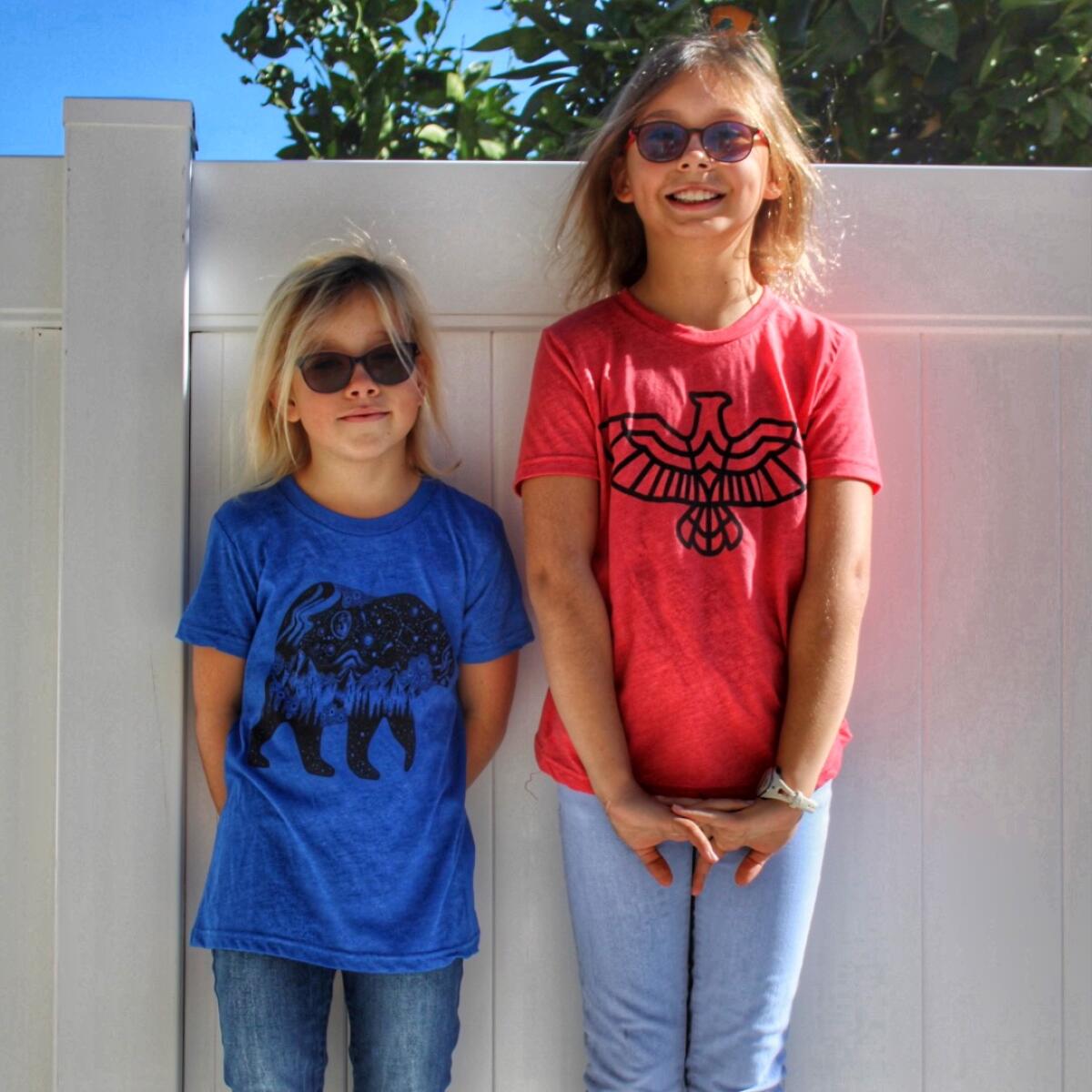 On Feb. 26, the girls walked into the studio and handed Castle the $500 check, "She was really, really, really happy," said Maya.
"These two young heroes have been working hard since December to raise funds to help small businesses like mine and I am so honored that they chose to donate to Encinitas Karate," said Castle. "Their act of kindness brought tears to my eyes, and I believe that all of us can learn a few things from these young heroes."
The girls are continuing to sell their t-shirts and accepting donations with the hope of donating another $500 to a business in need. In addition to selling t-shirts, the Cedar Cove Academy students are also building up their website sharing travel and adventure photos and how-to's—their first YouTube video is on how to pick the right hiking shoes.
Sahara said one of their goals in starting their company was to show kids they can start their own business and that they can do anything they want to do. Even small acts of kindness can have a big impact.
"Every little thing counts," Sahara said.
To donate or purchase a t-shirt, visit never-stop-discovering.com. Follow Maya and Sahara's adventures on Instagram @never_stop_discovering
Get the Encinitas Advocate in your inbox
Top stories from Encinitas every Friday for free.
You may occasionally receive promotional content from the Encinitas Advocate.
Sign up for the Encinitas Advocate newsletter
Top stories from Encinitas every Friday for free.
You may occasionally receive promotional content from the Encinitas Advocate.