Cadence Cyclery opens in Encinitas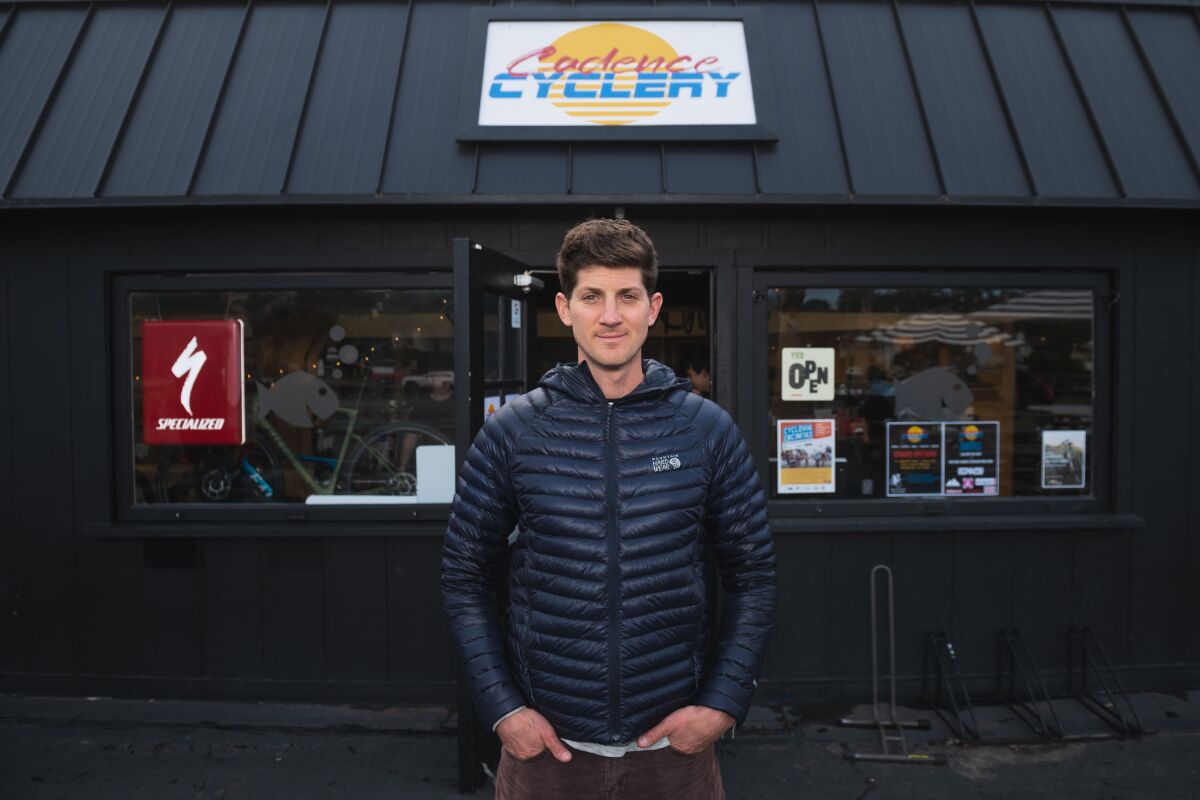 Cadence Cyclery, a well-recognized bicycle shop out of Texas, recently opened a new location on the 101 in Encinitas.
The bike shop will celebrate a grand opening in Encinitas on Saturday, Jan. 14 with social rides, raffle, snacks, shopping, and community engagement.
The social rides start at 9 a.m. with options for everyone: fun, fast, chill or dirty. The rides are planned to be no longer than three hours, finishing up by noon with the raffle around 12:15 p.m. where about $10,000 worth of prizes such as wheels, frames and parts will be up for grabs.
Cadence Cyclery has been serving the Dallas Fort Worth area for over a decade, a recipient of platinum-level status from the National Bicycle Dealer Association for providing the highest level of customer service. Longtime retailers Chad Plumlee and Damon Williams partnered with local cyclist Steve Yeager to launch their fifth store, the first in California
An Encinitas resident for the last four years now living right down the street in Carlsbad, Yeaeger is a semi-professional motocross rider who turned cyclist 10 years ago. Originally from Indiana, he lived in Texas for six years where he met his business partners. Yeager is also an operating partner in a local San Diego cycling accessory company, ALMSTHRE (pronounced almost there)—the company sells a collection of saddle bags, handlebar bags, fanny packs and ride wallets.
As a kid, Yeager had actually always wanted to own a motorcycle shop. The opportunity to partner up and open a California Cyclery kind of just happened by chance—he had been working as a project manager for a construction company, building custom homes in Rancho Santa Fe and Encinitas.
The space on the 101 was a bike shop previously and his whole friend group came together to help renovate the space to open in December with brand new racks, fixtures and inventory filling the showroom. Cadence offers bikes from Specialized, Factor, ENVE, Pivot and more; a wide range that includes everything from top-end race bikes to beach cruisers and e-bikes.
"We have a bigger offering than anyone else in the area," Yeager said.
The shop plans to host weekly and possibly daily social rides and Yeager hopes to create a culture of inclusivity at Cadence. He said he knows sometimes cycling can feel elitist but he hopes all will feel welcome, whether they are heading out on their first ride or their 1,000th.
For those social rides, the cycle shop is perfectly positioned near Queenstage Coffee and Moto Deli where riders can replenish those calories burned with coffee, beer, sandwiches and pastries: "If you know anything about cycling, cyclists love to start the day with a coffee and end with a beer so we're a one-stop shop here," Yeager said.
"The amazing weather here is hard to beat and we're located on one of the most cycled corridors in the country," Yeager continued. "You add all of that together it's the perfect recipe for a premier bike shop."
Cadence Cyclery is located at 190 N. Coast Highway 101. Shop their selection of bikes online at https://www.cadencecyclery.com/

Sign up for the Encinitas Advocate newsletter
Top stories from Encinitas every Friday for free.
You may occasionally receive promotional content from the Encinitas Advocate.