New Duckfoot Brewing tasting room lands in Leucadia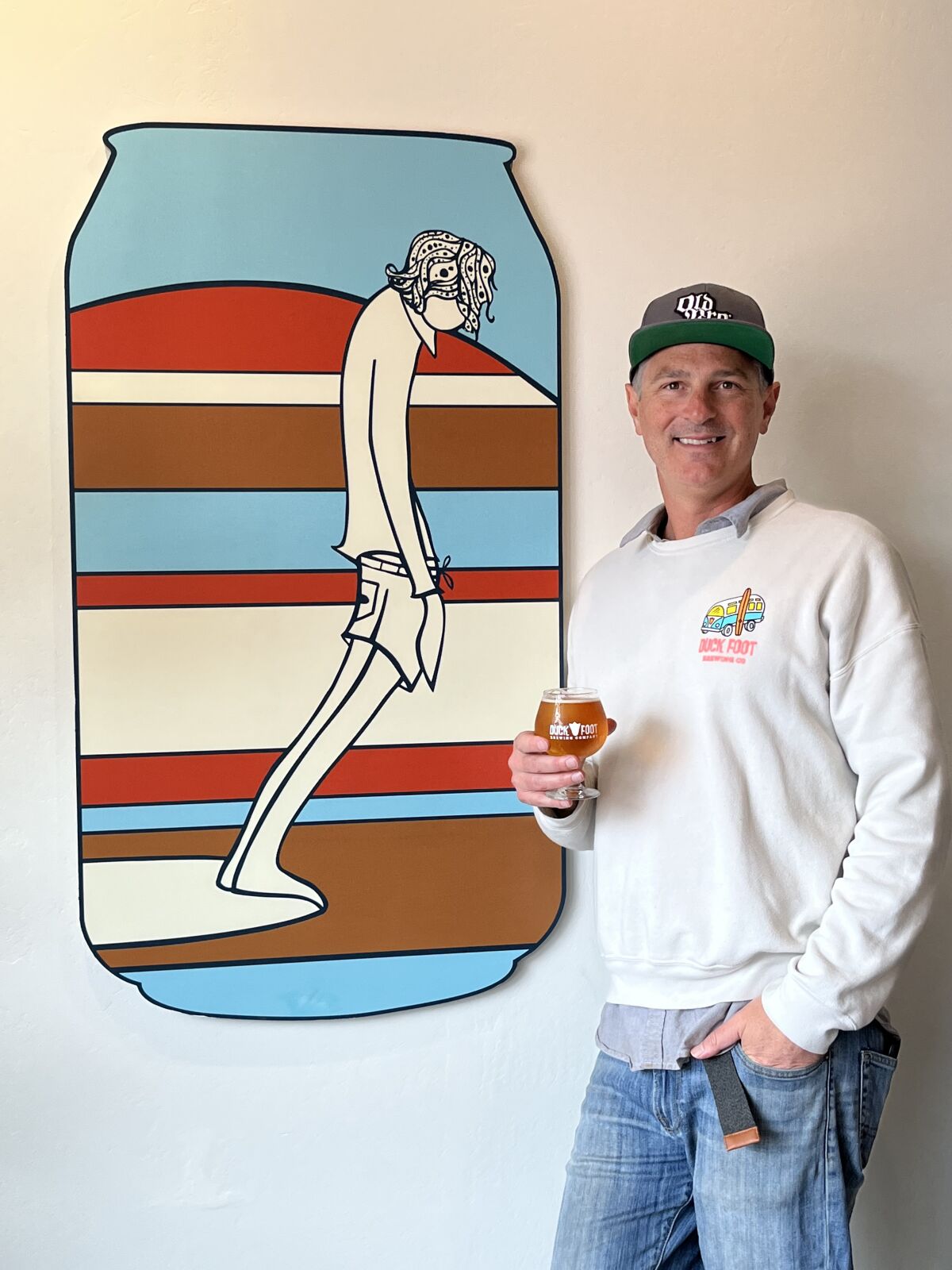 Duckfoot Brewing Company had hardly announced its arrival—owner Matt DelVecchio had a text chain going with his friends and neighbors, inviting them to stop by. And there was an Instagram post.
But when they opened on March 30 there was a line out the door, even Encinitas Mayor Tony Kranz stopped by.
"The place was just jam-packed," said DelVecchio, self-styled "head quack" of Duckfoot Brewing.
While Duckfoot has been in Miramar for eight years, DelVecchio always considered it a local Leucadiia business as he started the brewery in his garage. They are true Leucadian locals—he lives just three blocks from the tasting room, co-owner and wife Katie is a board member on the Leucadia 101 Mainstret Association, and their two kids attend Paul Ecke Central.
With his brewery located 20 miles inland, he always felt like he had two different lives.
"I'm able to now bring it here and have everybody be a part of it," he said. "I'm really excited to share what Duckfoot is with everybody."
Opening last week to a full house made it really worth it. He couldn't help but have that warm and fuzzy feeling.
Duckfoot took over the former Saint Archer space, which become the short-lived, rugby-inspired Kings & Convicts. DelVecchio kept a close eye on the space and knew when the lease was up—it never even had a chance to get on the market before he hopped on the opportunity, taking the keys on Feb. 1. Duckfoot is bringing back the surf and skate vibe to the spot, the walls dotted with surf artist Andy Davis murals. He did a beer collaboration with Davis back in 2018 called "The Secret Spot" and the new tasting room will borrow the name.
The windows roll open up to the 101 and DelVecchio hopes to add more seating to the outdoor patio, a place to crush a Duckzilla a block from Beacons.
Local craft brew fans know Duckfoot by its classic blonde ale The Looker or the Kook Slams tropical IPA but the tasting room will have 26 beers on tap to try a variety of brews. The beer menu includes the La Mirada Lager, named for a local Encinitas street in addition to limited releases and his CryptoBREWological Belgians, "a growing menagerie of beer oddities" like the bourbon-barrel aged Sasquack, a Belgian style tripel.
This week Duckfoot will be re-releasing The Secret Spot, his hazy IPA collaboration with Davis and are gearing up to release One Friendly Place, a nod to Roy's Market the store that inhabited the space back in the 1930s.
Duckfoot plans to continue the tradition started by Saint Archer of Wednesday bingo nights, "The most popular thing I've ever seen" and on Thursdays there will be comedy-based trivia night. They hope to offer comedy night, screenings of surf events and movie premieres and live music, possibly a summer concert series in the shared Coffee Coffee courtyard.
DelVecchio is a New York native and his whole life he admired the skateboarding and surfing culture on the left coast from afar. Growing up he was nicknamed "Spicoli" (the surf bro from "Fast Times at Ridgemont High") and always felt a little out of place. He was finally able to become a Californian in 2013, finally able to get into the Pacific Ocean, finally able to skate the local skateparks where everyone was so welcoming, "It helps that I make beer."
"I always believed that this was where I was meant to be," DelVecchio said. "Better late than never."
The same could be said for Duckfoot, finally home in Leucadia.
Duckfoot is located at 978 N. Coast Highway 101. Check out the brewery as one of the sip stops during Taste of Leucadia on April 20. Visit duckfoot.com/leucadia for more information.

Sign up for the Encinitas Advocate newsletter
Top stories from Encinitas every Friday for free.
You may occasionally receive promotional content from the Encinitas Advocate.