Pacific Ridge School Students host Taiwanese high schoolers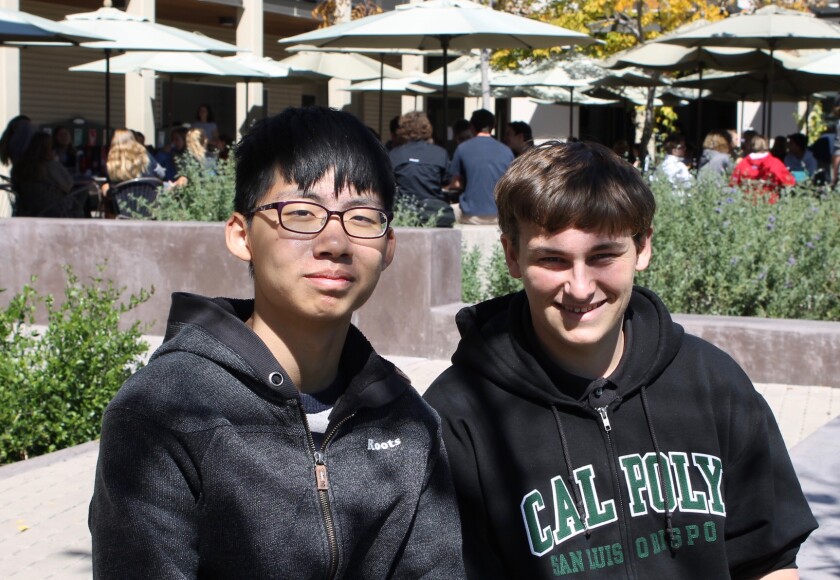 The Encinitas home of teenagers Matticus, Zach and Cassiela Brown is usually busy, but adding a Taiwanese exchange student to the mix made for a fun and eventful week in early March. The three Pacific Ridge School students hosted Kuo Yuan-Wu, a student at the Taichung Municipal Taichung First Senior High School as part of a sister school exchange.
Yuan-Wu jumped right into the family's weekend schedule, sharing meals, playing laser tag with Zach and attending Cassiela's arena soccer game at the YMCA while Matticus was competing in a robotics tournament. The boys discovered that they share a passion for the video game League of Legends and happily passed several hours playing and talking about their favorite aspects of the game. During the week, Yuan-Wu attended classes at Pacific Ridge and visited athletic games and arts events.
Yuan-Wu and the 23 Taiwanese students he traveled with came prepared to share their culture with the Pacific Ridge community. They took the stage at an all-school gathering to play music, sing and share a martial arts performance with the Carlsbad independent school's 600 students.
According to Matticus, who stayed with a family in Shanghai when he traveled to China with classmates in 2016, staying with local households adds depth to a travel experience.
"You get to learn a lot about what people's lives are actually like day to day, and that's not something you can learn just by visiting a country," he said.
During the homestay, Matticus and Yuan-Wu helped each other perfect their English and Mandarin skills in lengthy conversations.
"We're students, so we talked a lot about the similarities and differences in our schools; how much we study, what we study. It was really interesting," Matticus said.
The Brown family has provided homestays for international students before and all three children will participate in Pacific Ridge's Global Travel program this spring. Matticus, a junior, will travel to Chile to study astronomy, while Zach, a freshman, is headed to China with the 9th-grade class. Cassiela, a seventh grader, will get her introduction to educational travel by studying outdoor leadership in Big Bear. Over 95 percent of Pacific Ridge students participate in the program each year, traveling domestically and globally for up to two weeks.
At the end of his visit, Yuan-Wu was reluctant to leave, seeming delighted with his first visit to the United states and with his time in the Encinitas community.
"Everyone here is extremely nice and kind," he said.
---
Sign up for the Encinitas Advocate newsletter
Top stories from Encinitas every Friday.
You may occasionally receive promotional content from the Encinitas Advocate.