New school year, new look for Oak Crest Middle
Oak Crest Middle School students will return to campus this month to what feels like a brand new school.
Over the summer, construction was completed on the new administration building while older parts of campus were refreshed with bold new colors to match the newer buildings with updated Oak Crest branding and wave logos.
The school on Balour Drive also got a new shade structure in front, a new bike yard, resurfaced PE blacktops and student-made ceramic fish and starfish were added to the lunch area.
The removal of the temporary administration building opened up a whole new space for students with grass and spots to gather and collaborate. Principal Brieahna Weatherford is excited for the new benches to arrive—they are shaped like waves.
"The kids are going to love those," Weatherford said, noting that the first students back have complimented the campus' new "beachy" feel.
Last summer the school opened the new science classroom quad with its buildings a mix of deep royal blue, corrugated steel, modern roof lines and lots of windows for natural lighting.
Painting on the rest of campus this summer has followed the new color scheme: sandy beige and royal blue, with pops of teal, red and yellow.
Repainting the campus was bittersweet as many of the buildings had been decorated with student murals. Weatherford felt it was important to preserve and honor those works and thanks to a donation from the Oak Crest Parent Foundation, they found a way. High resolution photos of the murals were converted into 18 art pieces in a variety of styles from metal to canvas prints. The art is now showcased in the new administration building, gallery style, offering what one former student called "a walk through the past".
According to John Addleman, San Dieguito Union High School District's executive director of planning services, plans for the Oak Crest administration building changed in 2016 after the building was gutted by an arsonist's fire. It was originally slated for just a modernization rather than a complete demolition but the fire forced a new design, funded in combination of insurance money and Prop AA dollars.
The new administration is modern with lots of windows, corrugated steel on one side and a mix of bold colors on the other.
It features a big welcoming lobby with a separate attendance area (the finishing touches are still being placed on the walk-up attendance window outside) and spaces the school did not have before such as a conference room.
"One of the really exciting things about the building is now we've got everyone serving students in one place," Weatherford said.
Previously, the health office and the school counselors were in separate areas of campus than the administrative staff.
"With everyone in this building, we have a much more unified feel and we can better support students and families in a more functional building," Weatherford said.
At Oak Crest, Weatherford has focused on making the whole school a welcoming place for all. This year she turned eighth grade students into leaders with the WEB (Where Everybody Belongs) leadership program. The WEB leaders attended training over the summer and will help welcome all seventh graders and new students to campus on a student-led orientation on Aug. 19.
"WEB leaders are focused on making sure everyone has a positive transition to middle school and makes positive connections," Weatherford said.
To further ensure everybody feels like they belong, last year Oak Crest students created a guide for student success called "What Every Wave Should Know". The list includes essential tips like: Be organized, bring lots of pencils and tons of binder paper, keep one earbud out, socialize at lunch, be aware soda is not stocked in the vending machine, study hard, don't feed the seagulls, always recycle, put your phones in the caddies in the classroom and remember your PE clothes.
"Everything will feel overwhelming at first," reads one bit of Wave wisdom. "Take a deep breath."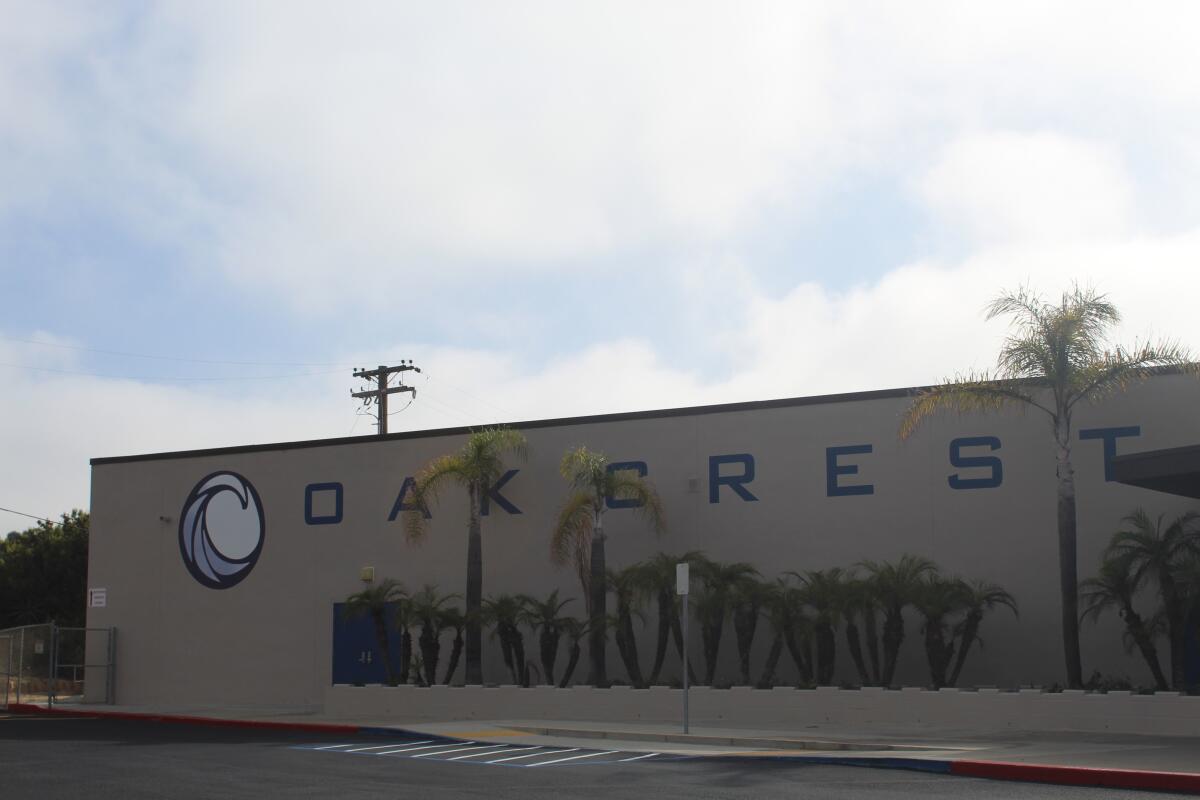 Sign up for the Encinitas Advocate newsletter
Top stories from Encinitas every Friday for free.
You may occasionally receive promotional content from the Encinitas Advocate.