Tuesday, Nov. 5 was an Election Day in Encinitas. The students of Paul Ecke Central Elementary participated in the fourth annual Kids Vote Day, casting their votes in a hotly contested election to name the school's two new chickens.
From a large field of candidates, the names were narrowed down to the top six for each chicken. Nominated names for the white chicken were Luna, Salt, Marshmallow, Lily, Oreo and S'more. Candidates for the black chicken were Flor, Pepper, Cooper, Rose, Brownie and Cherry.
With the additions of the soon-to-be-named chickens, the school garden is now home to eight chickens. The campus garden is where students learn about environmental science, teamwork and seed-to-table food experiences—the students even helped build a wood-fire pizza oven to bake their own pizzas topped with veggies from the garden. Each year new chickens are hatched in the school's coop. Families volunteer to take care of the chickens on the weekends and once grown, the chickens are sent to a new home.
For the past four years on Kids Vote Day, the students exercise their rights voting not on candidates but on school issues—last year they voted on what art to put on the wall ball courts. On a crowded ballot, this year students were voting not just on chicken names but on whether they wanted In-n-Out or a pizza lunch if they earn $250 in donations for the school jogathon, their favorite Spirit Day theme and their favorite hot lunch items.
"This is the third white chicken the school has had and the last two have been named Marshmallow," said parent Jody Vakili, who organized the event with her husband Bardis. "It seems like it is going to be the crowd favorite."
There were 11 official voter booths set up in the library, borrowed from the San Diego County Registrar of Voters. Photos of both chickens were up in the booths to inspire the children's votes.
As Paul Ecke is home to a Dual Language Immersion program, ballots were printed in both Spanish and English. After students submitted their ballots, they received an "I voted" sticker, button and bracelet—available in both languages.
Students voted throughout the day and before they headed into the library, Bardis Vakili spoke to each class about what it means to vote.
"Why is it important to vote? Because you get to have a say in what's happening around you," he said. "How often do you get to have a say at home?"
Grown-ups get to have their say all the time, however, on this super Tuesday at Paul Ecke, it was the kids' turn. As the bottom of the ballots read: "Be proud of yourself. You are a voter."
Votes are expected to be counted by the end of the week—stay tuned for official election results.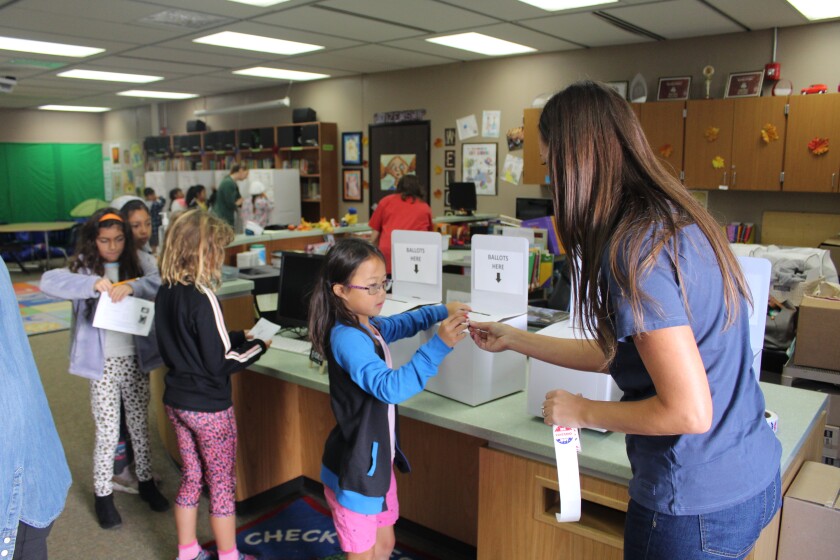 ---