Meet the Encinitas Union School Board candidates
Two seats are up for grabs on the Encinitas Union School District board in the 2020 election. With no incumbents in the running, those elected will bring a new face to the school board.
Below, meet the six candidates (in alphabetical order): Christian Adams, Leonard DiMedio, Adina Smarandache, Marlon Taylor, Matthew Wheeler and Jodie Williams.
Christian Adams
Occupation: Solar business owner
Education: BA, Major Psychology, Minor in Music
Community Service: Current vice chair of the Encinitas Environmental Commission, current board member of the Encinitas Educational Foundation, current Encinitas for Equality Education Committee, former school site council rep.
1. What do you think are the biggest issues facing the Encinitas Union School District?
How and when to return to school during this pandemic is by far the biggest issue. The district has done a good job of communicating with parents and teachers the steps they are taking and the metrics used to determine the decisions they make. Getting the stakeholders -- parents and teachers -- feedback on this issue as well as others is vital.
When I was on the site council at Park Dale Lane, parents, teachers, and staff worked with the principal to plan for the needs of the school. This level of transparency and accessibility should also occur at the district level.
Food insecure families have been greatly affected by the pandemic. The Encinitas Educational Foundation, of which I'm a board member, led a program that raised money and distributed food to over 500 insecure families every week at the height of the pandemic. This program will need to be expanded when the affordable housing plan is put in place.
2. How would you propose to address those issues?
Transparency and accessibility can be improved upon by having all board meetings online and in real time. This way more people can attend and be informed, which will promote healthy and informed debate and discussion. Having term limits will also allow for more community participation. Members serving for decades on a local school board can lead to institutionalization and complacency.
I will fight to expand programs that work like the TRAC program, which address social and emotional needs and tools. I will also fight to make sure teachers have the resources and training they need to support our English learners and special needs students.
3. Do you agree with the way the Encinitas Union School District operates? If not, what changes do you think need to be made.
Overall, the district is doing a good job. Superintendent Grey has done a great job of creating a culture of proactive communication and is open to receiving feedback. There can always be improvements and, with the current pandemic, things are shifting rapidly as to how to respond. Keeping the community and staff informed and including them in the decision making process creates a healthy environment where everyone is heard.
Leonard DiMedio
Occupation: Semi-retired
Education: Degree in Information Systems from Drexel University
Community Service: Mayor, director of health and human services, director of public safety, director of public works, offered free math lessons, community clean up brigades and more.
1. What do you think are the biggest issues facing the Encinitas Union School District?
School Board law #0415 (schoolboard@yoleo.net for links) initiates an Equity Committee. It denies the public's right to observe its deliberations in violation of the Sunshine Laws. The Committee will create policies to eradicate institutional bias of any kind, including implicit or unintentional biases among other things. (i.e. white children are unintentionally racist) This committee uses Cultural Proficiency by Randall B. Lindsey to inform their "work". Randall's other book is The Cultural Proficiency Manifesto. It's Marxist ideology to divide us. I don't believe our children are racists nor have they provided any proof that we have racist kids or our school district is set up to be racist. Implementing this will do the opposite and actually teach racism by categorizing POC as inferior and thus unable to help themselves, this is wrong. School is about inclusive learning not indoctrination!
2. How would you propose to address those issues?
I will ensure the district complies with the Sunshine Laws so we are not exposed to litigation. I will ensure more transparency than the current laws require. Parents have a right to be informed. Gov Code Section 54950 "The people, in delegating authority, do not give their public servants the right to decide what is good for the people to know and what is not good for them to know." It's about transparency, we demand it because we all know that monsters live in the dark and we need to have the light of transparency to inform our community of what our public officials are doing in their secret meetings. Meetings must be friendly, inviting and accessible to the public so we can speak, be heard, ask questions, and have interactive conversations with the board, which is currently barred by board rules. End this dictatorship!
3. Do you agree with the way the EUSD operates? If not, what changes do you think need to be made.
We have lots of great teachers and administrative staff. They are kind, caring and have good intentions and I want to keep it that way. The Equity Thought Leaders (ETL) is a committee for parents to distract them from the Equity Committee which bars parents unless you are an employee. We were promised the Equity Committee will inform us of their activities by being members of the ETL but they did not. Instead, the ETL meeting is also indoctrinating the parents by bringing up the anti-American doctrine like the 1619 Project which wants to redefine our US history in terms of racism. Our policies need to celebrate that we are actually an inclusive school/country and our children are good people. While not perfect, historically we have continued to fix the wrongs in our society and continuously improve it. We are a good country with mostly good people.
Adina Smarandache
Occupation: Doctor
Education: Medical School
Community Service: Community doctor
1. What do you think are the biggest issues facing the Encinitas Union School District?
Open schools full time! There is no system that will keep everyone 100% safe but we can have safe policies for teachers and students while allowing the kids to go back full time. COVID is real but so are the devastating effects of isolating everyone and keeping kids away from the school environment, we need a balance. Teachers can also be safe by implementing classroom changes that can allow them to see and hear the children while giving them the protections that they need to be safer than in any typical flu year. We already have substantial public awareness, surface cleaning practices and other practices to implement this now.
2. How would you propose to address those issues?
Parents should have the choice of sending their kids to school by signing a waiver and following reasonable and rational best practices. We can also allow the kids that opt not to attend in person to Zoom into the class. Using individual desks, plexiglass, appropriate distancing, masks, entry and exit procedures, very good hygiene, regular classroom cleaning would allow for all the children to safely fit in an average size classroom. The teachers can have bigger screens and N 95 masks that would allow them to safely navigate around the student areas.
3. Do you agree with the way the Encinitas Union School District operates? If not, what changes do you think need to be made?
Overwhelming number of emails with redundant information from multiple staff is overburdensome to already overwhelmed parents. There is also a lack of summarized parent friendly bulleted action points. The lack of transparency on important topics such as the recent Equity Committee private and exclusive meetings need to be improved. Parents have the right to know what's going on in the district. Parents/voters need to see, hear and be heard. The district website searching is horrible, I searched for "Parent Handbook" and nothing. They had to email me a link to the Parent Handbook which is a Google Doc that tracks who uses it by requiring you to "request access", what else is it tracking? Nor can you search the handbook which is necessary for overburdened parents. And finally the poor implementation of the County Covid-19 policies.
Marlon Taylor
Occupation: Retired veteran
Education: MBA Human Resource Management (National University)
Community Service: Seagate Village Homeowners Association board of directors, Encinitas 4 Equality, board of directors
1. What do you think the biggest issues facing the EUSD?
The biggest issue for the district is Covid-19. The unpredictable nature of this virus has presented an unprecedented amount of challenges for the district. Reopening the schools in the hybrid model has been great. However, there are challenges that come with it. Teachers are assessing and providing instruction to our children while making sure that students are keeping their masks on, washing their hands and practicing social distancing. Teachers are also ensuring that children at home are engaged and challenged.
I believe that the district can improve advertising the special education and student services available to families. A few years ago, as a relatively new family to the district, the only way we found out about some of the services provided was through word of mouth from other families within the district. Being aware of the services provided can really save some families a lot of time, money and heartache.
2. How would you propose to address those issues?
I will stress that our schools provide the amount of instructional time by grade level as directed by the state. Synchronous learning periods should be done via Zoom. Allowing teachers, the ability to provide instruction to students at home and on campus simultaneously. This enhances our student's ability to fully participate in classes and maintain a connection with their classmates. Asynchronous learning should enhance what was taught in class and be robust enough to challenge students without requiring supplemental material. The situation is far from ideal, but we have to remember that we are in a pandemic and there is nothing ideal about this situation.
To better advertise the special education and student services available, I recommend doing multi-language advertising at the preschools in the community along with frequently sending information to families either electronically or home with students.
3. Do you agree with the way EUSD operates? If not, what changes do you think need to be made.
My family's experience in the district has been positive. Having served as a room parent, playground partner and PTA/EEF Restaurant Night Coordinator, I've seen the hard work and effort required to make our schools successful. However, there is room for improvement. The district can do more regarding diversity in our schools.
We are proud of our community and we frequently talk about our "bubble". Because of Encinitas' demographics, it's important that we amplify Black and Latino voices in our schools. To do this, we must hire more minority teachers. Provide all teachers and administrators the skills to effectively discuss equity and diversity in the classroom. Additionally, we need to facilitate additions to the curriculum that teach and celebrate diversity and offer minority perspectives. Our children will eventually leave the bubble. To be a good citizen, you have to have respect for other cultures and an understanding of the identities and backgrounds of others.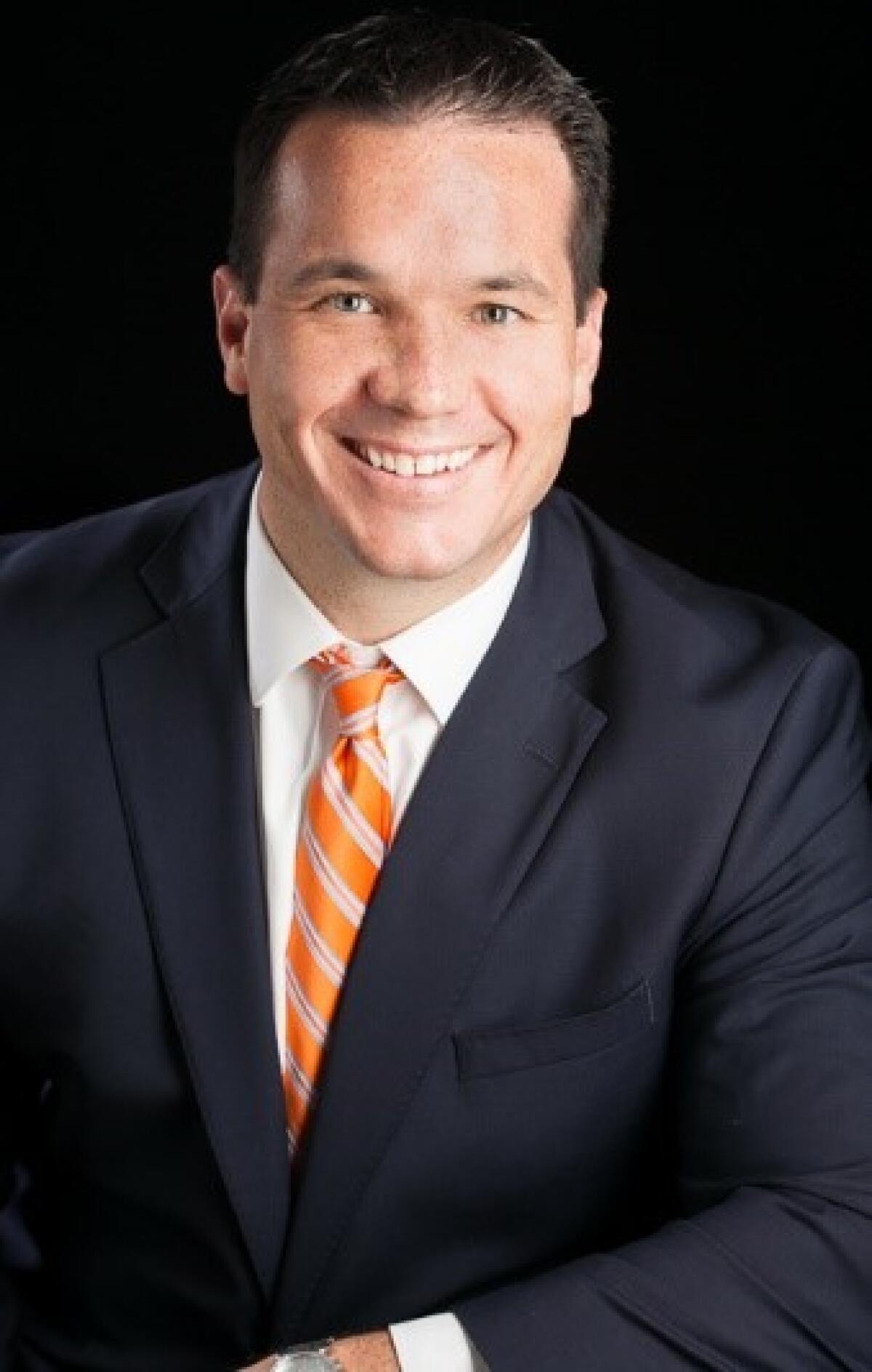 Matt Wheeler
Occupation: Financial Advisor
Education: B.S. in Management Science (Economics), UC San Diego
Community Service: I've donated a lot of time and money over the years to various charities but most recently my wife and I have operated an online store to raise money for charity. First we sold facemasks where 100% of the profit went to the Cystic Fibrosis Foundation. Currently we are selling hand sanitizer carabiners (great for back to school!) with all profits going to the Alzheimer's Association.
1. What do you think are the biggest issues facing the EUSD?
I think clearly the biggest issue is the coronavirus pandemic and getting our children safely back into school for full in-person learning. Then we need to assess learning and socialization development loss and gaps and address those.
2. How would you propose to address those issues?
I think we need to survey parents to see which families want in-person learning five days a week and which prefer distance learning for the time being and then offer families the choice that works best for them, following all guidelines and best practices for safety. We then need to take a hard look at the budget and consider eliminating any wasteful spending (like potentially the Farm Lab) while coming up with creative ways of raising some additional revenue (like renting out facilities and fields that go unused on weekends and summers) and then ensuring that every dollar the district receives is prioritized for students and learning loss mitigation.
3. Do you agree with the way the EUSD operates? If not, what changes do you think need to be made.
For the most part yes, but there are some definite improvements that need to be made. First, I believe the school board is there to represent students and parents, but the board has been generally unwelcoming of parental input and that needs to change. It also seems like a lot of decisions get made without a plan. For instance, until very recently the district did not have a Facility Master Plan. Running a school district and a $65 million budget requires planning for everything. The school board often rubber stamps staff recommendations. The school district has a great superintendent but I think the relationship dynamic should be more along the lines of trust but verify.
Jodie Williams
Occupation: Attorney
Education: University of Arizona, California Western School of Law
Community Service: Volunteer for and am in the leadership of the American Bar Association Antitrust Law Section, and am co-founder of that Section's first committee devoted to women, Women.Conn
1. What do you think are the biggest issues facing the EUSD?
I think the biggest opportunity presenting itself to the Encinitas Union School District is finding our path forward and new "normal" following COVID-19. The global pandemic has significantly disrupted our children's education, and I commend our school board, administration and teachers for handling the sudden shift to distance learning as best they could under the circumstances. However, it will take time to recover completely and what we see on the other side will not look entirely the same. We need a strong school board to help our community navigate through what comes next.
2. How would you propose to address those issues?
We have the benefit of being able to examine how we handled the unexpected shutdown from all angles, from fiscal to emotional. We can take a look at and determine what resources were used wisely and where we could have done better. And, we can reach out to our community to better understand whether their needs were met and where we could have done better as a school system. Using this opportunity as a learning moment will help strengthen our district and remain the superior choice for our children's education.
3. Do you agree with the way the EUSD operates? If not, what changes do you think need to be made.
I think our school district and board does a phenomenal job of putting the needs of our kids first. As with any organization, we can always be improving and I look forward to exploring ways to better serve our community. One such area is transparency with our families. Our school board decisions have become more transparent recently because of the shift to virtual meetings, and I think it's a welcomed improvement that allows our families to feel more connected and involved in the process. I would like to see this practice continue and intend to look for more ways to support and bring together all of our families, teachers and administration.

Sign up for the Encinitas Advocate newsletter
Top stories from Encinitas every Friday for free.
You may occasionally receive promotional content from the Encinitas Advocate.