Hometown-brewed: La Costa Canyon grads' Burgeon Beer stays true to their roots
The sixth annual Carlsbad Brewfest will return on Saturday, Sept. 7, sponsored by the Carlsbad Hi-Noon Rotary. The party in Carlsbad's Holiday Park celebrates the best in craft beer with over 40 breweries and cider houses, as well as music, games and food vendors.
Local craft beer in Carlsbad doesn't get much more local than Burgeon Beer Company. The three-year-old brewery was co-founded by Anthony Tallman, Matthew Zirpolo and Derek van Leeuwan, a trio of La Costa Canyon High School graduates, all born and raised locally in Encinitas and Carlsbad.
Their name and logo pays tribute to their hometown, where they have put down roots and continue to grow and flourish.
The high school friends graduated LCC in 2005 and branched out into different directions. Tallman went to work at Stone Brewery and worked his way up from washing kegs to becoming a brewer. van Leeuwen grew his passion for beer as a homebrewer and became familiar with the manufacturing side. Zirpolo went to college for communication and sales and was selling copiers door to door when the group came together six years ago and first hatched the idea to start their own brewery.
All of their different skill sets made for a perfect blend, "We are each really great at what we do and it works really well with the partnership," Zirpolo said.
It took three years for Burgeon to build their business plan and investment capital, find a brewing location and open the doors to their tasting room. It was a dream come true to open up a spot in their hometown.
In the last three years they have continued to grow and find success, which Zirpolo credits to their willingness to innovate, experiment and push boundaries while having a strong commitment to quality.
"We have a new beer almost every week," said Zirpolo, who is this year's president of the San Diego Brewers Guild. "We are always trying to learn and improve and I think that sets us apart."
When beers leave their Carlsbad facility, cold storage is required and they make sure the lines of their beer accounts are clean to ensure the very best product is out on the market.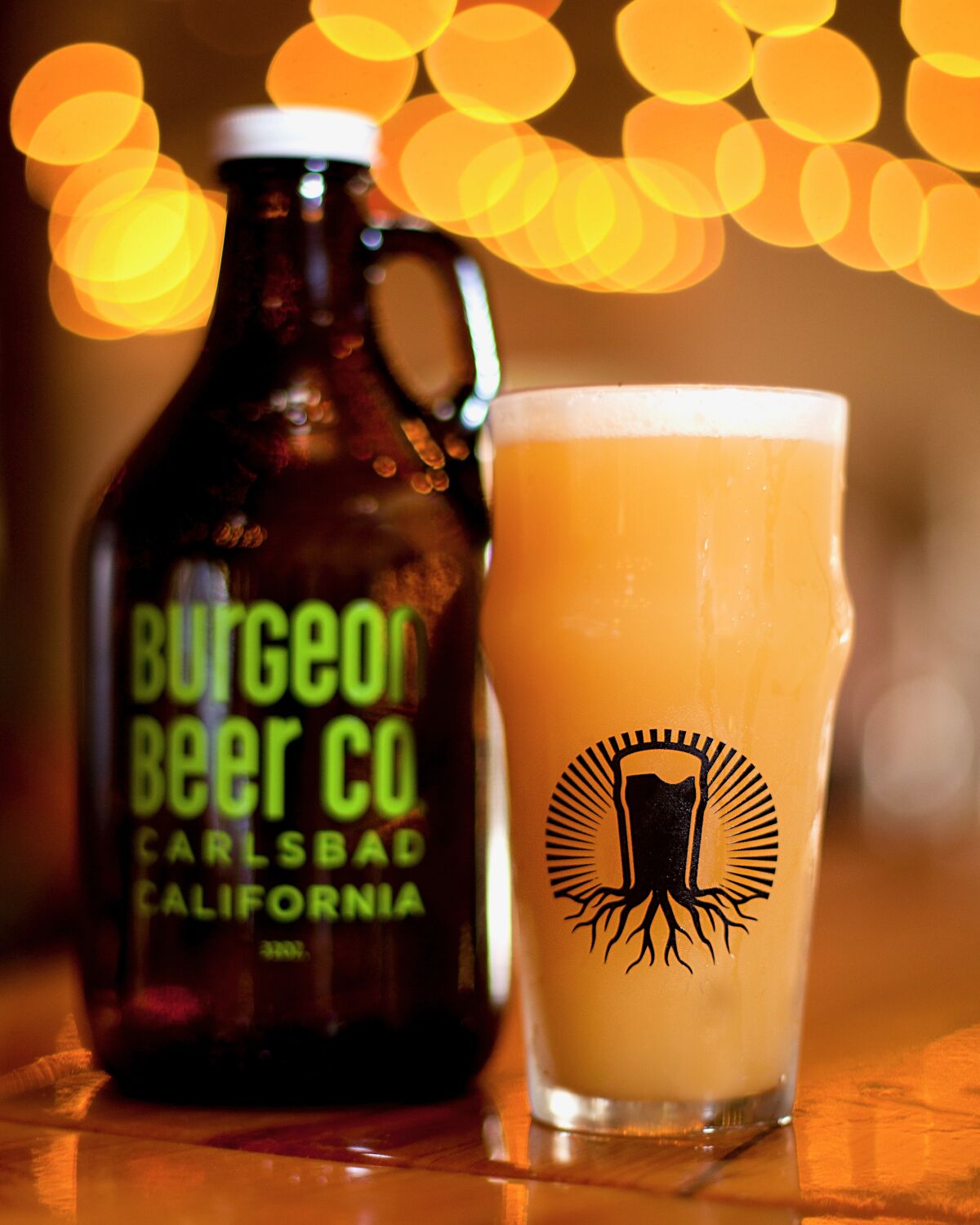 At home in the Burgeon taproom there will always be a fresh variety of styles to taste or take home—on tap right now is the Carlsbad Crush pale ale, the Opaque Illusion stout brewed with chocolate and coffee, the hazy IPA Juice Press and Clever Kiwi, an unfiltered kellerbier, a German-style "cellar beer." This weekend they will bring back Hitched on Haze, a hazy IPA classic first brewed for Zirpolo's wedding in 2017, as well as celebrate a can release for an IPA collaboration with MadeWest Brewing out of Ventura.
The Treevana West Coast IPA is considered Burgeon's flagship IPA— 7.2 percent ABV hopped with Mosaic and Amarillo.
"It has tons of flavor and aroma but not as much bitterness, which makes it more drinkable," Zirpolo said of the brew that won gold this year at the Los Angeles International Beer Competition and was named 2018's Best Indie Beer in San Diego in the Sore Eye Cup.
For Carlsbad Brewfest this year, Burgeon was excited to join forces with fellow Carlsbad breweries on the 2019 collaboration brew. The collaboration West Coast IPA dreamed up by Burgeon, Arcana, Culver, Karl Strauss, Papa Marces Cerveceria, Pizza Port and Rouleur was brewed at Culver and will be featured at Saturday's brewfest.
Zirpolo said the brewfest is a fun way for Burgeon to help celebrate Carlsbad and their love of all things local: "We think this is the best place on earth," he said of their hometown.
Zirpolo said he knows how rare it is to be able to open a brewery in a community where they are so strongly rooted and they are not taking that for granted.
"We love being able to share this brewery with all of our friends and family. All of the local support is just completely incredible," Zirpolo said. "We are so fortunate to have so much support from the local community, they have really welcomed us with open arms. It's been so fun."
The brewfest will take place from 1 p.m. -4:30 p.m. (12 p.m. with VIP access) and proceeds go toward local and regional charities. For more information or tickets to Carlsbad Brewfest, visit carlsbadbrewfest.org. Check out Burgeon's taproom at 6350 Yarrow Drive, Suite C or go to burgeonbeer.com.
Sign up for the Encinitas Advocate newsletter
Top stories from Encinitas every Friday for free.
You may occasionally receive promotional content from the Encinitas Advocate.