Sunset alumni speak out against proposed school name change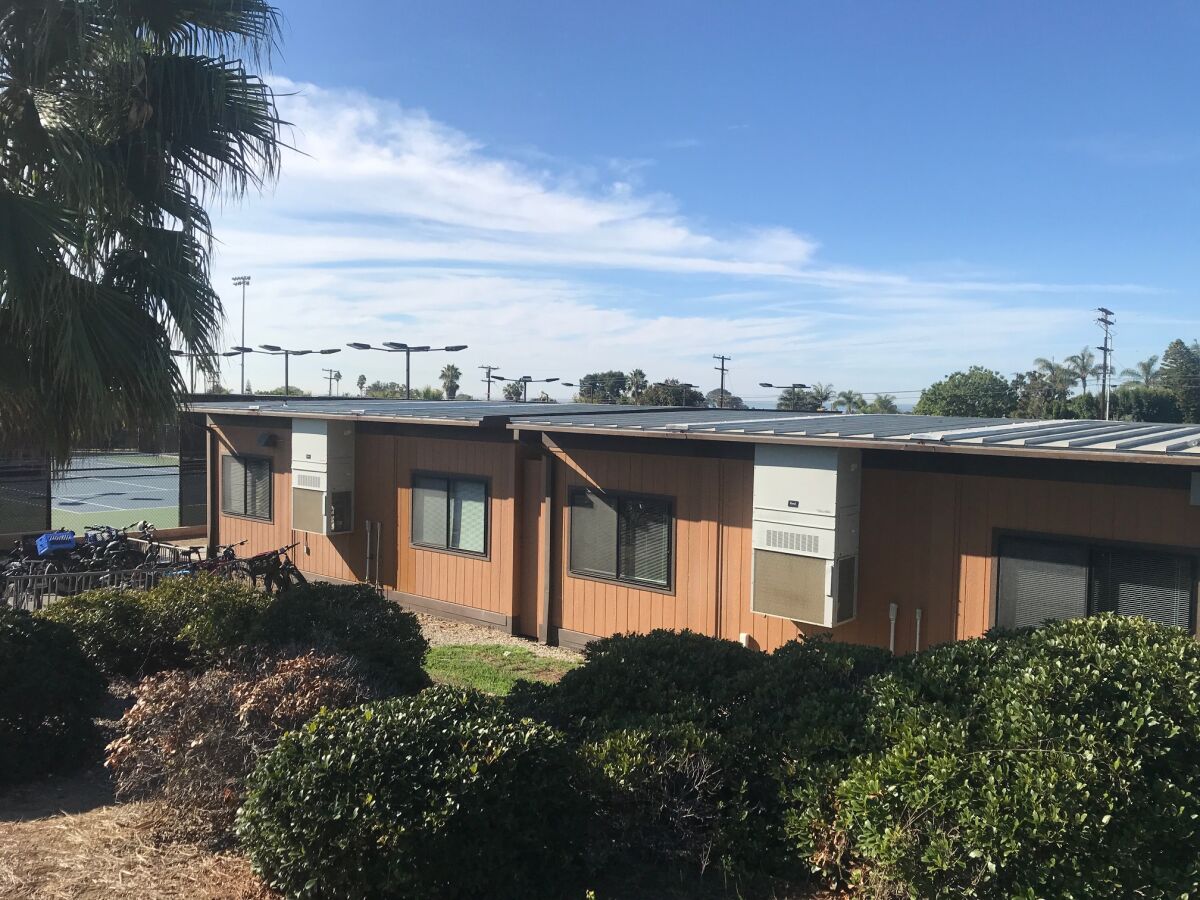 Opposition continues to swell against the proposed name change of Sunset High School in Encinitas. At the last two San Dieguito Union High School District board meetings, the most recent on Nov. 7, groups of Sunset alumni have spoken up, pointing to an online petition that has gathered 835 signatures against the re-naming.
The name change was not on the agenda on Nov. 7 but the board is expected to receive an update regarding the Sunset naming at its next meeting, which will be held Tuesday, Dec. 17. San Dieguito Superintendent Robert Haley said that the board will not take any action on the name prior to the January 2020 meeting.
At the meetings, alumni have spoken passionately about their positive, life-changing and at times, "life-saving" experiences at the school.
"Sunset High School is not a distant memory for me, it's part of how I found myself," said Jeanette Bunn, a Fairbanks Ranch resident and a 1986 graduate. "Sunset High School was a stable and flexible environment, it allowed me the opportunity to thrive, build my confidence and feel good about who I was."
Bunn said the school gave her the guidance and values to steer herself in the right direction over the years, enabling her to start her own travel company at the age of 22 and meet her goals to be able to retire early, selling her company just this month.
"I'm dedicated to helping them keep the name Sunset High School," said Bunn. "I owe them so much."
The school has a long history in Encinitas, opening in 1965 as San Dieguito Continuation High School. In 1972 it moved to the Requeza Street location and was given the name Sunset by that year's graduating class. Sunset students are currently at their temporary home on the San Dieguito High School Academy campus while their new school is under construction. The new school is set to open in fall 2020 after 40 years in temporary buildings.
The name change was first proposed to the board in June by Sunset Principal Rick Ayala. The proposal came from conversations with staff with the idea being to open the new campus with a new name as a way to address negative perceptions and stereotypes in the community with the Sunset brand. Ayala said about 95 percent of current students are on board with the name change.
"I understand the attachment and connection that people have to the name but it is a totally different school now," Ayala said.
Over the years, he said Sunset has made changes to better meet students needs. Students have completed more classes than ever, they've had more graduates than ever before and they have the highest student connectedness rates and fewest disciplinary issues than any other school in the district.
"We tweaked the academic structure to make it more of an alternative option for kids in the district, it's definitely more of an alternative school than a continuation school," Ayala said, noting it is rare that they get students sent to them for behavioral issues like they were in the past and it has truly become a school of choice. Most students are there voluntarily—some to accelerate their progress to graduate early, some to recover credits and others because they'd rather be at a small school. Current enrollment at Sunset is 103 students and last year there were 145.
In his 12 years at Sunset, Ayala said he has worked to chip away at the stigma and spread awareness about the school that he loves.
"Without a doubt the reputation and the stigma is preventing kids from coming to this school," Ayala said. "We work closely with the other high schools to identify students who might benefit from coming here but the parents are reluctant to even exploring the option because of the perception of what this school is about."
As Ayala said, school name changes are not unprecedented: San Dieguito High School Academy has undergone three name changes in its 83-year history, Paul Ecke Central used to be Central Elementary School and University of San Diego High School changed its name to Cathedral Catholic when it moved to its new campus in Carmel Valley in 2005. All of those schools had reasons for change and Ayala said the stigma itself isn't the reason for Sunset's proposed change—with a brand new campus, the timing is right to rename the school that isn't what it was in the past.
"What many of the opponents are clinging to is already gone," Ayala said, noting that the old facilities are now gone, the program is drastically different and the only thing that is the same is the site.
The campus will also be the new home of the district's Adult Transition Program, which supports special needs students ages 18 to 22 and helps prepare them for independence and adult life. Known for years as ATP, the program is also interested in having a new identity so one idea is that the entire campus will be named the Sunset Educational Center, with the high school and ATP having their own individual names.
During public comment at the Nov. 7 board meeting, Encinitas resident Ken Harrison said his son attended Sunset to catch up after an extended illness and be able to graduate on time with his class. He said the administration should not be so concerned with their image but instead focus on "the business of supporting and inspiring teachers and staff to make incredible students go out into the world."
"Nip it in the bud, it's stupid to continue to talk about this," Harrison said. "I would ask you to make a decision as soon as you can to just get it off the agenda."
Sunset alumni and former staff member Diana De Rosa started the petition and said that she has verified that at least half of the 835 signatures are former staff, students and families. She noted that many of the petition supporters have also written very specific comments on the petition.
"The Sunset school has been instrumental in helping students at a loss find their way," wrote Lillian Murphy in the petition comments. "The instructors believed in them and most importantly, helped students believe in themselves. Keep the name as a symbol of the students' accomplishments and what the school can continue to accomplish for future students."
Opponents speaking at the last two meetings have included former students, a member of the Encinitas Historical Society and Roy Risner, who was the principal at Sunset for 21 years.
"It was the best thing I ever did, it's a wonderful place to be," Risner said of his time at Sunset. "To change the name of that school would be heartbreaking for me."
Ayala said he believes all the comments former students have made about how the school changed their lives and he said it only supports the argument for the name change, "We want more kids to come here and have that experience but as long as the stigma is in the way, there are countless kids who haven't come here," he said.
Some of the opponents have accused Ayala of promoting the name change for his own legacy or ego and Ayala said is not true.
"When I took this job I made a commitment to do what's best for kids. Everything we do is in the best interest of our students and I've often said what's best for kids isn't always what's easiest for us. We always have to remember and stick to that. I challenge anyone to find any decision that has been made at this school that isn't in the best interest for kids," Ayala said.
"Deciding not to do this would be deciding to say it's ok for kids and parents to continue to see us in a negative light and not give us the opportunity to work with more students. The majority of staff and students support this. It wouldn't even be getting to this point if students and staff didn't support this. We wouldn't even be talking about this."
Speaking before the board on Nov. 7, De Rosa asked the board for more transparency in the process and requested that a public forum be held before any decision is made, "We have a lot more to say," she said.

Sign up for the Encinitas Advocate newsletter
Top stories from Encinitas every Friday for free.
You may occasionally receive promotional content from the Encinitas Advocate.