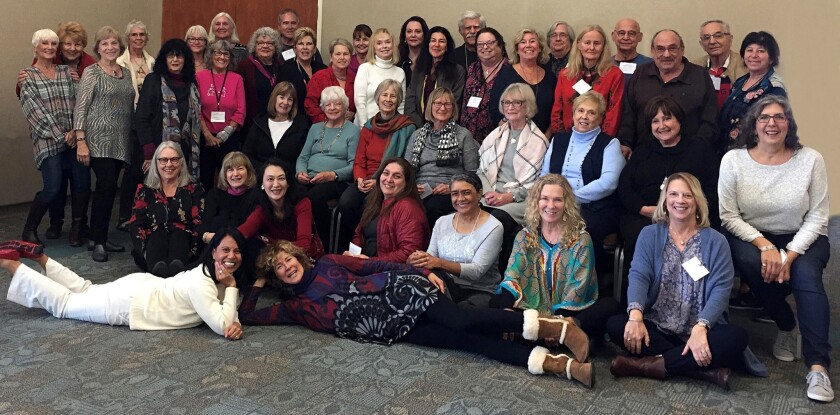 As required by their by-laws, members of the San Dieguito Art Guild, a 501(c)3 group of San Diego County artists, recently met at the Community Center in Encinitas for their yearly meeting
They enjoyed a bountiful brunch made by Marissa Wright (guild hospitality chair), awarded Karen Fidel (guild Membership Chair) "Member of the Year", held a "Bring It/Take It" exchange, and received a "State of the Guild" presentation by guild President, Linda Melvin, and a financial re-cap of the year by Linda Melemed (treasurer).
Over 40 members of the guild gathered to have a social time and learn more about their fellow guild members. Other Guild Board Members in attendance included Carol Korfin (Calendar Chair), Jeffrey R. Brosbe (jobs chair), Grace Swanson and and Judy Salinsky (publicity), Judianne Shannon (gallery manager), Lily Pourat (floor chair), Lin Holzinger (secretary), and Joyce Nash and Janet Scura (wall chairs). The San Dieguito Art Guild, established in 1965, owns and operates the Off Track Gallery, 937 South Coast Highway 101, Suite C-103, Downtown Encinitas. The guild hosts the very popular annual Mother's Day Weekend Art, Garden, and Studio Tour on Mother's Day weekend. Membership is open to all local San Diego County artists. For more information go to www.SanDieguitoArtGuild.com.
---