Teen gets 'Supernatural' help in cancer fight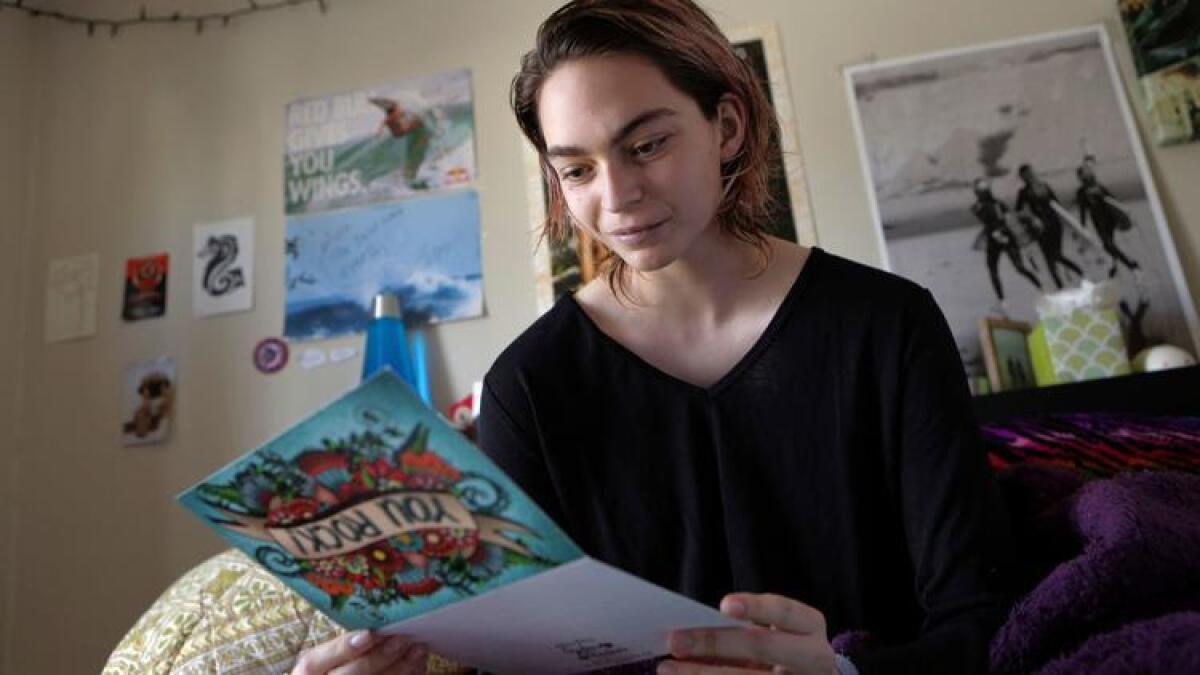 On Nov. 9, Kira Stanley's world went dark. That's the day the Encinitas teenager was diagnosed with a rare, deadly and inoperable form of brain cancer.
Her parents, Wendy and Robert, frantically searched the U.S. for a clinical trial that could save their daughter. Instead, they found a promising, but experimental study in Monterrey, Mexico.
Insurance wouldn't cover the more than $300,000 price tag for the potentially years-long treatment. But then Kira got some unexpected help from a supernatural source.
Kira's great-uncle is veteran character actor Jim Beaver, who co-stars in the long-running TV series "Supernatural." On Nov. 18, he asked for help from his more than 1.3 million social media followers and they came through.
Fans from all over the world, who call themselves the "#SPNfamily," have donated more than $230,000 to the family's Gofundme account. They have also mailed Kira nearly 500 cards, letters, puzzle books, personal items, socks, pillows and hand-knit hats and scarves.
"It's really weird to think that people would take the time out of their day to send something to someone they don't know, but it's really great," said Kira, 16, who likes to open these cards and letters when she's having a hard day.
On Jan. 24, the Stanleys will return to Mexico for Kira's fourth treatment, where the most recent MRI showed her tumor has stopped growing and even shrunk slightly.
For a cancer so aggressive it can double in size in just two weeks, the Stanleys are thrilled by the test results and they're overwhelmed and surprised by the generosity of Beaver's fans. But he's not.
"What I've discovered," Beaver said, "is when you put it out there, what comes back is so filled with blessings, so filled with goodwill, so rich in human kindness, that we should all get away from our cultural predisposition to keep things quiet."
Kira said her life was happy, full and active before her illness. She spent last summer teaching a children's surf camp, was earning straight As in her junior year at La Costa Canyon High in Carlsbad and was weeks away from getting her driver's license.
Then, in late September, she started experiencing double vision. At first, her family thought it was eye strain from her new glasses. But over the next five weeks, and many doctor visits, the symptoms grew to include dizziness, headaches, bumping into things and, finally, slurred speech.
On Nov. 8, doctors at Scripps Memorial Hospital in Encinitas did an MRI scan and found a mass in her brain stem. The next day at Rady Children's Hospital, the Stanleys received the devastating diagnosis, Diffuse Intrinsic Pontine Glioma.
Better known as DIPG, this pediatric cancer is so rare that fewer than 350 cases are diagnosed in the U.S. each year. There are no effective treatments and the median survival rate is just nine months from diagnosis, according to the Michael Moser Defeat DIPG Foundation.
"You get scared when you hear something like that," Kira said. "But when the results came back after all I'd been through, I wasn't surprised. I knew it had to be something like that."
Despite the prognosis, the Stanleys weren't about to give up. They opened a crowd-funding account (gofundme.com/helpkirafight), which raised more than $60,000 from the local community. Then they started hunting for a miracle.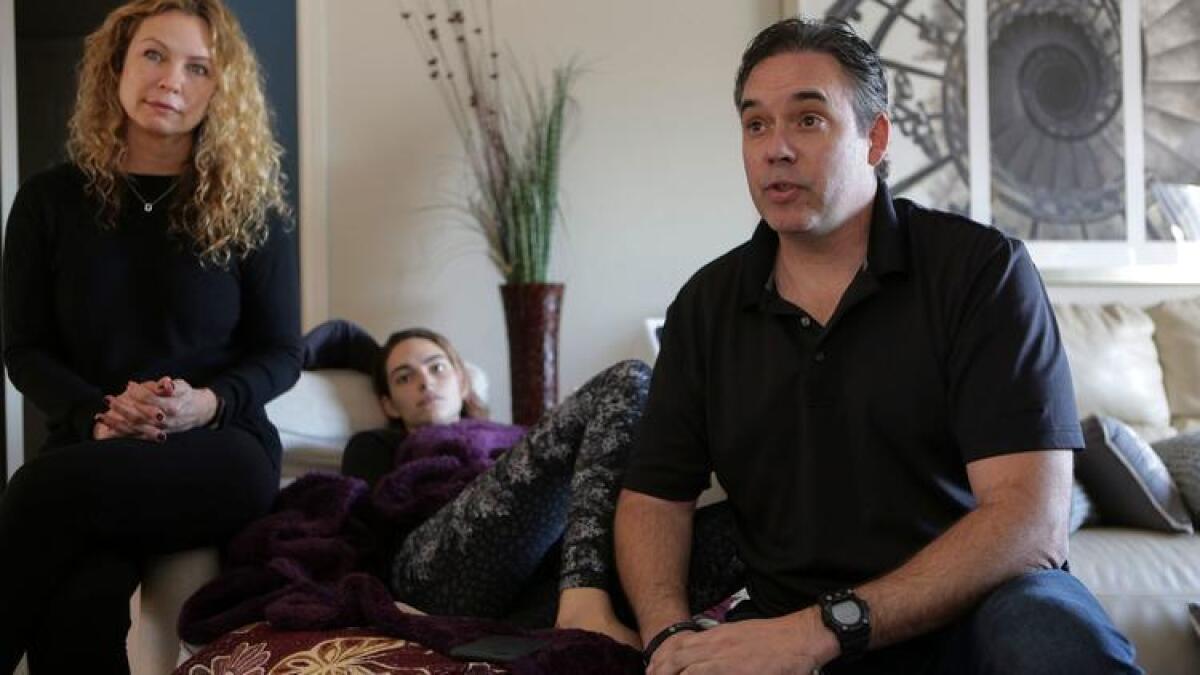 Robert Stanley, who lives in Carlsbad and runs a Phoenix-based marketing agency, said he shipped Kira's medical records to seven hospitals around the country that are studying DIPG and doing drug trials. But he was frustrated because these U.S. trials were blind, meaning he couldn't talk to patients' families, couldn't change the drug regimen if it wasn't working, and many had high-dose chemotherapy regimens that affected the patients' quality of life.
Meanwhile, Wendy Stanley, a lighting company executive who lives with Kira in Encinitas, contacted DIPG families around the world. Many were finding success in Mexico with a cutting-edge, intra-arterial multi-drug study under way at Monterrey's Hospital Angeles Valle Oriente. Some of these children have survived more than two years, but the cost was beyond the Stanleys' means.
To keep her extended family abreast of Kira's condition, Wendy started a text loop that included her beloved uncle. On Nov. 18, Beaver decided to enlist the #SPNfamily in Kira's fight. Within 12 hours of his Twitter and Facebook posts, nearly $100,000 poured into the Gofundme account. It now stands near $300,000.
"He didn't tell us what he was going to do," Wendy said. "I woke up the next morning and thought someone had been monkeying with our account. I thought it was fraud. But it was Uncle James."
Beaver, 67, has always been close to Kira and her 18-year-old sister, Zane, so the news of her cancer diagnosis was crushing. In 2004, he lost his wife, actress Cecily Adams, to cancer. She was just 45.
Back then, he kept his family, including Wendy, informed of Cecily's cancer battle through an email newsletter. That documentation of her illness and the healing wave of support he received from fans after her death became the basis for his 2009 memoir, "Life's That Way."
Since 2005, Beaver has played the gruff but fatherly character Bobby Singer on "Supernatural," a fantasy series about two brothers who hunt monsters. Bobby's character had a line in one episode, "family don't end with blood," that became a catch phrase with fans. Since then, Beaver and others on the show have tapped into that family of fans to raise money for charity.
"What I learned in the years since my wife's illness is that if you happen to be on a popular TV show, that circle of people who love and support you multiplies by the millions," he said. "Love and generosity transcends all kinds of boundaries, even the boundaries of who you know and who you don't know."
The Stanleys now fly to Mexico every 17 to 21 days for the weeklong treatments, which cost $17,000 and involve administering direct chemotherapy into the arteries around the brain stem, which reduces trauma to the rest of the body. If the treatment is successful, an additional personalized immunotherapy program will eventually be added, nearly doubling the cost of each visit.
For now, the Gofundme account is paying all expenses, but the Stanleys have several other fundraisers in the works. At 7:30 a.m. on Jan. 20, a benefit surf competition will be held at Moonlight Beach in Encinitas. And from 5 to 10 p.m. Saturday, a fundraising party will be held at Park 101, 3040 Carlsbad Blvd. in Carlsbad.
Robert has also built a website (www.helpkirafight.org) where he's selling a line of shirts, coffee cups and other merchandise with the acronym #BTHP, which stands for "brain tumor hall pass," a phrase Kira uses whenever she needs a break.
Since her cancer battle began, Kira has lost 20 pounds and most of her energy, taken a leave from school and spends most her days on the couch in her mother's townhome, which she said drives her crazy.
"I keep my spirits by staying in touch with my closest friends and I try not to think about the long-term," she said.
Robert said his daughter is a fighter with an "I'm going to win" attitude borne from her passion for surfing and competing. And Wendy said her daughter struggles with impatience, but has always had a positive outlook.
"She's very optimistic," Wendy said. "She has the expectations that she will beat this. The hardest part is she gets antsy. We have to practice patience but she's ready to kick this right now."
Beaver said everyone in his family is pulling for Kira and loves her dearly, and he's deeply grateful that the #SPNfamily heard his online plea and has helped make her experimental treatment possible.
"People can be really selfish, but when you put a name and face on someone's pain, people's best angels reveal themselves. I've seen it happen over and over again and I've seen it happen with Kira," he said. "I think the secret of any kind of happiness in life is keeping one's heart open to whatever blessings are out there. In my experience, the blessings vastly outnumber the slings and arrows."
Help Kira Fight Fundraising Surf Competition
When: 7:30 p.m. Saturday, Jan. 20
Where: Moonlight Beach, 400 B St., Encinitas
Entry fee: $40 (contests open to groms, boys, girls, men, women and longboarders)
Register: https://helpkirafight.org/events/surf-competition/
Help Kira Fight Fundraising Party
When: 5-10 p.m. Saturday, Jan. 20
Where: Park 101, 3040 Carlsbad Blvd., Carlsbad
Admission: Free (raffle tickets for sale online and donations accepted at venue)
Sign up for the Encinitas Advocate newsletter
Top stories from Encinitas every Friday for free.
You may occasionally receive promotional content from the Encinitas Advocate.