Blind triathlete teaches others to race for the gold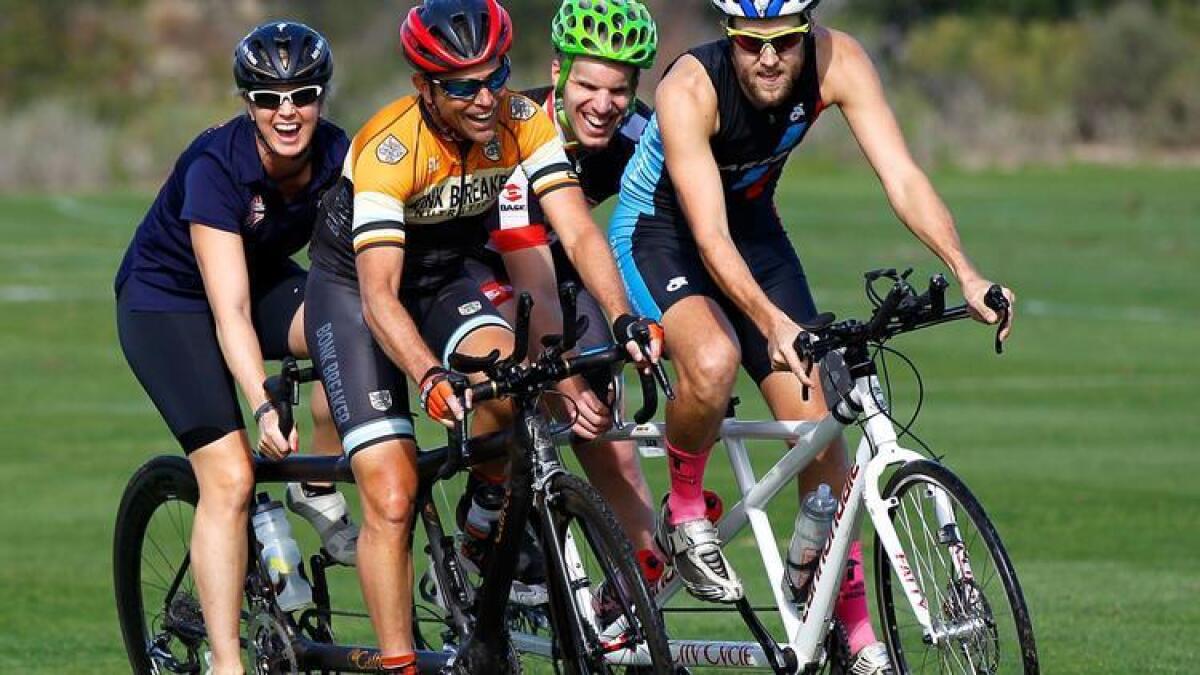 Five years ago, Encinitas resident Amy Dixon pulled herself out of a depressive funk over losing her vision by signing up for her first triathlon.
Now, the accomplished 42-year-old paratriathlete is giving back to the sport that saved her by hosting Camp No Sight No Limits, a four-day skills camp for blind triathletes from around the country.
Thirteen athletes from as far away as New York and Florida are taking part this week in simulations, workouts, drills and lectures at the Chula Vista Elite Athlete Training Center. The camp will conclude on Saturday with a mock triathlon at Fiesta Island.
Although there are hundreds of triathlon training camps around the country, only one caters to blind athletes. Dixon — who ranks No. 5 in the world in her paratriathlon division — said her camp offers the visually impaired athletes something unique.
"What I have is empathy," said Dixon, who lost 98 percent of her vision to a rare autoimmune disorder in her 20s and 30s. "I have a unique perspective on the challenges visually impaired athletes face when they compete. It's a daunting experience and can be a big, scary abyss when you're not prepared."
Swimming, cycling and running coaches and sighted guides from around the country are volunteering their time at this week's camp, which has been largely underwritten by sponsors.
The athletes paid just $1,000 for tuition, which covers all their activities, meals and lodging, insurance and rentals. Dixon said this was important because disabled athletes don't attract as many sponsors as their able-bodied peers. She supports her racing career and Paralympics quest through sponsors, public speaking events and advocacy work for the vision pharmaceutical industry.
This week's camp isn't just designed to shave a few seconds off the athletes' race time. Dixon's camp offers practical skills that the athletes, and their guides, can use to plan, organize and problem-solve the many obstacles that blind athletes encounter in the racing world.
"Being a blind athlete is all about having a plan B in place, and a plan C, D and E, just in case," said Dixon, who moved to Encinitas from her native New England last April to train year-round and be closer to her coach and sponsors.
Blind triathletes travel the race course with a guide, who swims 750 meters and runs 5 kilometers beside them on a flexible tether, and also takes the front seat of a tandem bicycle for a 20-kilometer ride. The guides are able to help the blind athletes during the challenging periods of transitioning from wetsuit to running gear. The guide's job also involves warning the athlete of obstacles, turns and difficult terrain.
Dixon's primary guide is Kirsten Sass of McKenzie, Tenn. And since September 2016 she has also raced with guide Christy Fritts of Carlsbad. In their first race together, she and Fritts won the ITU Aquathlon world championship in Cozumel, Mexico, and they've since picked up three more gold medals.
"She's my good luck charm," Dixon said of Fritts.
Dixon attributes her current ranking in the sport — she's on a promising track to make Team USA for the 2020 Paralympics in Tokyo — to her coach, Ray Kelly, who is among the volunteers at the camp this week.
Another of the volunteer coaches is retired pastor and Ironman competitor Scott Bennefield of New Mexico, who oversaw an open-water simulation Wednesday morning in a Chula Vista swimming pool. It got off to a rough start when the guides and swimmers became tangled in each other's tethers.
"The analogy I use is that triathlons are like life itself, you prepare for the expected, but it almost never turns out that way," said Bennefield, who's a certified USA Paratriathlon coach.
The key to avoiding mishaps in the water is clear communication between the guide and athlete on avoiding other swimmers and moving quickly around the buoys without entangling the tether.
Dixon said athletes at her last camp increased their times by up to 20 percent, in large part due to improved communication. Some blind athletes have even cut seven minutes from their race time by methodically drilling on their quick-change moves during transition from water to land.
Campers are also learning techniques that sighted athletes never consider: How to navigate public transportation in a new city; what to do when their ride doesn't show up; where to safely keep their guide dog when they're in the water; and how to always pack extra-long brake cables just in case their tandem bike gets damaged in transit.
There's also a seminar on new technology that is making training easier for blind athletes. There's a swim cap that beeps when it's close to the pool wall, a wristwatch that audibly announces the wearer's heart rate, a cellphone app offering turn-by-turn navigation and obstacle warnings and a smart treadmill that beeps when the runner veers toward the edge of the rolling tread.
Dixon hand-picked this year's camp participants, both for their experience (each must have completed at least three triathlons) and their ability to work in the group dynamic. About half are returnees from her first camp last winter and the rest are newcomers.
Among those newbies is Susan Wentzy, 36, of Silver Spring, Md. The second-generation pastor was born with retinopathy and lost most of her vision by age 13. After meeting and being inspired by Dixon, she started running in 2015 and has since completed six triathlons and one marathon.
"I continue to challenge myself and see how I can continue getting to know myself and my body," Wentzy said. "I'm amazed at how the team effort here has been so positive."
With so many athletes like Wentzy traveling from back East, Dixon said she'd like to launch a second camp on the East Coast, but after this weekend she is focusing on her personal bid for the U.S. Paratriathlete team.
Her next big race is the CAMTRI Paralympic Championships on March 11 in Sarasota, Fla. If she can maintain her standing in the top 10 in the world and No. 2 in the U.S, she will make the U.S. team, a goal that eluded her in 2016.
She's not giving up until she makes it and she's pushing that same self-confident message to all her campers this week.
"My big goal is for them to learn not to settle for just being a participant," she said. "Just because you're visually impaired doesn't mean you can't be a top-ranked competitor."
-- Pam Kragen is a writer for The San Diego Union-Tribune
Sign up for the Encinitas Advocate newsletter
Top stories from Encinitas every Friday for free.
You may occasionally receive promotional content from the Encinitas Advocate.