Homelessness discussed at forum in Encinitas
Encinitas officials and homeless advocates grappled March 20 with how to tackle the issue of people living on city streets.
Mayor Catherine Blakespear; Captain John Maryon of the San Diego County Sheriff's Department's North Coastal Division; Michael Williams, a formerly-homeless author, veteran and educator; Stephen Russell, executive director of the San Diego Housing Federation; Michael McConnell, co-chair of the Regional Task Force on Homeless; and Rebecca Palmer, chief program officer at the Community Resource Center (CRC) discussed their ideas for how homelessness might be resolved in Encinitas in a forum at the Encinitas Library.
Homelessness in Encinitas was up 25 percent in 2017, with the San Diego County-based Regional Task Force on the Homeless finding 117 people living on the streets or in shelters in the city in January, compared to 93 in 2016.
Eighteen months ago, the City of Encinitas introduced its Advisory Committee on Homelessness. In its first year, the program placed 32 homeless people in homes, Blakespear said. So far this year, 23 people have been taken off the streets and into homes.
All the panelists Tuesday seemed to agree something had to be done to help even more people off the streets. However, they said the solution wasn't immediately clear.
"I don't know if homelessness will ever end but hopefully with all of us working together, we can find some kind of resolution," Maryon said.
The captain said the sheriff's department has recently introduced better mental health services in jails and has hired 12 more mental health clinicians. He stressed that homelessness is not a crime, but, currently, there aren't many options for homeless people, so many can end up in jail.
Williams, who found himself homeless for two years after spending all his money to treat an illness that left him crippled, wanted the packed room of attendees to know that not all people living on the streets are there because of alcohol, drugs or crime.
He said he believes part of the problem is there are resources for homeless alcoholics and drugs addicts but no help for people who became homeless due to illness.
"Being homeless is one thing," Williams recalled. "Being homeless, sick and crippled is torturous."
He said he battled his resulting depression and anxiety with defense mechanisms he learned in the military, which he served during the Vietnam War. Oftentimes, he would have to choose between spending money on food or saving the pennies he had to try to get himself out of homelessness.
Eventually, he was able to find himself back on his feet, crediting the CRC for his success. The Encinitas-based group helped Williams file the proper paperwork to get himself into housing.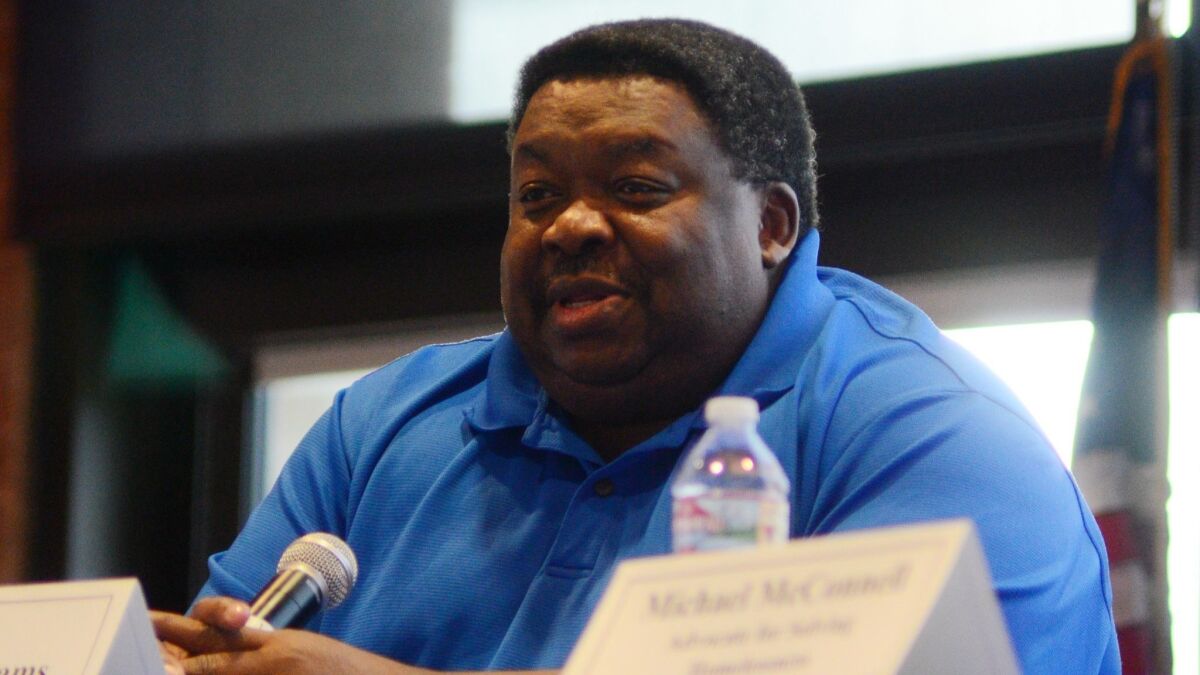 Williams said regardless of how someone found themselves on the streets, that doesn't make them any less human.
"Not all people who are homeless are alcoholics or drug addicts, but even if they are, they're still human beings," he said. "They all have a wealth of notions and a wealth of dreams just like we do. The nightmare's when we're awake, not when we're asleep."
Last year, the Encinitas City Council began a portable toilet program following a countywide Hepatitis A public health emergency declared in September.
The virus, which causes a highly contagious liver infection, is spread when people come in contact with fecal material. Some people who contract the disease show no symptoms, while others experience fever, fatigue, vomiting, a yellowing of the eyes, dark urine and diarrhea, county health officials report.
Because many of the people who have contracted the disease are homeless, there's been a regional movement to make public bathroom facilities available 24 hours a day.
Russell, of the nonprofit San Diego Housing Federation, commended Blakespear's and Maryon's efforts in Encinitas, but stressed more needs to be done in the way of affordable housing countywide.
Usually, affordable housing can be classified as debt retired, more than 20 years old, having deferred maintenance, lacking contemporary amenities, located in less desirable locations and often absent of ownership, Russell said.
He added more people are also coming into San Diego, with fewer job availability and even less housing.
"The solution to homelessness is a home," Russell said. "We're not bringing homeless people to [people's] neighborhoods. We're giving people a home."
Blakespear said Encinitas is attempting to do its part by certifying its housing element, which she expects to go to the voters in November.
Encinitas is the only city in San Diego County without a Housing Element, a required document that spells out how a city proposes to rework its zoning to accommodate its future housing needs, particularly those of low-income people, according to The San Diego Union-Tribune. The city's original plan, which it is still working off of, was created in the 1990s.
The city's last attempt at a housing element, Measure T, failed in the November 2016 election.
Today, Encinitas has about 25,000 units but needs to zone for 1,600 more units, some of which has to be allotted for affordable, high-density homes, Blakespear said. Fifty percent of those new units have to be on vacant land.
The city recently passed an ordinance regarding accessory dwelling units (ADU), or "granny flats." The new law allows people to build ADUs of up to 1,200-square-feet in size, reduce building setback limits, increases lot coverage limits for smaller properties and waives all fees for such developments.
Blakespear said while she realizes traffic and overpopulation are already problems around the city, if Encinitas does not adopt a housing plan, it could be sued by the state. She encouraged community support.
"If we don't have the support, we'll eventually get there because the courts will take us there," she said.
Sign up for the Encinitas Advocate newsletter
Top stories from Encinitas every Friday for free.
You may occasionally receive promotional content from the Encinitas Advocate.