Encinitas must decide if ficus trees are worth the cost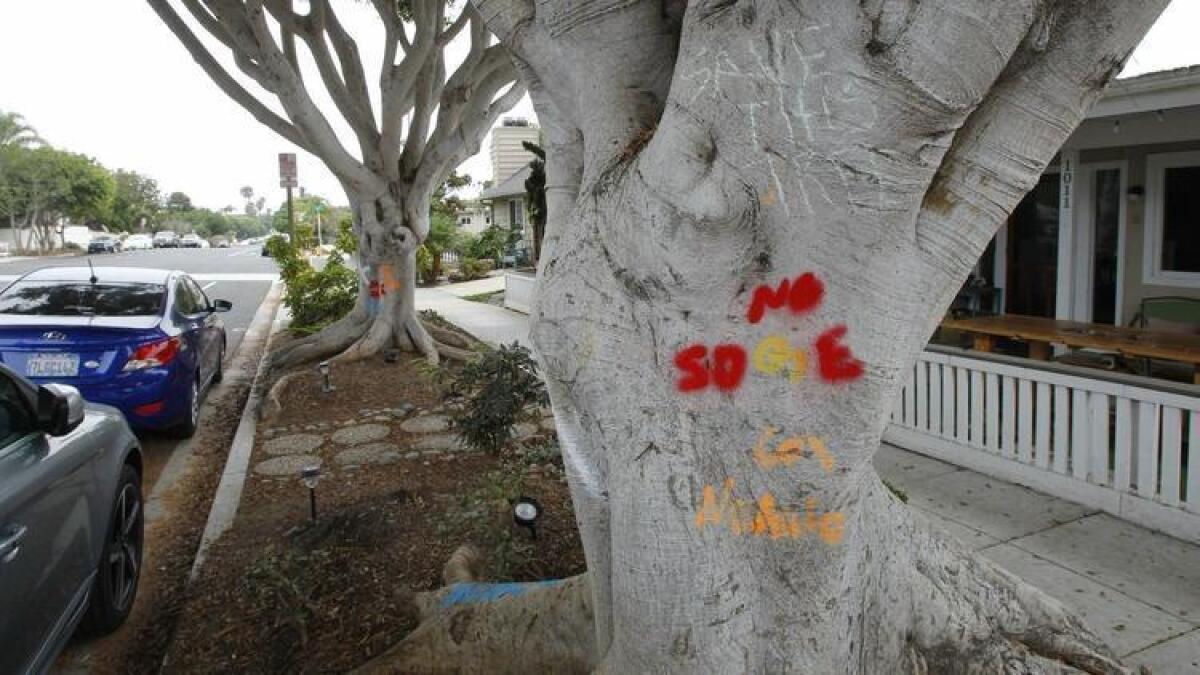 It could cost $1.2 million over the next five years to prune all of downtown's huge ficus street trees and repair root-caused cracks in the city's sidewalks, a new report states.
That hefty price tag doesn't include any damage claims nearby property owners might be tempted to file against the city over ficus tree roots that have invaded their sewer lines or damaged their parking lots, city arborist Chris Kallstrand told the Encinitas City Council March 21.
Several council members said Kallstrand's cost estimates gave them sticker shock. They said it's time to start seriously thinking about what ought to replace the beloved street trees, which were planted by Encinitas civic groups in the 1960s and provide a vast canopy in the downtown.
"I'm not anxious to get out the chainsaw, but the reality is we've got a fiscal challenge here when we make these decisions and (with) the numbers I'm seeing, I think we might spend our money a little more wisely," Councilman Tony Kranz said at the March 21 meeting.
The city arborist's estimated costs just for tree crown-reduction work and other pruning-related expenses for downtown's 51 ficus street trees was $110,000 a year -- a figure that Kranz said was quite frankly "more than I'm comfortable with."
Councilwoman Tasha Boerner Horvath said that people need to understand that these ficus trees are aging trees and the city should start addressing what's going to replace them.
"Keeping the tree canopy is a priority for me, I just want to make sure it also is a tree canopy in 20 or 30 years," she said.
Councilman Joe Mosca said the city needs to have a "good neighbor" program that acknowledges city ficus street trees can damage nearby private property, while Councilman Mark Muir suggested the council create a subcommittee to develop a long-term plan for street tree and shrub planting in the downtown region.
Mayor Catherine Blakespear said the others were rushing to forecast the trees' demise and said she considers street tree pruning to be a regular city maintenance expense just like caring for the trees in city parks.
"We need to try to do what we can to keep the trees," she said. "Yes, we recognize that they will die, but they're not going to all die in one year."
Instead, Blakespear said, the city should initially focus on the 77 downtown planting spots that the arborist estimated are vacant now and could contain new street trees.
The council ultimately unanimously agreed to Muir's subcommittee suggestion, picking Kranz and Muir as its leaders and recommending that it seek advice from the city's Urban Tree Advisory Committee, the Downtown 101 MainStreet Association and area property owners about the types of replacement trees that ought be considered.
At the moment, the city is conducting a pilot pruning project -- strategically reducing the crowns and controlling the roots of four overgrown ficus trees that were scheduled for removal because of safety concerns -- with the goal of seeing if this multiyear pruning effort can save trees from the chopping block. The next round of those pruning efforts is expected in the next few weeks, Kallstrand said.
The two-year pilot project, which is costing the city $89,421, came after intense lobbying by an informal Encinitas Save the Trees group, which formed in 2016 after word about the four trees' proposed removal spread.
Former Encinitas Mayor Sheila Cameron, who organized the group, told the council March 21 that the arborist's report wildly overestimated the amount of pruning work that downtown's ficus trees needed, saying its estimates are based on substantial pruning for all 51 trees and they don't all need it.
"These trees are healthy and beautiful and we should leave them alone," she said.
-- Barbara Henry is a freelance writer for The San Diego Union-Tribune.
Sign up for the Encinitas Advocate newsletter
Top stories from Encinitas every Friday for free.
You may occasionally receive promotional content from the Encinitas Advocate.