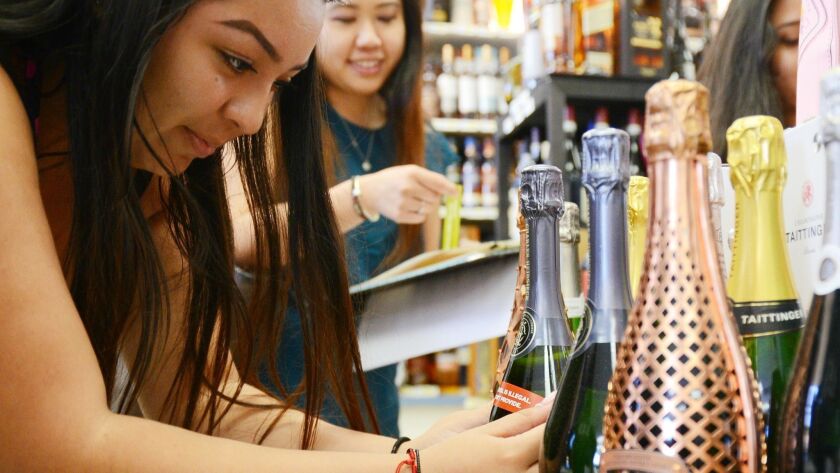 Local high schoolers came together April 12 with one message: "Under 21? Alcohol is illegal. Don't buy, don't provide."
The group of seven teens — from Torrey Pines High School, Canyon Crest Academy and San Dieguito Academy — visited six area liquor stores to place advisory stickers with the message on bottles of alcohol as part of the San Diego County Friday Night Live Partnerships (FNL), which aims to provide youth with social activities to steer them away from alcohol and drugs.
Barbara Gordon, the adult supervisor for the local FNL chapter, said the group is all about encouraging teens to make good, healthy choices and developing them into future leaders.
The group's first "Sticker Shock" stop on April 12 was at the Carmel Liquor Store in Carmel Valley.
Keith Crockett, the store's manager, said he was immediately in support of the teens when they approached him about placing the stickers on bottles of alcohol in his store.
"I'm totally for that," Crockett said. "We don't condone underage drinking. I think it's awesome that the kids are taking this on themselves. Kids listen to other kids more than they listen to adults."
Gordon said it's important to spread this message to adults, as well as minors.
"We know that behind every underage drinker, there's an adult who either provided, sold to them, allowed it to happen," she said. "We're just really thankful that these retailers are allowing us to come in and share this campaign to try to reduce underage drinking."
She estimates that 99 percent of the FNL participants are Latino, and many of them are the first in their families to attend high school and go off to two-year or four-year colleges.
"Drugs and alcohol are the single biggest reasons for academic failure," Gordon said. "If we can keep them involved in making healthy choices, that's what's best."
Osvaldo Linares, a 17-year-old senior at Torrey Pines, said he believes FNL provides teens with positive alternatives to peer pressure situations.
He added the organization has also given him more confidence in public speaking. FNL has hosted town halls on alcohol, vaping and drugs, in which the students will talk with adults about issues that teens are facing.
"I've always had a really good group of friends, but I also see other groups around school doing bad stuff, like drugs and drinking alcohol, in and out of school," Osvaldo said. "I feel like FNL really helps keep the kids busy so they're not doing other stuff. I feel like most kids don't get enough attention at home, so if they're doing activities like this, it puts their mindset into doing positive things rather than negative things."
---