Author's true-crime book aims to steer kids straight through faith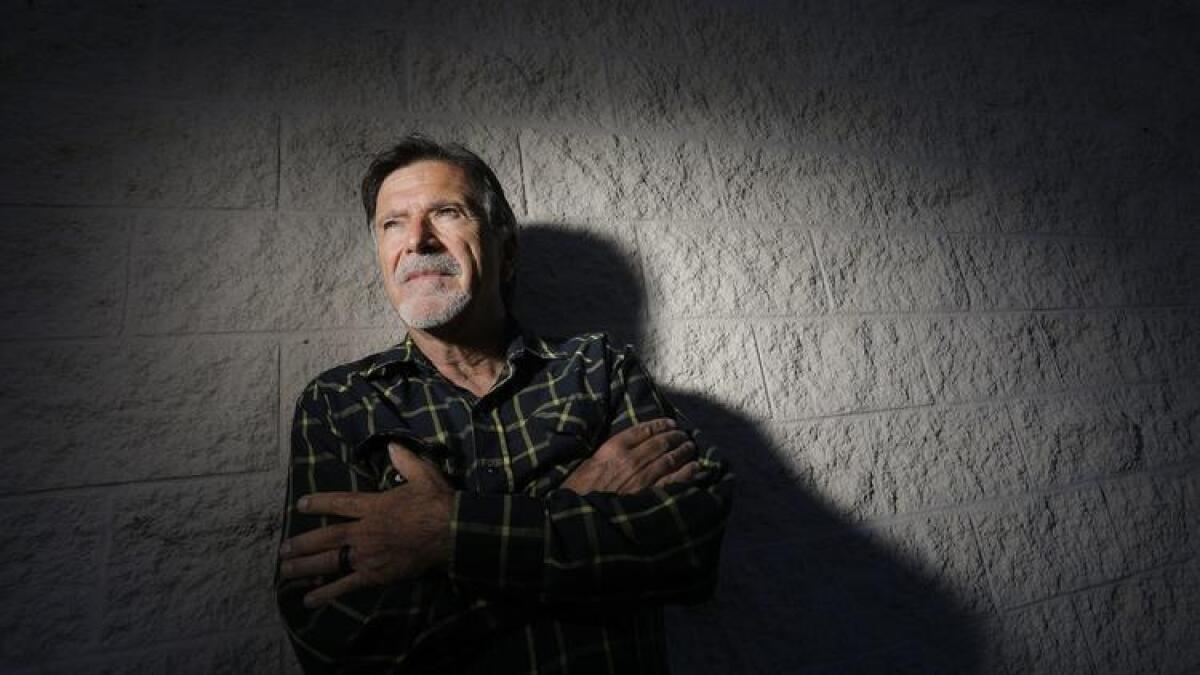 Forty-six years ago, author Chris Ahrens sold his first story. He's been earning a living as a writer ever since.
But the 69-year-old Cardiff resident is pleased to say that he won't make a penny off his latest book, "God & Gangsters." The self-published paperback features interviews with 21 hardcore and notorious criminals who turned their lives around by embracing Christianity and getting sober.
Last month, Ahrens printed the first 500 copies of his book with the mission of giving every copy away for free. The target audience for "God & Gangsters" is juvenile offenders who Ahrens hopes may learn from the hard-earned wisdom of these reformed gang members, drug dealers, murderers and Mafioso.
"I see it as my mission," said Ahrens, a grandfather of two and whose wife, Tracy, is a private school administrator. "I was looking for something meaningful to do and I thought that if I could get these stories into the hands of young people, they could learn from others' mistakes."
In April, Ahrens will co-host a book-release party at the high-security Calipatria State Prison in the Imperial Valley, where many of the book's subjects served time. That will be followed by visits to Chuckawalla Valley and Donovan state prisons.
He'll be joined by Dennis Martinez, 58, a onetime world champion freestyle skateboarder who relates in the book how he lost everything to drugs in his 20s. He found God and sobered up 21 years ago and now runs the San Diego Training Center, a faith-based drug rehab center in Spring Valley.
Ahrens first told Martinez's story in his 2008 documentary "D.O.P.E," an acronym for "Death or Prison Eventually." Narrated by actor and ex-con Danny Trejo, the film chronicled the rise, fall and redemption of four skateboard superstars: Martinez, Christian Hosoi, Bruce Logan and the late Jay Adams.
For many years, Ahrens has been part of a ministry program that visits men in prisons for conversation and support. He said the experience of hearing these stories left him a changed man.
"I started seeing these people who are no different from me or anyone else," Ahrens said. "I know people who may have just had a knife in their hand when things went wrong and they went to prison for life."
Ahrens grew up in Los Angeles, attending Catholic schools and hitchhiking to the beach on weekends to surf. Religion "didn't take" with him as a boy, but he often encountered a street preacher under the Huntington Beach Pier who gave him food for thought.
"I wasn't the kind of kid who enjoyed sitting in church every Sunday being told to be a good boy," he said. "When I was 19, I remember going home one night thinking about what that (beach) preacher said, and I took my own spiritual journey. I'd call myself a nondenominational Christian."
Two years later, Ahrens moved to Australia for the waves. He supported himself doing odd jobs, including taking pictures of surfers. But when his camera got stolen, he went to a local newspaper and asked if they'd instead buy a freelance article. Forty dollars later, he was a professional writer.
During the 1970s, he wrote for several surfing magazines and then ran a state-sponsored journalism program teaching newspaper skills to residents on the Rincon Indian reservation. He served for a time as editor of Longboarder Magazine and he freelanced for major newspapers, television and radio stations.
In 1994, he published his first of four books of short stories. And in 2003, he launched "Risen," a magazine that offered in-depth interviews with celebrities that touched on spirituality and faith.
It was during that time that Ahrens said he began noticing the toll drugs had taken on his community. He was also disturbed by how pop culture glamorized gang and prison life. That led to the making of "D.O.P.E."
"I felt a responsibility to make that film," he said. "After going through the '60s and seeing so many good, intelligent people die, I needed to do something. Too many kids were getting the wrong message from exploitative films that played to their vices and weaknesses."
After the film, Ahrens helped write a HarperCollins autobiography of Hosoi, who found God while serving a four-year prison sentence for possession to sell $65,000 of methamphetamine. Today, Hosoi runs a skateboard shop and is a part-time pastor in Huntington Beach.
In doing interviews for the book over the past year, Ahrens said he found many commonalities. Most of the subjects — 19 men and 2 women — had difficult childhoods with absent, cruel or criminal fathers and drugs, physical abuse and sexual abuse in the home.
Many joined gangs around the age of 14 for the adrenaline rush and sense of belonging. All of the addicts say their drug use began with marijuana and that their addiction motivated and intensified their crimes.
The interviews are mostly presented in a Q&A format and cover the subjects' childhood, crime and prison experiences and journey to faith and sobriety. Each chapter ends with their favorite Bible verse. Most chose scriptures from the Apostle Paul, Ahrens said, because he turned away from violent extremism when he met Jesus.
Among the diverse subjects are San Diego residents Nadine Goddard and Raylene Brooks, who both spent more than 20 years in prison as accessories to murders committed by their boyfriends. There are also interviews with Manson Family killer Randall "Tex" Watson; mobsters Michael Franzese and Rocco Morelli; rapper Matthew "Emcy" Conant; and surfers Jack "Murf the Surf" Murphy and Shawn Briley.
All of the interviewees are now sober, most of them have served their time and many are pastors who counsel prisoners, ex-cons and the poor, like cover subject Jake Sellers. The onetime drug dealer and armed robber credits prayer with saving him from suicide in prison. He now ministers to the poor and deportees in Tijuana.
Most of the subjects offer gritty and unvarnished descriptions of their drug battles and crimes. San Diego pastor Jon Lowry spent 17 years in prison and tells his story in raw detail to deflate the myth of glory and glamour in prison.
"Young people ... think in prison they can get a name for themselves by being aggressive, violent. But all those guys that have lived and died in prison, nobody knows their names," Lowry said. "When they die, they're shipped home in a cardboard box to their families. Their bodies aren't even washed off — they'll still have blood on them."
The first printing of "Gods & Gangsters" was underwritten by Oregon artist Michael Cassidy, and all 500 books have already been given away. Ahrens is now raising money for a second printing.
He said all the subjects interviewed are happy with the book and hope their honest confessions will have a positive impact on young people. The final advice in the book comes from Timothy Jackson, a onetime Oceanside gang member who now runs his own cleaning business.
"Know who you are," he counsels. "You're made in God's image; you're not born as a gang member. That's a costume some people will wear for the rest of their lives. If you take that off, you can be yourself."
--- Pam Kragen is a writer for The San Diego Union-Tribune.
Sign up for the Encinitas Advocate newsletter
Top stories from Encinitas every Friday for free.
You may occasionally receive promotional content from the Encinitas Advocate.