Internet sensation from Encinitas marvels at Padres beer-soaked spotlight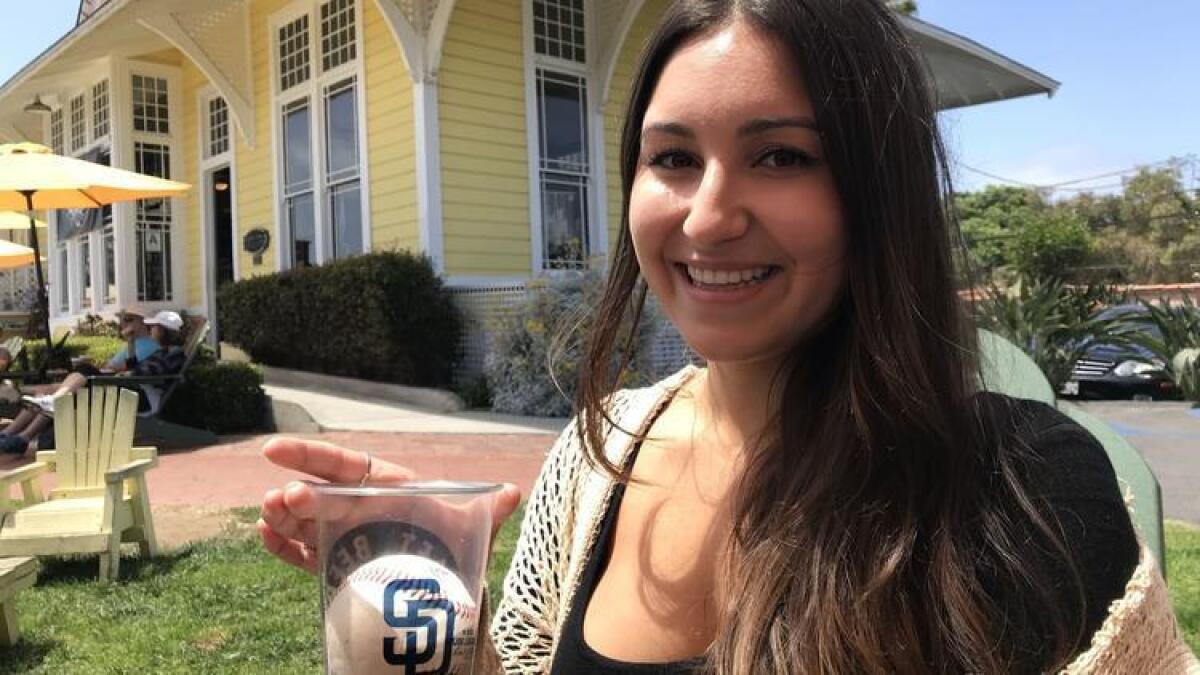 The marriage proposals from Australia alone reached 10, at last count. Music megastar Justin Timberlake labeled the moment "MVP status" on Instagram. The Catch-and-Chug, as it's known to millions, made the front page of a newspaper in Milan and began trending on websites in Brazil.
A week after Gabby DiMarco clutched a foul ball in an $11 cup of Sculpin and downed it during the Padres' game against the Braves, she continues processing how the web lost its electronic marbles.
What happens when you're tossed into today's social media blender and the phone-surfing world hits puree?
"It's been crazy," DiMarco said.
Crazy is trying to fit in 10 errands in a day. Crazy is randomly running into a friend you haven't seen in a decade. This has been a fit of global ga-ga, stretching from ABC News to Adelaide — from the New York Post to People.com.
A foul ball off the bat of Atlanta's Ender Inciarte arced backward, toward Section 202 at Petco Park. DiMarco, of Encinitas, heard the ball go past her and "bounce off something," and she thought it might hit her in the back of the head. Her eyes bulged, though, when she found the ball, after a fateful hop, wedged in her cup.
At the urging of nearby fans, including her father Stephen, she chugged it. Internet infamy, sealed.
"I'm going to keep it in that cup forever," she said Monday. "I'm never taking it out. It's a trophy."
The fallout staggered DiMarco, a 23-year-old student at Cal State San Marcos. She watched her Instagram account go bonkers, rocketing from 800 followers to nearly 14,000.
USA Today's "For The Win" feature exclaimed, "And that's how it's done." A Fox station in Los Angeles labeled it "Snag of the Century." The coverage stretched from MLB.com to Maxim. On Twitter, Budweiser swooned: "If you catch a ball in your beer, you have to finish it. She knows the rules. If anyone sees this girl, tell her she's got tickets to a Padres game on us. (Beer included)."
Too late. DiMarco's already been contacted by local beer maker Ballast Point, no doubt thrilled to find out one of its brews played a small, hoppy part in Padres fan history.
DiMarco spends about two hours daily trying to keep up with the tsunami of responses to an odd, unlikely moment at the ballpark. She stopped counting all of those proposals.
"It's flattering, but kind of creepy, right?" she said.
The reaction of her boyfriend, DiMarco said with a laugh, has been swift.
"He was so nervous," she said. "He's like, 'You're going to break up with me. I can't compete with all these marriage proposals.' He's been treating me extra nice. He took me on a really cute date for sunset at a sushi restaurant in Del Mar."
DiMarco, it seems, is a roll-with-whatever-life-brings kind of woman. She worked at an orphanage in Thailand five years ago. She's sky-dived in San Diego. The writing and literature major's goal is "to help poetry make a comeback."
She's already penned a poem about her moment in baseball's beer-soaked spotlight.
Catching a ball in a cup
can sometimes feel like luck.
But really,
it is the possibility
that whatever you believe
Can become your reality
And the artistry of slamming a beer?
"It's Gab," said her mom, Lisa. "It's what she does. She's always in the moment. She makes people laugh and smile all the time."
The decision included a unique risk, DiMarco admitted.
"It was an IPA, so that's not easy," she said.
The catch, however, might have benefited from more than simply good fortune.
"My mom calls me a ninja," DiMarco said. "People used to throw things at me and I'd always catch it. I have crazy eye-hand coordination."
The untold story: It almost didn't happen.
"I haven't actually told anybody this, but 10 minutes before it happened my dad said, 'I want to go,' " she said. "I said, 'One more beer.' Two minutes later, the ball whizzes by me and it landed perfectly.
"It was totally a 1-in-a-million chance."
DiMarco, a former gymnast, maintained a high bar, so to speak, when asked to evaluate her effort.
"I'm not going to give myself a perfect score, but maybe a 9," she said. "Beer did spill."
Still, she said, "I think it was the proudest moment of my dad's life, honestly, just the way he looked at me. He's like 'wow, this is just everything.' "
More celebrity-induced suds appear to be in her future. DiMarco said Ballast Point indicated it was "getting its ducks in a row" when the company contacted her via social media.
Meanwhile, the pick-up lines continue.
"People are saying things like, 'You love baseball, you can chug a beer and you write poetry? You really are the perfect woman,' " she said, sheepishly.
DiMarco's cup hardly runneth over, though. She emptied it. Remember?
-- Bryce Miller is a columnist for The San Diego Union-Tribune.
Sign up for the Encinitas Advocate newsletter
Top stories from Encinitas every Friday for free.
You may occasionally receive promotional content from the Encinitas Advocate.