Encinitas events this week (Sept. 7)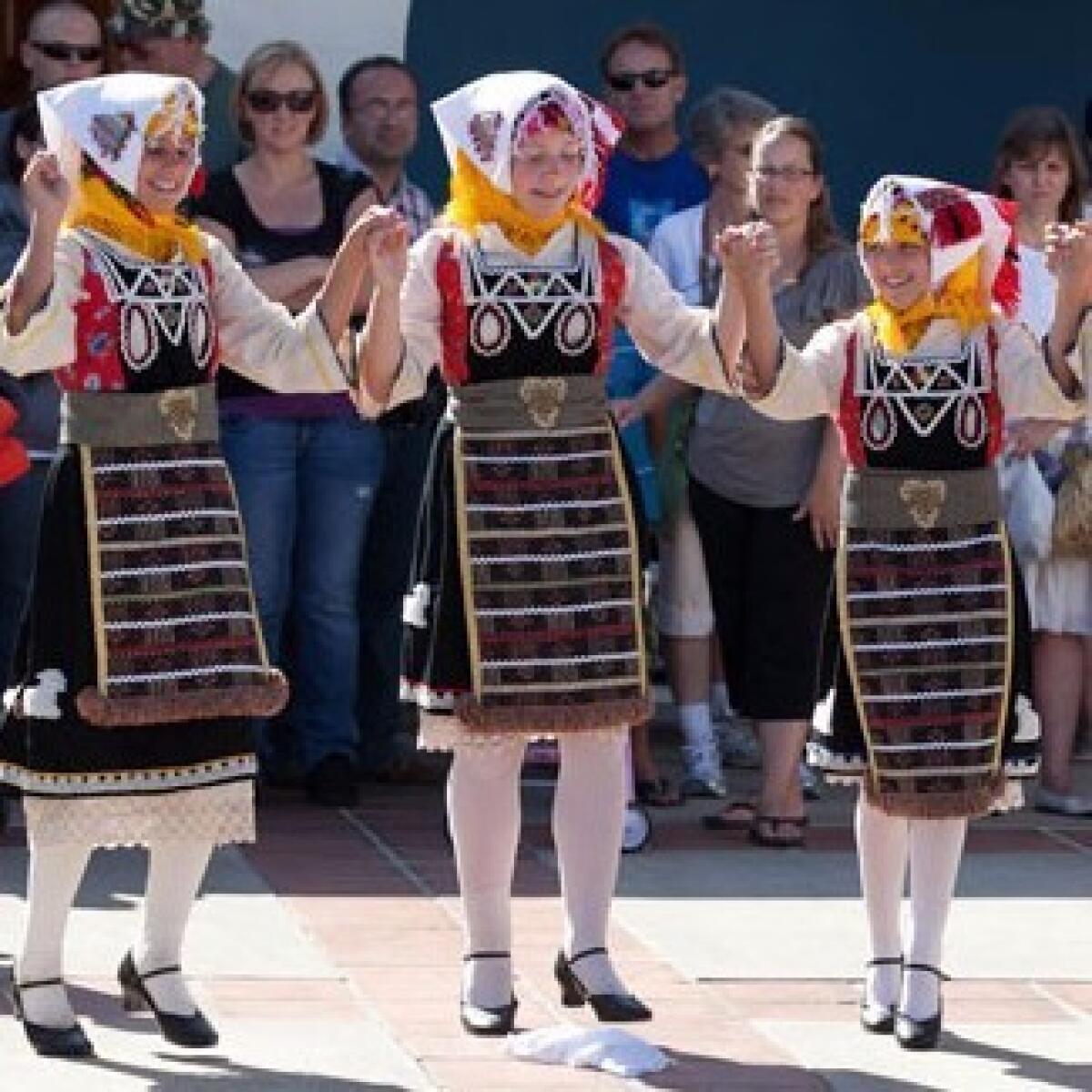 Saints Constantine and Helen Greek Orthodox Church welcomes the San Diego community to join the celebration at the 40th Annual Cardiff Greek Festival on Sept. 8 and 9. Enjoy and experience Hellenic cuisine, entertainment, children's activities and more as the church grounds will once again be transformed with the sights, sounds, and tastes of Greece.
The Cardiff Greek Festival will be celebrated Saturday, Sept. 8 from 10 a.m. to 10 p.m., and Sunday, Sept. 9 from 11 a.m. to 9 p.m. on the grounds of Saints Constantine and Helen, 3459 Manchester Avenue, a half mile east of I-5 at the Manchester exit in Cardiff-by-the-Sea. Free parking is available at the adjacent Mira Costa College. For more information, visit www.cardiffgreekfest.com.
For those recovering from brain injuries and/or neurological challenges, enjoy self-expression through art, increase skills, improve eye/hand coordination and enjoy the warmth and support of facilitator, Denise McMurtrie, on Sept. 11, 18 and 25 at 4 p.m. at Scripps Hospital in the Brain Injury Treatment Room, 354 Santa Fe Drive. Supplies provided. For more information, email schwarb.andrea@scrippshealth.org.
The Cardiff Town Council will present the following 2018 Election Forums:
 Encinitas Mayor, Tuesday, Sept. 11,
 Encinitas City Council District 3 , Tuesday, Sept. 25
Both forums will be moderated by the League of Women Voters and held from 6 p.m.-7:30 p.m. at Ada Harris School – Multi Purpose Room, 1508 Windsor Road, Cardiff.
For girls, ages 4 to 18, take part in a skate clinic and feel inspired and empowered on Sept. 8 from 9 to 11 a.m. at the Encinitas Community Park Skate Plaza, 425 Santa Fe Drive. Learn about a need in the community and address the need through a community service project: learn about the importance of helmets and severity of brain trauma. They will build kits to benefit brain trauma patients. For more information, visit https://bit.ly/2PGsbm3.
Historical Encinitas Bus Tour
See more than 50 historical points of interest and scheduled stops including the Encinitas School House, San Elijo Lagoon, Olivenhain Town Hall, San Dieguito Heritage Museum, and a tour of Bumann Ranch on Sept. 8 from 9 a.m. to noon. Meet at the Encinitas Historical Society. 390 West F Street. Price of admission includes lunch. For more information, visit https://bit.ly/2Ch2iqO.
Solana Center Green Living Tour
See sustainability in action as you explore worm bins, greywater systems, innovative compost projects, tool lending library, water-wise garden, and more on Sept. 8 from 10 to 11 a.m. at the Solana Center, 137 North El Camino Real. You'll leave one step further on your journey to living a sustainable lifestyle. For more information, visit https://bit.ly/2PD8z1N.
Panel to discuss 'Being Muslim in America'
A panel of Muslim women, led by Lallia Hassane, wife of Taha Hassane, Imam/Director of the Islamic Center of San Diego (ICSD), will talk about their real-life experiences living as devout Muslim women in America today. The discussion, presented by LIFE San Elijo, will take place Sept. 7 from 1 to 3 p.m. on the San Elijo Campus of MiraCosta College, 3333 Manchester Avenue, in Cardiff in the student center conference room. For more information, email lifesanelijo@gmail.com.
Encinitas' new dance company is dedicated to making and presenting quality contemporary dance with a diverse group of professional homegrown dancers. Enjoy performances, food, beverages and peruse a photographic exhibition of LITVAKdance on Sept. 8 from 3 to 6 p.m. in a private Rancho Santa Fe home. For more information, visit https://bit.ly/2CqnJ8S.
The annual fundraiser on Sept. 8 from 5 to 11 p.m. honors President and CEO Julian Duval for his 24 years of service to the Garden and the Encinitas community. The event will take place at the San Diego Botanic Garden, 230 Quail Gardens Drive. Guests have the opportunity to explore the garden's trails, enjoy fine food and wine, craft beer, entertainment and more. Proceeds benefit Encinitas' garden jewel. For more information, visit https://bit.ly/2LYcLHk.
Get a behind-the-scenes glimpse of the production methods and the innovative technology used at the Coastal Roots Farm as you enjoy a gentle walk through the ever-evolving, beautiful and diverse vegetable, herb and flower gardens. The event will take place Sept. 8 from 11:30 a.m. to 1 p.m. at Coastal Roots Farm, 441 Saxony Road. Please wear close-toed shoes and a sunhat. For more information, visit https://bit.ly/2wJbCi9.
Now showing: Won't You Be My Neighbor, Leave No Trace, Three Identical Strangers and Rocky Horror Picture Show. Tickets are $10. 471 Coast Highway 101. For tickets and show times, visit https://bit.ly/2LXb5xR.
The San Diego Italian Film Festival presents a screening of "Era d'estate" at La Paloma Theatre, 471 South Coast Highway 101, on Sept. 13 at 7 p.m. A Q&A with the director will follow the film. For more information, visit https://bit.ly/2LWasEE.
A career fair will be held Sept. 13 from 9 a.m. to 12:30 p.m. at Holiday Inn Carlsbad, 2725 Palomar Airport Road, from 9 a.m. to 12:30 p.m. Attendees should bring 10 to 15 resumes. For more information, visit www.hirelive.com.
Greg Anglea, of Interfaith Services, will headline the North County League of Women Voters September Kick-Off at the Carlsbad Senior Center, 799 Pine Avenue, Carlsbad, on Sept. 15 from 2 p.m. to 4:30 p.m. Anglea will be speaking on homelessness in San Diego County and highlighting the most critical and less commonly known aspects of the homelessness problem and why, despite good intentions and considerable time and effort, there are a number of common reactions and strategies that can make it harder for the homeless to get into housing.
Star Theatre Co. presents the musical comedy "Guys and Dolls" on select nights and matinees from Sept. 21 to 30 at 402 North Coast Highway in Oceanside. For dates, tickets and more information, visit www.startheatreco.com.
Expert to speak on 'Art & Empire in the Golden Age-
The Making of an Exhibition'
On Monday, Sept. 17, in Del Mar, Michael Brown, SDMA Associate Curator and NCC liaison, will give a behind-the-scenes look at preparing this special exhibition at the San Diego Museum of Art. The show will feature approximately 100 works of outstanding quality from throughout the Hispanic world, including the Iberian Peninsula, the Spanish Netherlands, North and South America and the Philippines. The art lecture will be held in St. Peter's Episcopal Church, Parish Hall, Del Mar, 15th & Maiden Lane (across from the Del Mar Plaza). Registration and refreshments at 9:30 a.m. and meeting from 10 a.m. to 1130 a.m. Free for San Diego Museum Art, North County Chapter members. $10 for others. Information: 760-704-6436.
The Country Friends presents 2018 Art of Fashion
Designer handbags and apparel, luxurious getaways and dazzling gems are among the opportunity prizes offered on Sept. 20, 10 a.m.-4 p.m., when The Country Friends presents the 2018 Art of Fashion in partnership with South Coast Plaza at The Inn at Rancho Santa Fe. The event, co-chaired by Tamara Lafarga-Joseph and Sarah Sleeper, honors businesswoman, philanthropist and fashionista Maggie Bobileff. NBC 7/39 newscasters Catherine Garcia and Mark Mullen serve as emcees.
Proceeds benefit charities selected this year by The Country Friends, the nonprofit organization which has raised more than $14 million since its founding in For more information, or to become an Art of Fashion sponsor, contact The Country Friends at (858)756-1192, extension 4, or events@thecountryfriends.org. Also, visit thecountryfriends.org and southcoastplaza.com
Beatles vs. Stones benefit concert
Beatles vs. Stones will perform at The Paddock at the Del Mar Fairgrounds on Oct. 6, to raise funds for state-of-the-art surgical equipment at the Hospital Infantil de las Californias. Funds raised will also support the Hospital's "Programa de Apoyo a Pacientes Indigentes" (program for indigent patients) and Foundation operations.
A crowd of 400 is anticipated at the event, which includes dinner stations, opportunity drawing, live auction and silent auction. The humanitarian hospital provides care for children from the "mega-region" of San Diego County, Baja California and beyond. Tickets can be purchased online at www.usfcc.org.
San Dieguito River Valley Conservancy River Valley Fest
The San Dieguito River Valley Conservancy will hold its 9th annual River Valley Fest, "Filling in the Gaps," on Sunday, Oct. 14, from 4 to 8 p.m. at the L'Auberge Del Mar. This is the Conservancy's signature fund-raising event of the year.
Guests will enjoy music performed by Gregory Page, hosted wine and beer, a gourmet dinner buffet, and enticing and exciting silent and live auctions. Tickets are $150 per person.
All proceeds from this event go toward the Conservancy's conservation, education and recreation programs. Visit sdrvcrivervalleyfest2018.eventbrite.com
13th annual Surf Dog Surf-a-Thon
For months, top surf dog contenders and newbies have been training hard and attending Helen Woodward Animal Center's Surf Dog and SUP Lessons in paw-paration for the longest running surf dog competition in the country. Helen Woodward Animal Center's 13th annual Surf Dog Surf-a-Thon, presented by Blue Buffalo, dives into action at Dog Beach Del Mar on Sunday, Sept. 9, from 8 a.m. to 2 p.m.
For more information, visit www.animalcenter.org or call 858-756-4117.
The Old Globe presents 'The Heart of Rock & Roll'
Katie Rose Clarke appears as Cassandra and Matt Doyle as Bobby in The Heart of Rock & Roll, running Sept. 6 – Oct. 21, 2018 at The Old Globe in Balboa Park.
An electrifying world premiere musical comedy inspired by the songs of one of the most beloved and iconic acts in music history, Huey Lewis and the News. Mainstays on the Chicago dive bar circuit, Bobby and his band are hustling for their big break. But after their latest rejection, Bobby decides it's "Hip to Be Square," trades in his guitar, and starts "Workin' for a Livin'" in corporate America. His boss, Cassandra, has struggles of her own, having sacrificed her personal life for the company. When they both get a shot at their dreams—for Bobby, another crack at rock stardom, and for Cassandra, a chance to become CEO—they must decide "If This Is It" for their careers, or if "The Power of Love" triumphs over all. The Heart of Rock & Roll celebrates the classic songs of Huey Lewis and the News in this heartwarming and hilarious new musical.
Visit www.theoldglobe.org or call (619) 23-GLOBE [234-5623].
One Love Movement presents 7th Annual Charity Yoga Event
One Love Movement, a nonprofit aimed at raising awareness and support to advance social justice, will host its 7th Annual Charity Yoga Event on Sunday, Sept. 23 from 9 a.m. - 1 p.m. at Waterfront Park in Downtown San Diego. The event features a yoga class followed by a guided meditation, live music, and a wine and beer garden. All proceeds from the event will support One Love San Diego, the One Love Shelter in India, and the One Love Project for abandoned kids in Seoul, South Korea. This year's event is presented by p1440, Olympic gold medalist Kerri Walsh-Jennings' new event series and digital community. Visit www.onelovemovement.org
El Camino Quilt Guild meeting to feature speaker
El Camino Quilt Guild meets at 9:30 a.m. Thursday, Sept. 13, at QLN Conference Center, 1938 Avenida Del Oro, Oceanside 92056. Parking is limited, so please carpool if you can. Doors open 9 a.m. Guest fee for the meeting is $10.
Guest speaker Becky Goldsmith (www.pieceocake.com) will talk about "A Practical Approach to Color." You walk around with your eyes open - but how much do you really see? Goldsmith will share with you what she's figured out about color over the years and how you can use this knowledge in your own quilts.
Visit elcaminoquilters.com or email info@elcaminoquilters.com for more information.
March of Dimes Signature Chefs Gala
March of Dimes Signature Chefs Gala, one of San Diego's most anticipated charity food events, takes place Sunday, Oct. 14, at the Del Mar Race Track. The evening begins at 4 p.m. with an extraordinary tasting of San Diego's most desirable cuisine, prepared and served by culinary masters from top local establishments, followed by a seated dessert program and a rousing live auction, offering an opportunity to bid on unique experiences and exciting travel and leisure packages. The philanthropic event raises critical funds to benefit the March of Dimes mission to lead the fight to improve the health of all moms and babies.
For more information, including sponsorship opportunities, visit signaturechefs.org/sandiego or contact Emma Santer of March of Dimes at 619-481-1313 or by emailing at esanter@marchofdimes.org.
Sign up for the Encinitas Advocate newsletter
Top stories from Encinitas every Friday for free.
You may occasionally receive promotional content from the Encinitas Advocate.