Kids try new robotic surgery technology in Oceanside
Kids from the Boys & Girls Club of Oceanside stepped into the shoes of surgeons on Aug. 30 when they had the chance to try out a new robotic system for operations.
The system, called the da Vinci Xi, is now being used at Tri-City Medical Center in Oceanside, as well as at various hospitals around San Diego. Tri-City is currently the only hospital in North County utilizing the technology, according to a news release.
Dr. Adam Fierer, general surgeon at Tri-City, brought the machine to the club to explain the new technology and have the children see what it was like themselves.
"I think we had maximized our playbook with the old system," Fierer said. "Where we wanted to go needed the new technology."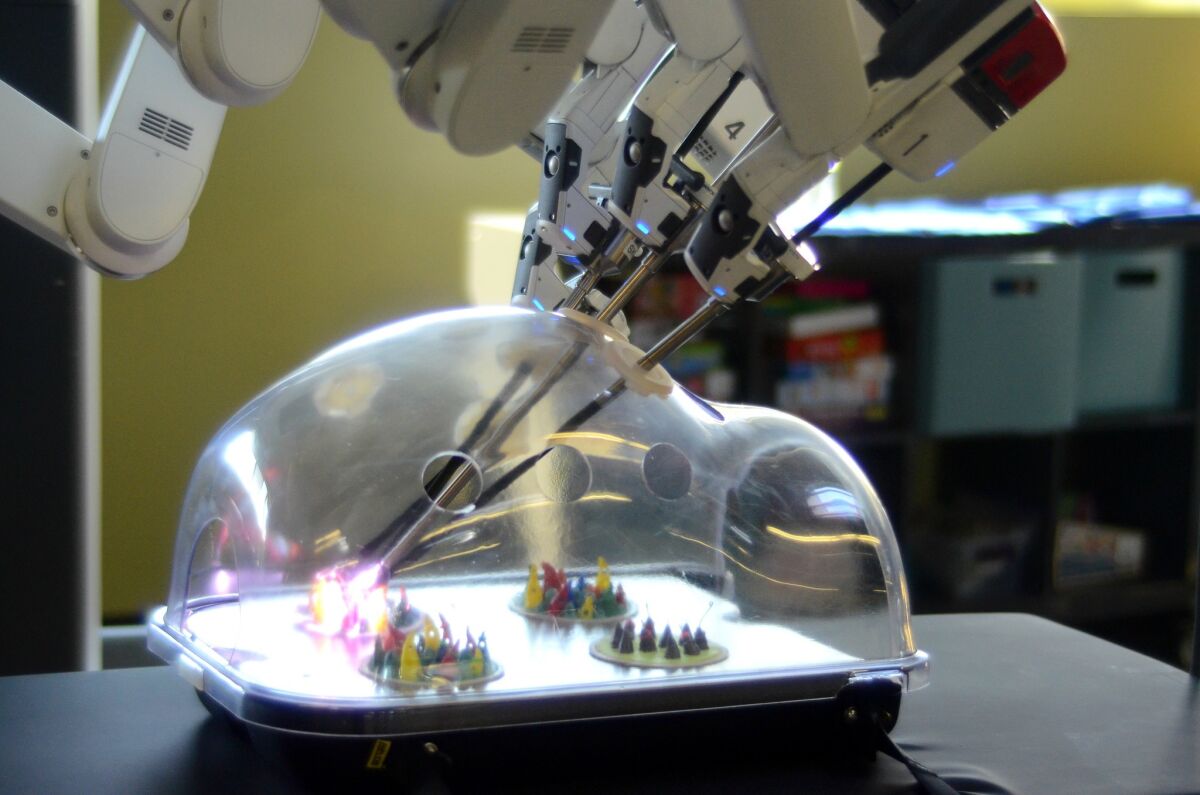 The Xi — which the hospital began using three months ago — replaces the old Si system, which had a similar functionality.
Both machines use a robotic arm and camera system to get into tight spaces that might be difficult for a doctor to place his or her hand into, Fierer said. As doctors control the robot with their arms, like a remote-controlled car, the robot moves its arms around, and all of the footage of the surgery from an attached camera can be seen live on a screen.
But the biggest improvement with the Xi is that it has a bedside cart, in which the Xi system is mounted on a boom rather than centrally stationary on the cart. Prior to the Xi, doctors would have to flip the operating room table backward so the anesthesiologist was standing at the food of the table, instead of at the head of the table. Now, instead of moving the table, the surgeons simply shift the boom around.
The technology is mostly used for the abdomen or chest cavity but it is also ideal for operations for colons, hernias and kidneys, Fierer said.
"It really allows us to broaden our scope of practice and really accomplish operations better, faster and safer," he said.
Fierer said he believes it was a natural choice for the children to see how the machine worked.
"Kids are naturally interested in cool things, robots certainly," he said. "Hopefully, this is a couple generations of healthcare workers in the making. I think it's exciting for them to learn a little bit about medicine, which is a strange field to most of them."
Alexander Duffy, 14, of Oceanside, compared the robot to a video game with an objective of placing rings on colored shapes.
"It was amazing," he said. "I could see how it's an advancement for medical science. It was cool to see what I could do and for the doctors to share their experiences with us. What I did is almost similar to what they do."
Sign up for the Encinitas Advocate newsletter
Top stories from Encinitas every Friday for free.
You may occasionally receive promotional content from the Encinitas Advocate.