Encinitas salon surprises breast cancer survivor with makeover
Gretchen Jackson didn't want to get out of bed on Sept. 10. On that day, her sadness from enduring — but, luckily, beating — breast cancer overwhelmed her. Still, her friend insisted she leave the house to help her run errands.
What Jackson didn't know was that instead of "shopping for tires," like her friend had told her, she would be treated to a full makeover from an Encinitas salon.
Headlines The Salon surprised the Carlsbad resident with a facial, makeup application and scalp treatment as part of the Hello Gorgeous program, an Indiana-based nonprofit that aims to pamper breast cancer survivors.
"I never wear makeup, hardly, so it was really fun," said Jackson, 58, who works for the San Marcos Unified School District. She was diagnosed with stage one Triple-Negative Breast Cancer, an aggressive form of the disease, in January and entered remission in August.
"It was amazing," she said of the salon treatment. "I was just blown away by everything and the generosity."
At the end of her makeover, Jackson was taken to Leucadia Pizzeria, where she was greeted by about 30 friends and supporters.
She said she was overwhelmed by the support.
"I was just so shocked by all these people who just showed up," Jackson said. "It was really neat because that morning I was feeling really down. Cancer is kind of like death, where everybody is there in the beginning and then you get through all your treatments but you'll always live with the fear of it coming back. It was funny that that morning I was especially down. ... You feel like your time is done and no one's going to be there anymore. But then this happened and I was just so shocked at how everyone just came together like a village."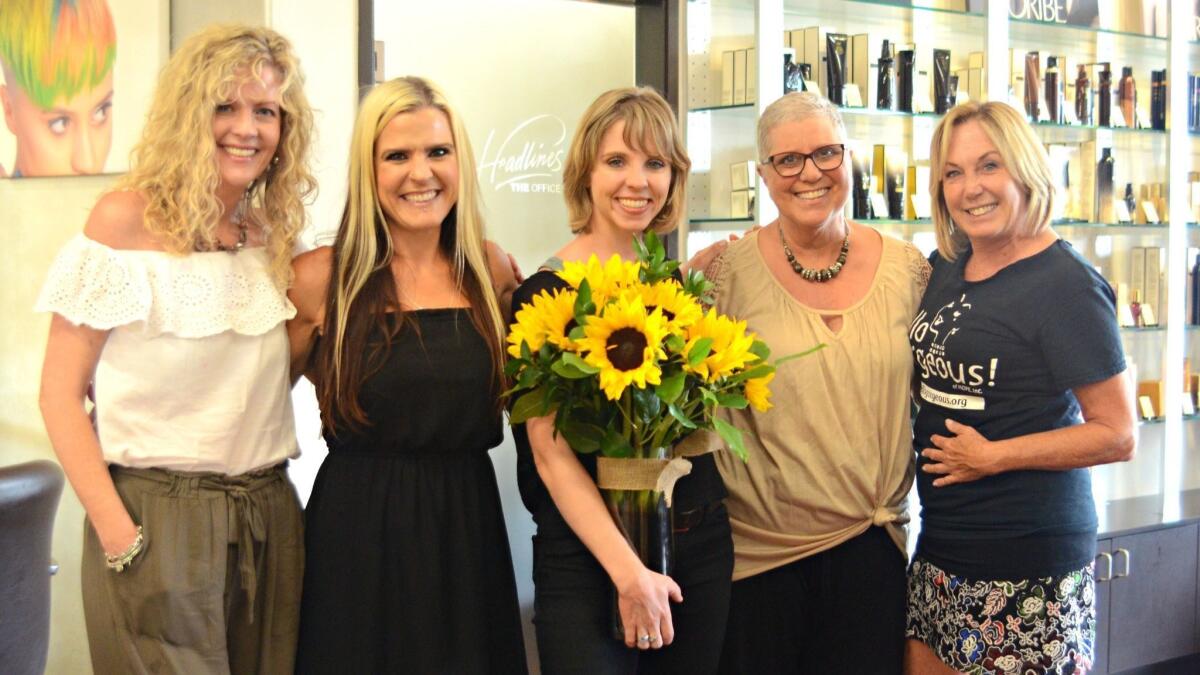 Gayle Fulbright, CEO of Headlines, said her salon is one of 24 around the country that provides one-day surprise makeovers for the nominated survivors through Hello Gorgeous. Jackson was Headlines' seventh Hello Gorgeous recipient.
Fulbright, a stylist for 40 years, said it was a no-brainer for her salon to participate in Hello Gorgeous and to pamper Gretchen.
"It's common for women to share things with their hairdressers," she said. "Sometimes we're the first people they tell [about their cancer]. We're just surrounded by so many women that have gone through this that it was an absolute 'yes' when we were asked if we would participate in Hello Gorgeous."
She said Hello Gorgeous affiliates are trained to work with breast cancer survivors to cater to how susceptible the women can be to injuries after treatment.
Kristina Crawford, an esthetician who has multiple sclerosis and provided Jackson with her facial, said it felt good to give back to someone else who has had medical struggles.
"People always give back to me, so I also like to be able to give back to others," she said.
Jeannie Tapia, Jackson's friend of 21 years, nominated Jackson for the program after Fulbright, her neighbor, encouraged her to do so.
"I hope this makes Gretchen happy and makes her feel beautiful," Tapia said. "I want her to feel normal again and not have to worry about anything. Pampering is the best way to do that."
Sign up for the Encinitas Advocate newsletter
Top stories from Encinitas every Friday for free.
You may occasionally receive promotional content from the Encinitas Advocate.