No kidding: Goat Yoga a test of flexibility, concentration
I love animals. I don't think I've ever been so nervous to have one near me, let alone one so seemingly harmless.
But as I struggled to make my non-flexible body into a pretzel of sorts during my first-ever session of yoga, I found myself silently hoping, "Oh, please don't put that goat on my back." Of course, the animal lover in me had conflicting wishes: "Oh, please bring that baby goat to me and let me love on him."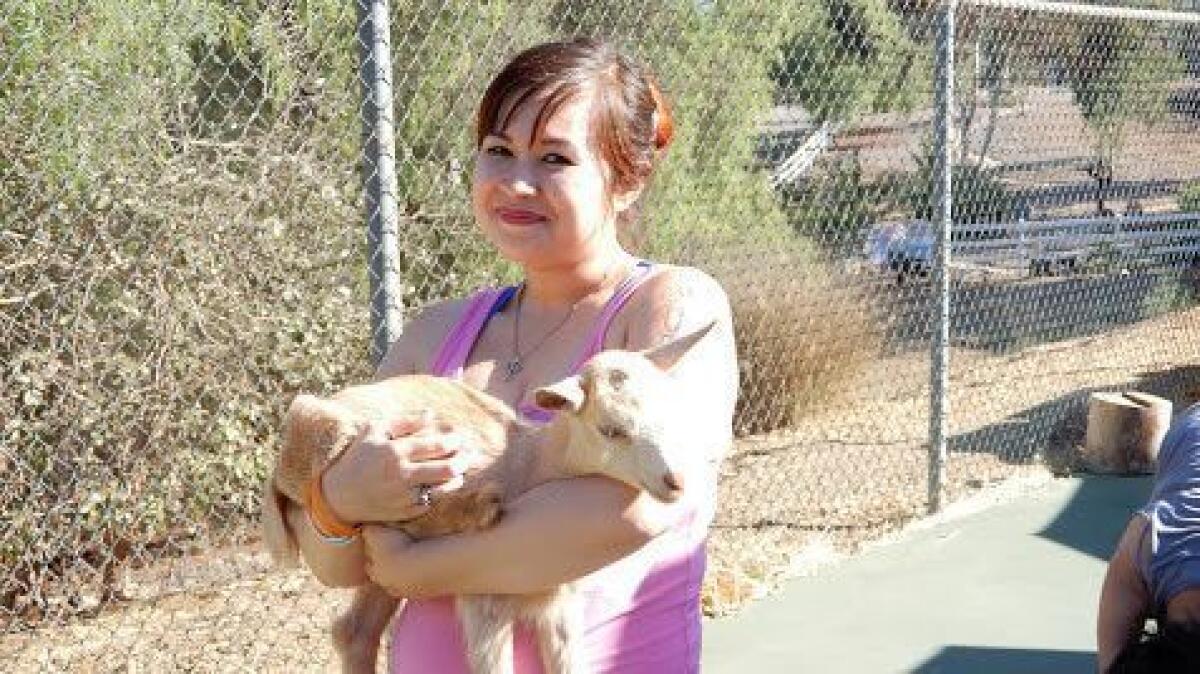 The battle consumed my head as I continuously tried — and failed — to touch my toes and contain my excitement for being near the goats and llamas during a recent session of Goat Yoga at Sugar Sweet Farm in Encinitas. Luckily for my balance, the most interaction I got from a goat was the opportunity to cuddle a 12-week-old buckling. And cue the swooning.
The Sugarman family brought the classes to their farm in February after seeing the trend on social media.
As guests contort their bodies into different vulnerable positions — that can be somewhat difficult for anyone with a spine to do (or maybe that's just me) — Sissy Sugarman and her mother, Elizabeth Sugarman, release a herd of goats, who then walk around the guests and make some of the strangest (and cutest) noises.
And, once you think the adorableness has peaked, the mother-daughter duo bring two llamas in for the fun.
Before stepping onto the farm, I had heard that yoga is an activity known to require discipline and concentration. For someone like me, I knew adding cute animals into the mix could mean trouble. Luckily, I wasn't as sidetracked as I initially thought I would be, and while I did find my eyes wandering toward the goats at times, I did my best to pay attention to the instructor to make sure I wasn't maneuvering my body in a way that would cause injuries.
Elizabeth said this is one of the goals with goat yoga. She wants participants to be able to focus, no matter what distractions there may be. This skill can be used in more areas of life, she said.
"A big piece of the mind and body experience of practicing yoga is focusing on the breath with intention no matter what the distractions may be around you," she said. "Try that with a goat skipping through the classroom or while listening to 20 goat sneezes when their hay gets dusty. It's a great discipline for staying focused in the moment in real life. We all like control and order, and there is just none of that in the world of goats. You just have to let go, take a deep breath and embrace the chaos."
The Sugarmans, who host other family-friendly activities on their farm, thought adults would appreciate the learning environment while also exercising.
Elizabeth said one of her favorite parts of goat yoga is seeing people interacting with the goats and how the activity can introduce newbies, like me, to such a healthy practice.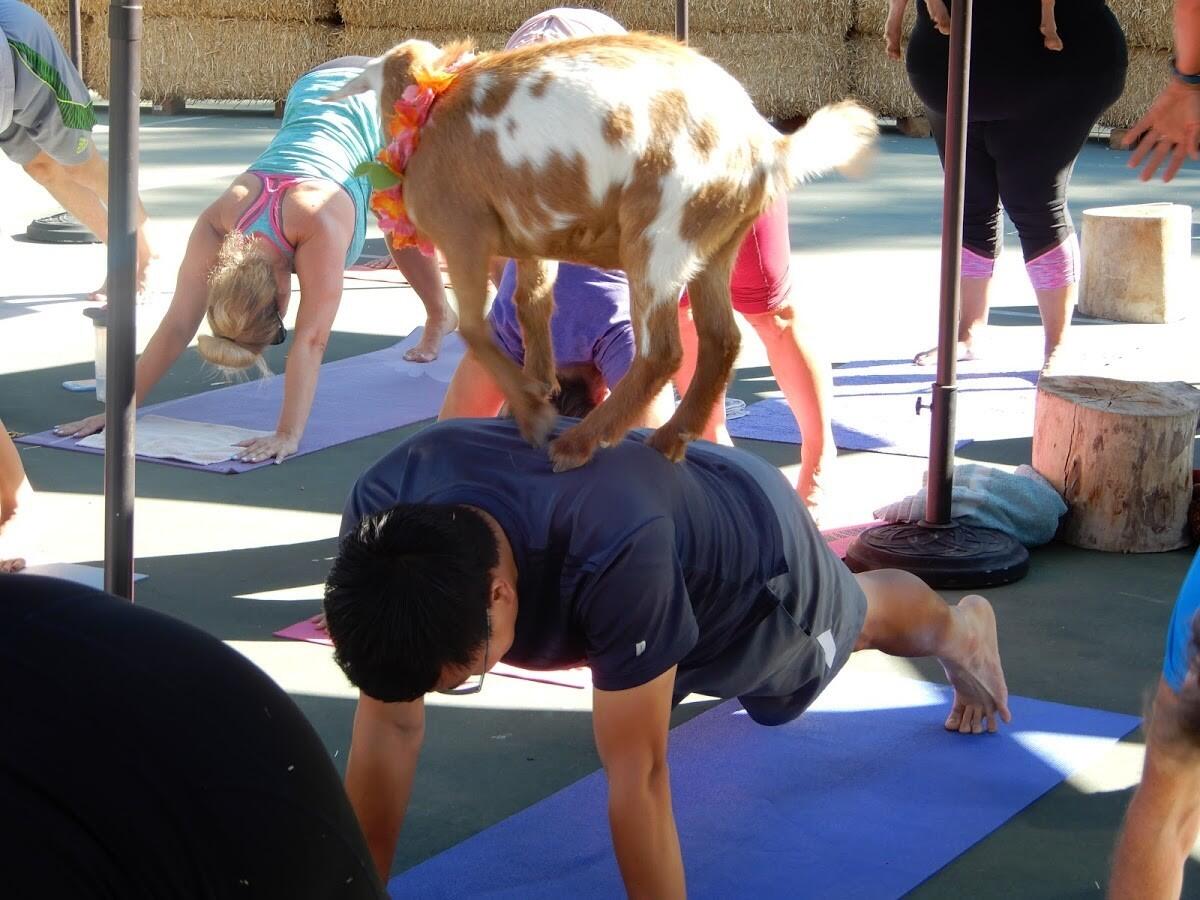 "We love when the guests are in poses with their backs horizontal — and the instructors design the class around this — so we can balance the smaller goats on backs," she said. "It really feels good to have a little goatie massage on your back with their hooves. They are light and they usually jump off with a silly flourish. We are careful with our guests but people are so eager to hold and interact with the goats. Being around goats brings out the inner 'kid' in us all; we need to spend more time with those kids. And it is so much fun making people happy."
Sissy, 17, added that the farm also hosts Goat Yoga classes for children, aiming to help younger folk become more familiar and friendly to animals while also helping them achieve physical fitness.
"Almost 32 percent of children in America are overweight and 62 percent of children do not participate in any organized physical activity," she said. "Children can identify 25 percent more Pokemon characters than wildlife species at 8 years old. Most children are disconnected from nature and agriculture. Goat Yoga classes for children seemed like the perfect anecdote, as they promote both healthy living and connecting children with nature and agriculture."
So far, the farm has hosted 4-H groups and Girls Scout troops for free classes and hosted a Goat Yoga fundraiser for The Challenged Athletes Foundation. It has also raised money for local schools and the Multiple Sclerosis Society.
Sissy added that goat yoga also solves one of the problems of raising dairy goats — what to do with boy goats. While female goats can be used for milk, only one buck is needed for breeding
"The other boys tend to be superfluous and expensive to feed," she said. "We have been buying baby boy goats from my fellow 4-H goat friends and sharing them in goat yoga classes. We bottle-feed them five times a day since they come home as babies, and we form strong bonds with them. They become so friendly from all the love and attention from us and the Goat Yoga guests that they are great candidates for pet buyers. So if they outgrow our program, they can go on to live happy lives."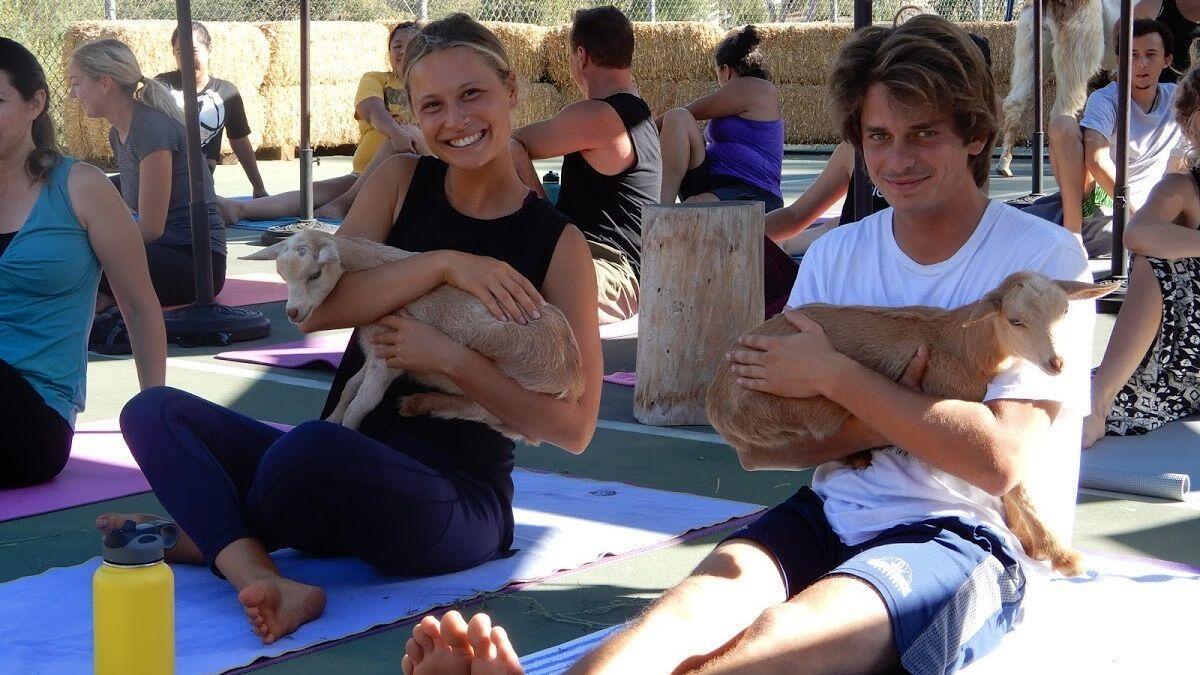 Those interested in goat yoga should know the animals haven't been trained to show any restraint. As I laid on my left side and tried to balance my body with my left arm pressed against the mat and my right arm reaching toward the sky, the woman next to me laughed (and surprisingly not at the awkward face I was probably making from my struggle). A buckling had relieved himself right next to her.
So, for those coming to goat yoga, expect something fun and physical that really puts you in touch with nature and all its glories.
"The goats are just doing their thing, walking across your mat, licking your toes, nibbling on your hair, whatever," Elizabeth said. "Smiles and laughter are inevitable and constant at Goat Yoga — we are not experiencing enough pure joy in our daily lives. When I do a brief introduction before class I explain that the goats will freely share their gifts of purity, innocence and love with us — and they also freely share poop and pee. So I encourage the guests to embrace the 'grounding effects' of that and to celebrate this 'earthy' experience of sharing their yoga space with animals. There's something refreshing about letting go of the sterile side of urban life and embracing our connection to the earth."
Sugar Sweet Farm hosts about four goat yoga classes for adults each month. Events tend to sell out about a month in advance, Elizabeth added.
Classes were recently added for Oct. 7 at 4 p.m., Oct. 27 at 9 a.m., Oct. 28 at 4 p.m. and Nov. 24 at 9 a.m. For more information and a full list of classes, visit www.sugarsweetfarm.com/goat-yoga.html.
Sign up for the Encinitas Advocate newsletter
Top stories from Encinitas every Friday for free.
You may occasionally receive promotional content from the Encinitas Advocate.