San Diego organization works with inmates to train service dogs
The wheelchair-bound, autistic little girl wasn't ever supposed to walk. But, after watching her assistance dog fetch a ball, the child became more motivated to move. As she threw the ball, she regained her arm strength. She then began using a walker, which made her legs stronger. Now, the girl is walking and using the dog for balance.
This is just one of the "miracle stories" produced by the Rancho Bernardo-based Tender Loving Canines Assistance Dogs (TLCAD), which uses the unlikeliest of teachers — inmates — to train its hounds.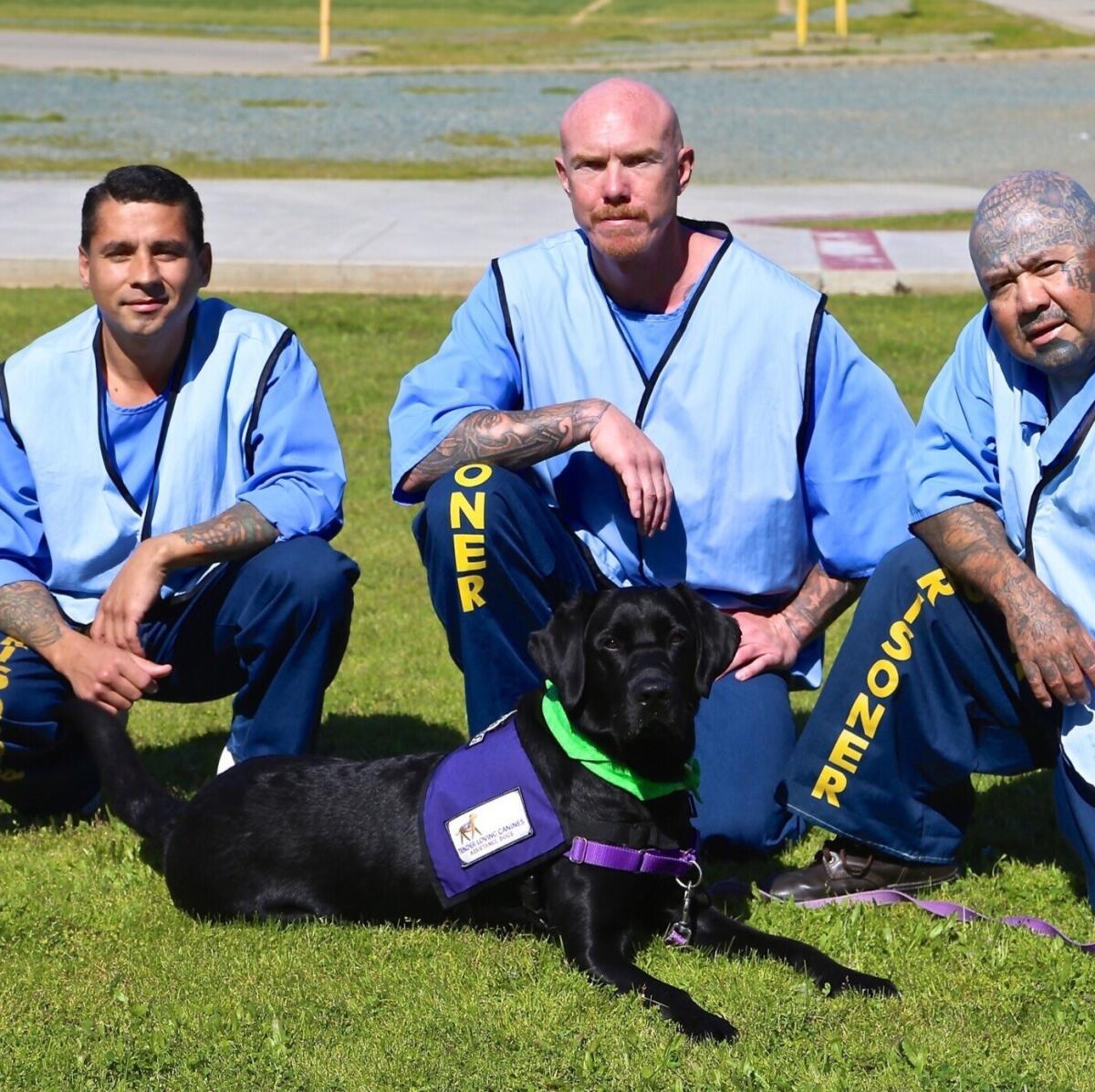 The organization, which was founded in 1998, partners service canines with clients diagnosed with different health ailments, primarily autism and PTSD (post-traumatic stress disorder). In 2010, TLCAD started a program placing dogs with children with autism, and in 2012, it began its At-Ease Program for wounded warriors at Camp Pendleton.
The trained dogs — mostly Labradors — can exhibit the same comfort methods for people with these conditions because the patients all react to triggers, said Victoria Cavaliere, executive director of TLCAD.
"The behaviors that the dogs do to help mitigate the symptoms of their disability are similar," she said. "Even though autism and PTSD are nothing like each other, what the dogs do for those individuals in some ways is very similar. [They do] a lot of deep pressure therapy behaviors."
For example, the canines learn how to retrieve items and perform certain tasks that are useful to TLCAD's clients, Cavaliere said.
TLCAD partners with jails for its "POOCH" (Prisoners Overcoming Obstacles and Creating Hope) program, which allows incarcerated populations to train the dogs, beginning as young as 8 weeks old, when the pups are the most impressionable.
Currently, the organization partners with the Richard J. Donovan Correctional Facility in San Diego, Mule Creek State Prison in Ione, Calif. and at Camp Pendleton. Earlier this year, TLCAD implemented a program at a girls' rehabilitation facility in San Diego.
The dogs live inside the prisons and are assigned to two or three inmates for about two years. The prisoners will raise and train the dogs by following TLCAD's curriculum, which uses positive reinforcement to motivate the dogs to learn.
Karen Shultz, president of the nonprofit's board and Rancho Santa Fe resident, said these methods and lessons, like impulse control and obedience, also teach the inmates lessons about behavior and rewards.
"We don't jerk the dogs around or put choker chains on them or anything like that," she said. "The [inmates] see it work, and they see the dog wanting to please you and get a reward for it. That's totally against how most of them were raised. They were raised totally the other way, and so many have said, 'If I had known this when I was a teenager, I wouldn't be here [in jail] right now.' Now, they can walk away from a situation or shut their mouths before they say something they shouldn't and do it proudly because they know it's the right thing to do."
Cavaliere said TLCAD works with the jails to find inmates who are "programmers," meaning they are interested in focusing on their rehabilitation.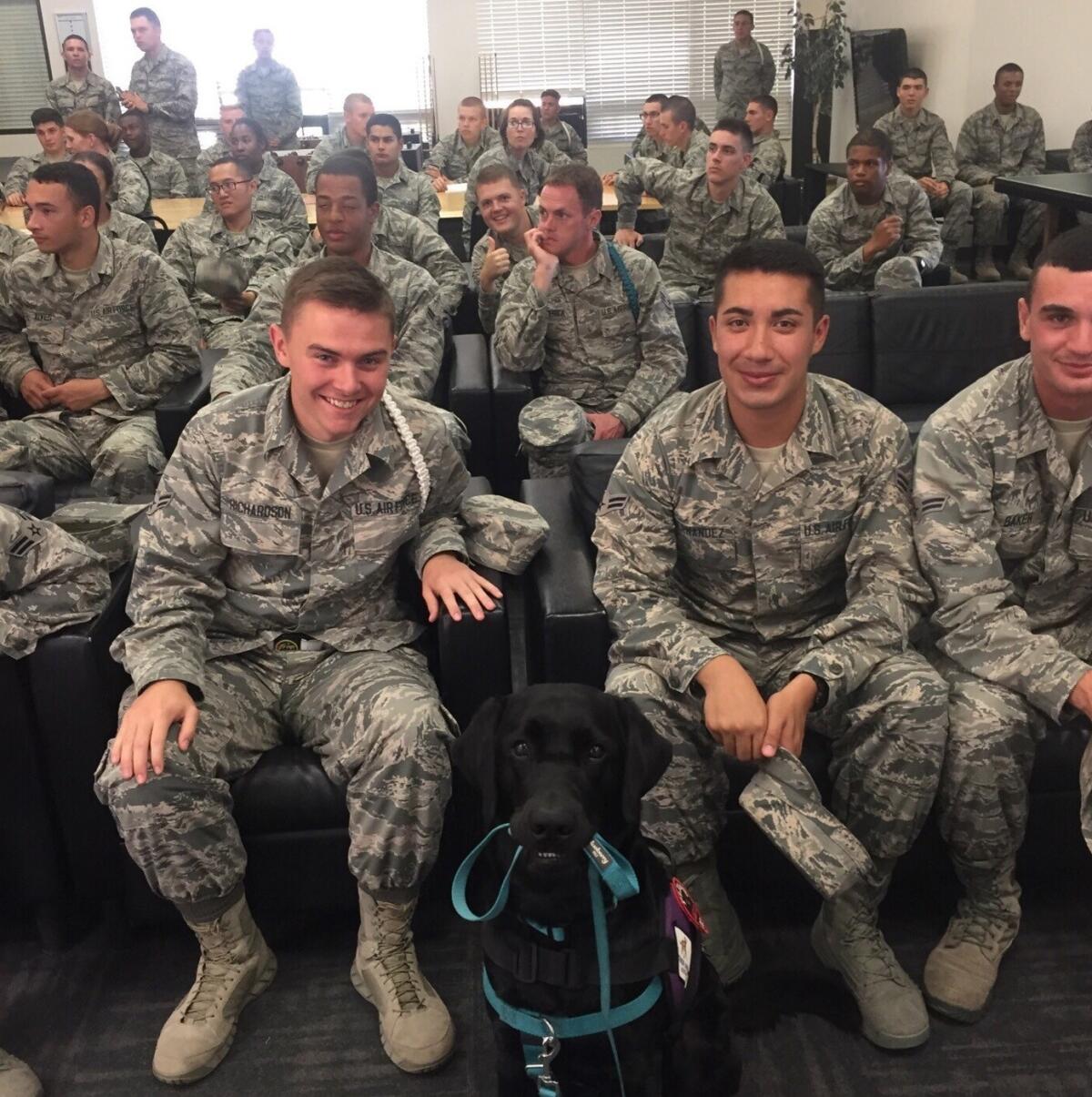 "When we're doing the selection, we spend a good amount of time working with the institution and their custody staff, mental health care and admin to come up with a set of criteria that the inmates have to meet in order to be in the program," she explained. "Our instructors actually interview them. ... We're looking for guys who want to give back. It's their way of trying to make up for some of the things that they've done."
Dogs are partnered with clients when they graduate from the POOCH program after 18 to 24 months of working with the inmates.
Interested clients must apply with a summary application, and those who meet the requirements are entered into an applicant pool every January. The training department evaluates when dogs will be ready and who they should be partnered with, Cavaliere said.
"We feel very strongly that by making very careful matches — the right dog for the right person — that those teams will be working successfully longer," she said.
The organization spends between $25,000 and $30,000 every year to train and match the dogs. Those interested in helping them are encouraged to donate money or equipment like flat buckle collars, plain nylon leashes and front clip harnesses. TLCAD also welcomes volunteers.
Sign up for the Encinitas Advocate newsletter
Top stories from Encinitas every Friday for free.
You may occasionally receive promotional content from the Encinitas Advocate.