Encinitas events this week (Oct. 5)
Unveiling Ceremony: Orpheus Sculpture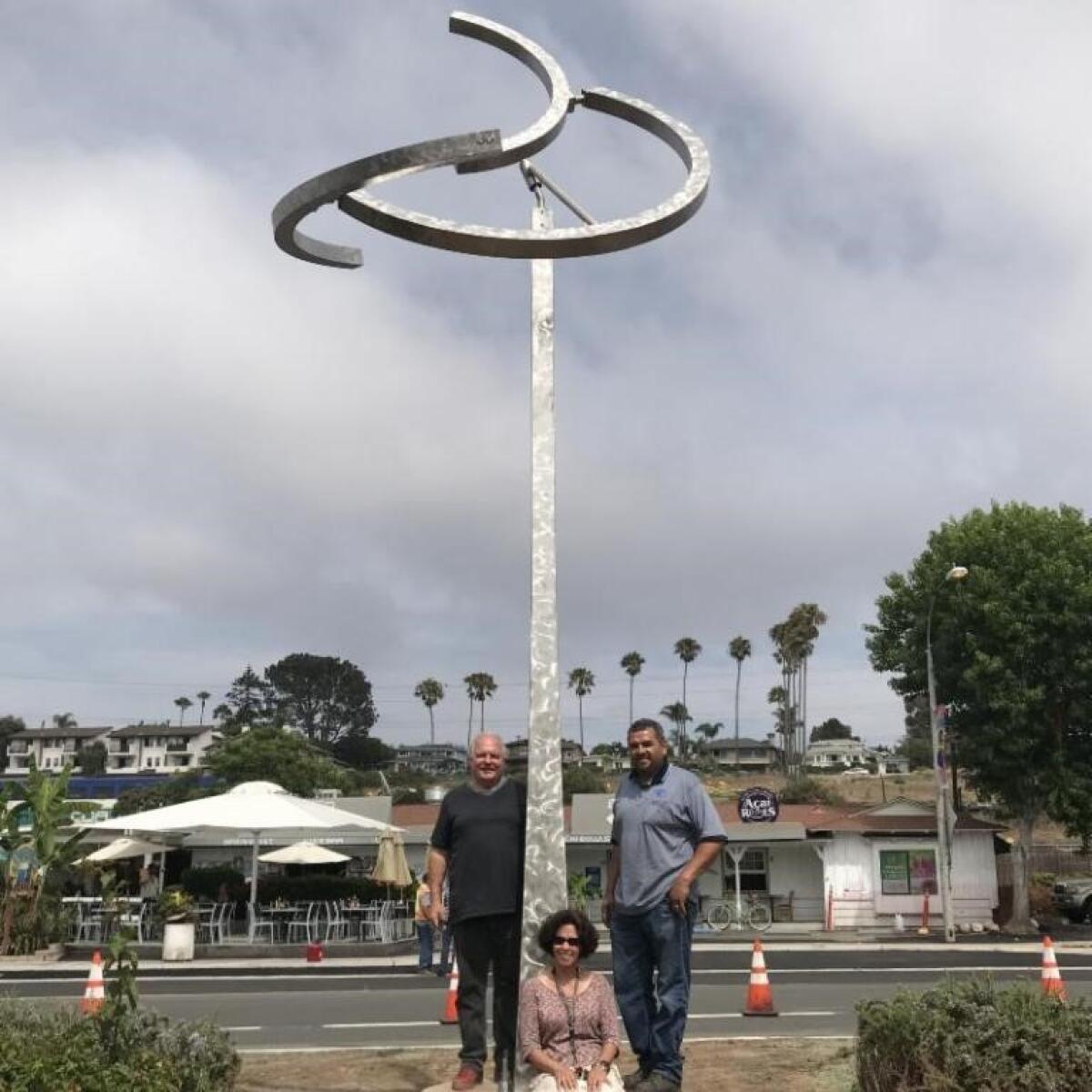 Celebrate the installation of the first piece of public art, Orpheus, by Encinitas artist Jeffery Laudenslager, in the City of Encinitas' new Sculpture Installation Program on Oct. 6 at 10 a.m. at K Street Parkway, 1170 South Coast Highway 101. Hear from the artist and city leaders. Funded by Encinitas Friends of the Arts. For more information, visit https://bit.ly/2NX20em.
Surfing Madonna 5K/10K/12K Beach Run
Join thousands for the largest beach run on the sand at the world-famous Moonlight Beach on Oct. 7 at 1:30 p.m. People from all over come to participate in this charity event to "Save The Ocean." Race features prize money, live music, food vendors and more. For more information, visit https://bit.ly/2QirvmQ.
'Never Town' benefit screening at La Paloma
This surf film, hosted by famed Patagonia Surf Ambassadors Dave "Rasta" Rastovich and Wayne Lynch, will premiere for one night only on Oct. 9 at 7 p.m. and 9 p.m. at the La Paloma Theatre, 471 South Coast Highway 101. Free admission. All donations benefit EACEA and the future Pacific View Academy of Arts Culture and Ecology. For more information, visit https://bit.ly/2GxYzam.
Now showing: Pick of the Litter, Eighth Grade and Rocky Horror Picture Show. Tickets: $10. 471 Coast Highway 101. For tickets and show times, visit https://bit.ly/2IvxNNf.
The concert on Oct. 6 at 7:30 p.m. at Sts. Constantine and Helen Greek Orthodox Church, 3459 Manchester, features selected works by Handel, Stuck and Rameau. A compelling pairing of two extraordinary works featuring the dramatic prowess of Handel's music, alongside the lesser-known, but equally as ravishing, music of Jean-Baptiste Stuck, and music by Rameau. Tickets/Info: www.bachcollegiumsd.org, or at the door.
Nathan James and the Rhythm Scratchers
One of the most original and authentic acts on the roots and blues scene today. The Rhythm Scratchers forge a sound that combines elements of 1920's acoustic blues, gospel and amplified juke joint to uptown swing. They will perform Oct. 7 from 2 to 3 p.m. at the Encinitas Library, 540 Cornish Drive. Info: https://bit.ly/290FGNH
Coastal Communities Concert Band
The Coastal Communities Concert Band presents "America the Beautiful" on Oct. 7 at 2 p.m. at Carlsbad Community Church, 3175 Harding Street in Carlsbad. For more information, visit www.cccband.com.
Yumiko Oya and Naomi Hobbs
Yumiko has a master's degree from California Institute of the Arts. Naomi is the 2012 first prize winner of the International Piano Competition in Mexico. They will screen movie clips above the stage while performing the score by composers Mancini, Gershwin, Chopin, Bernstein and more on Oct. 10 from noon to 12:50 p.m. at the Encinitas Library, 540 Cornish Drive. For more information, visit www.encinitasca.gov/wednoon.
Every Sunday in October from 4 to 5 p.m., partake in this fusion of Indian and Western Dance styles at the Performing Arts Workshop, 1465 Encinitas Boulevard in suite A102.For more information, visit www.sdbollywoodsteps.com.
This documentary about one of the most prominent jazz trumpet players in the jazz scene, Paolo Fresu, from Sardinia, is known for combining jazz with pop, classical, world or ethnic music will be screened Oct. 11 at 7 p.m. at La Paloma Theatre, 471 South Coast Highway 101. For more information, visit https://bit.ly/2R7sfN5.
Artist Reception at the Off Track Gallery
The public is invited to an artists' reception at the Off Track Gallery in Encinitas Oct. 13, from 4-7 p.m., featuring David Rickert. Rickert spent most of his life in the Minneapolis area where he was an active, award-winning painter, a member of the Edina Art Center teaching staff for 12 years, and president of the Minnesota Watercolor Society. He is a Signature Member of the National Oil and Acrylic Painters Society and member of Oil Painters of America. Refreshments will be served at the reception. All artwork in the Gallery will be 10 percent off the entire day from 10 a.m. to closing. This event is free and open to the public. Off Track Gallery, 937 South Coast Highway 101, Suite C-103, Encinitas, 760-942-3636, pr@sandieguitoartguild.com, OffTrackGallery.com.
Lecture: League of Women Voters
Spokeswomen from the League will present the propositions and special elections that will appear on the November ballot on Oct. 5 from 1 to 3 p.m. on the San Elijo campus of MiraCosta College, 3333 Manchester Avenue in Cardiff in the student center conference room. For more information, email lifesanelijo@gmail.com.
'Getting to the Root of Stress'
In this mini-workshop Dr. Jane Ilene Cohen, Intuitive & Transformational Counselor, NLP & TimeLine Master Practitioner, Hypnotherapist will address the underlying cause of stress, regardless of the circumstances or form it takes, from the NLP (Neuro Linguistic Programming) perspective on Oct. 14 from 3 to 4:30 p.m. Bring the particular stress you are concerned about in your life to be addressed in this interactive workshop. $10-$20 suggested donation. (Arrival time 2:45-3 p.m.) At Dr. Cohen's home office in Encinitas. Space is limited. RSVP at (760) 753-0733 to reserve your space and for address. https://www.janecohen
On Sunday, Oct. 7, 3 to 6 p.m., ArtReach will host Party ARTy 2018, an afternoon of organic elegance in a stunning Encinitas home and garden. Guests will be immersed in an afternoon of creative inspiration and sweeping views while celebrating 11 years of the ArtReach Access to Art program, which takes high quality visual art lessons to San Diego County elementary schools that do not have arts education as a part of their normal school curriculum. For more information, visit www.artreachsandiego.org
Camila Lima, soprano; Michelle Rice, mezzo-soprano; and Douglas Sumi, piano, will perform Oct. 19 at 7:30 p.m. at the Encinitas Library, 540 Cornish Drive. For more information, visit www.michelle-rice.com.
The San Diego Clean Energy Fair is a one-day educational event taking place at the San Diego Electrical Training Center on Saturday, Oct. 6, offering learning opportunities and activities for the whole family. The event will be held from 10 a.m. - 2 p.m. with the aim to provide accurate education and information about solar power, energy storage, energy efficiency, electric vehicles, workforce development and more. Learn more and RSVP at visit www.cleanenergyfair.org.
"Understanding Healthy & Unhealthy Relationships," a family forum, will be held from 6:30-8 p.m.on Wednesday, Oct. 17, at San Dieguito Academy at 800 Santa Fe Drive, Encinitas, in the Mustang Commons. The event, hosted by San Dieguito Foundation, is free and open to the public. Middle and high school students and their parents are welcome to attend.
ArtSanDiego returns to Fairgrounds
Art San Diego, a top contemporary fine art show, returns for for its 10-year anniversary from Oct. 18 – Oct. 21 at the Wyland Center at the Del Mar Fairgrounds. The show annually features the finest galleries, showcasing established and up-and-coming talent alongside secondary market masters. To view the full show schedule, visit art-sandiego.com/show-schedule.
North Coast Symphony Concert – Celebrating Autumn
Join the North Coast Symphony for its Autumn concert, conducted by Daniel Swem, on Oct. 20, 2:30 p.m. at Seacoast Community Church, 1050 Regal Road, Encinitas. The orchestra will perform Vivaldi's "Autumn" from the Four Seasons, featuring Cheryl Swem, concertmaster and violin soloist. Also on the program is the first movement of Beethoven's Sixth Symphony, the Academic Festival Overture by Brahms, and Alexander Glazunov's "Autumn" from his ballet The Seasons.
Lighter selections include Autumn Leaves, popularized by Johnny Mercer with music written by Joseph Kosma and "Try To Remember" from the musical The Fantasticks. The orchestra is funded in part by the City of Encinitas and the Mizel Family Foundation.
Suggested Donation is $10 general, $8 seniors/students/military, $25/family max. For more information, visit www.northcoastsymphony.com.
Grammy-nominated artist and comedian Bill Engvall will bring his iconic laughs to Tri-City Hospital Foundation's 38th Annual Diamond Ball this fall. The black-tie event, which will be held at the Park Hyatt Aviara in Carlsbad on Sat., Oct. 27, will raise funds to support the award-winning Heart and Stroke Care programs at Tri-City Medical Center, a community hospital serving North San Diego County.
A special VIP reception with Engvall, delicious hors d'oeuvres and hosted wine, an exquisite three-course dinner, silent and live auction, live music and dancing, and, of course, a hilarious comedy performance by Engvall will all be a part of the celebration. Visit www.tricityhospitalfoundation.org.
The Fall Home/Garden Show will be held Oct. 5-7 at the Del Mar Fairgrounds, O'Brien Hall. Friday and Sunday, 10 a.m.-5 p.m., Saturday, 11 a.m.-6 p.m. During its three-day extravaganza, the 29th annual Fall Home/Garden Show will feature hundreds of products, remodeling inspiration, hands-on demonstrations, educational seminars by professional trade, building and design associations. This indoor-outdoor event and its hundreds of exhibitors will showcase the newest products and hottest trends for both inside and outside the home. Visit fallhomegardenshow.com
The San Diego Kids Expo & Fair will be held Oct. 20-21 from 10 a.m.-5 p.m.at the Del Mar Fairgrounds in O'Brien Hall. The event features vendors, sports instructors/coaches, music, dance, science, arts, kids activities and much more. Visit www.SanDiegoKidsExpo.com
La Jolla Art & Wine Festival, Oct. 6-7
Join fine art and wine aficionados from around the region on Saturday, Oct. 6 and Sunday, Oct. 7, 10 a.m.-6 p.m., as they gather to celebrate La Jolla Art & Wine Festival's 10-year anniversary. Free admission. The event features great food, art,entertainment, a Wine & Beer Garden and more.Proceeds benefit local public school art programs. Located on Girard Avenue, between Torrey Pines Road and Prospect Street in La Jolla. For more information visit www.ljawf.com or call 619-233-5008.
Sign up for the Encinitas Advocate newsletter
Top stories from Encinitas every Friday for free.
You may occasionally receive promotional content from the Encinitas Advocate.